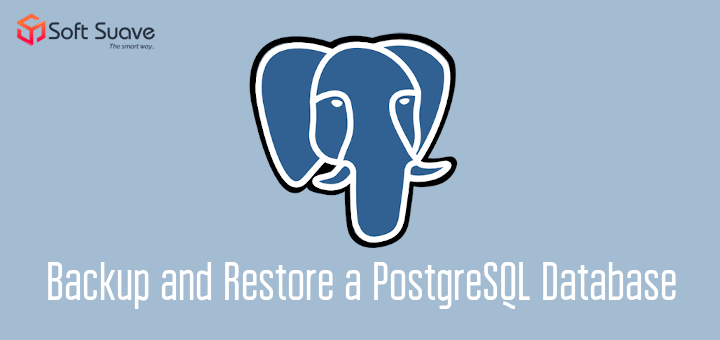 Dbeaver – How to back up and restore a PostgreSQL database without column names mismatch
Problem Statement:-
How to backup and restore a PostgreSQL database without column names mismatch.
The database is the heart of an application. It is a strategy used to store, update, and delete data on the server. Although it stores data, it does not include end-user application elements such as stored queries, forms, macros, or reports. Users can indirectly access the database through an external application. A few of the databases used to develop software are SQL, Django, MS Access, etc.
Description of the Issue:-
I was working on a project that forced me to use the same database on a different server. Thus, I had to create a backup of that database to restore it in the new server. Initially, I made the backup of each table using the export and import feature. However, I found that columns of newly created table properties were different from the old tables. I could not find a solution, although I researched many technically sound websites. Later, I tried to create a backup by changing backup properties. I finally succeeded in the process of backing up and restoring a PostgreSQL database without losing data.
The Solution Offered:-
Here are a few steps that have to be followed to get the desired solution.
a. Create an empty database in the server where you want to restore.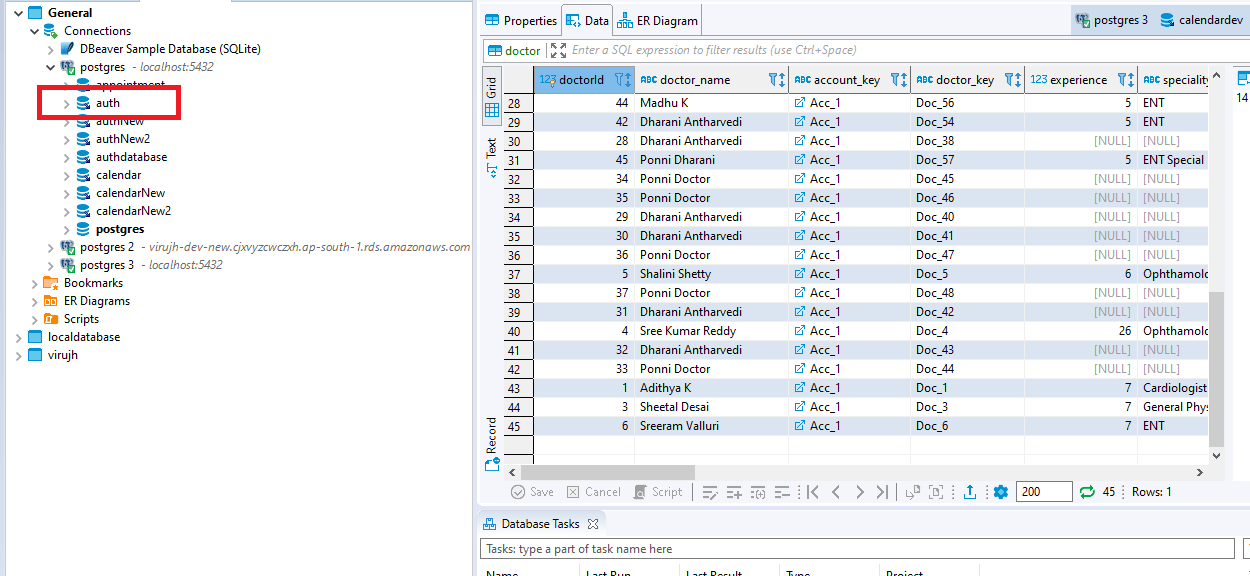 b. Create a folder for you to store the backup file.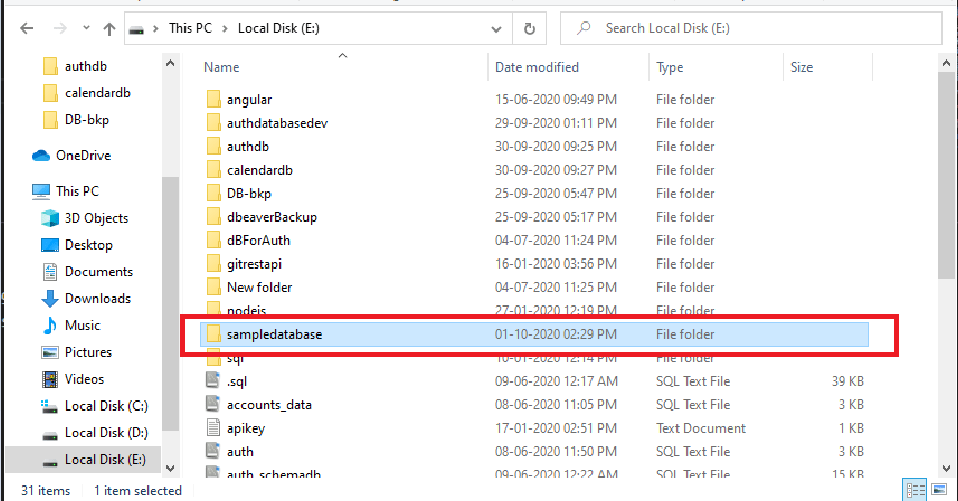 c. Select the database, which you want to export and then right-click on that to select, tools, and then click on Backup.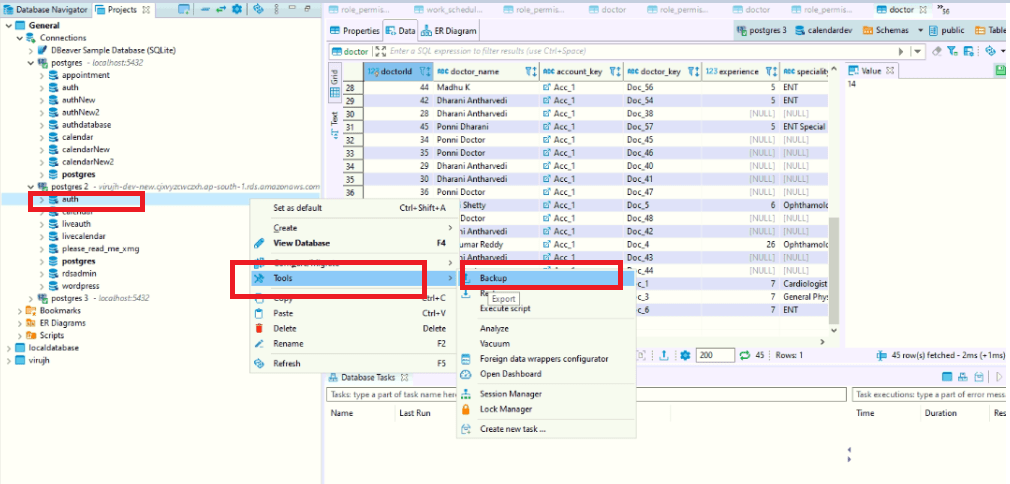 d. A backup window will open, now select the public to see all tables inside that database, select whatever tables you want, or select all for restoring all tables.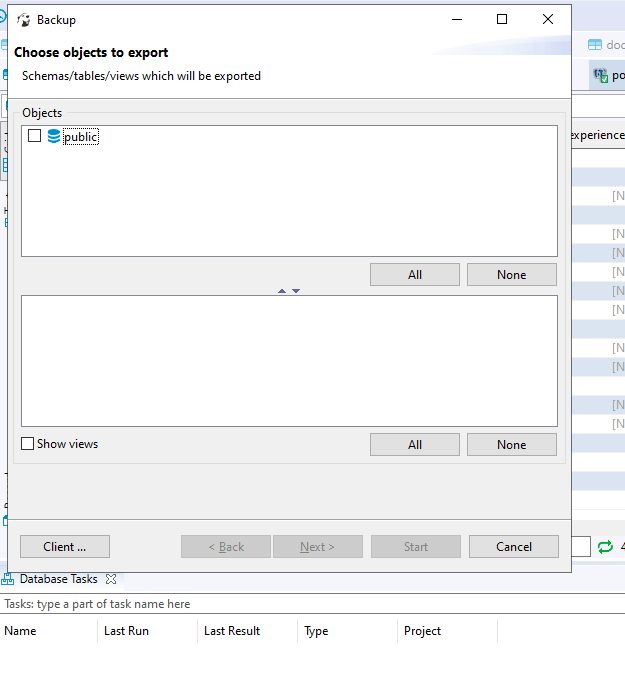 e. Click on the "client" option for adding clients.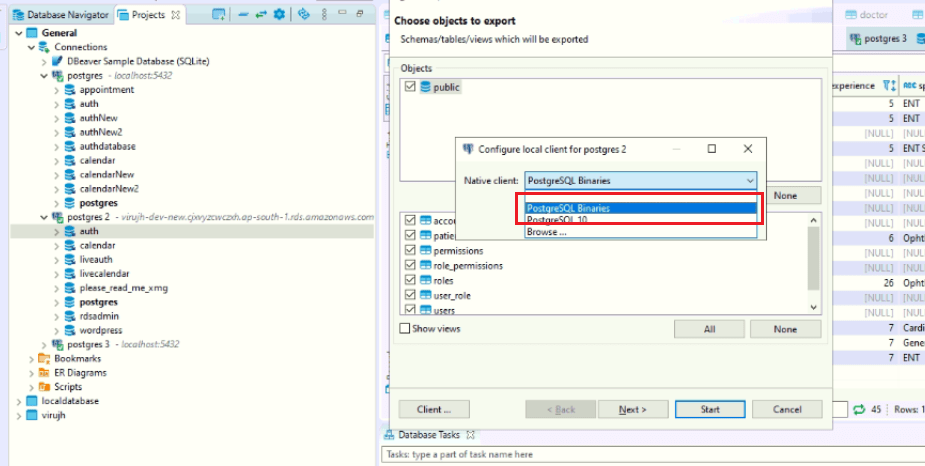 f. Select PostgreSQL binaries, click Ok and Next.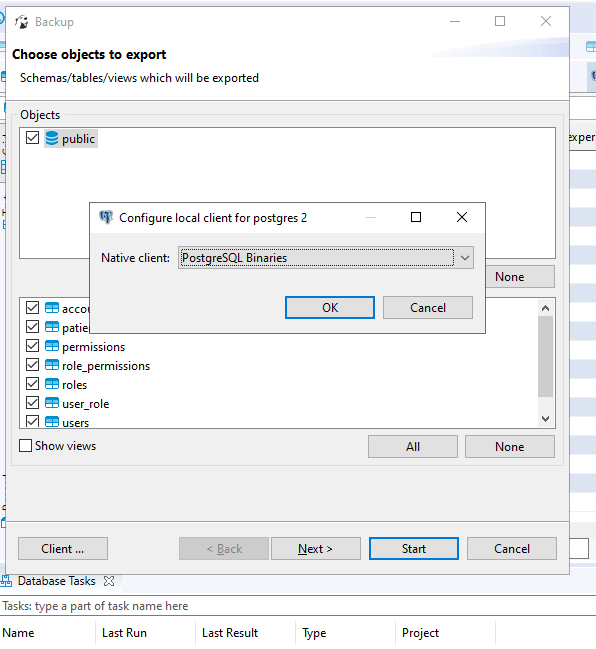 g. A backup settings window will open, now, select format as custom, encoding- UTF-8, and choose the output folder, which you have created for storing the backup file and finally check all the boxes.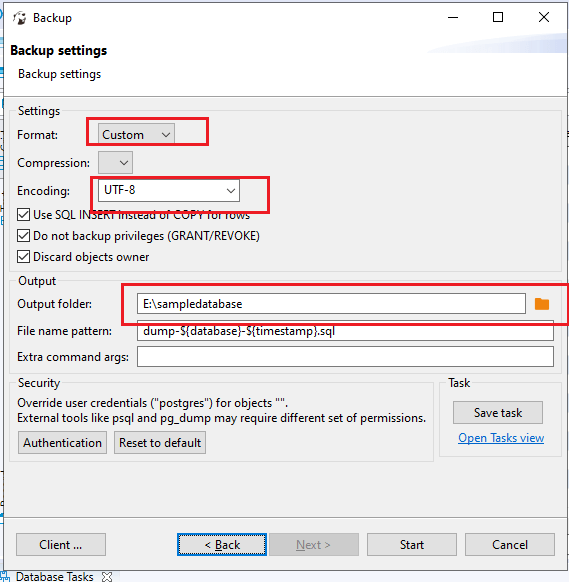 h. Now, click on start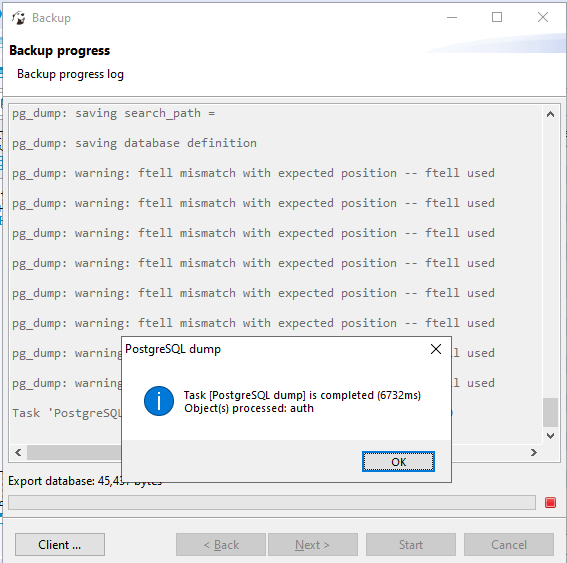 i. Now, the dumping process will start. After completing the dump, a popup window opens, and click on OK to complete the backup successfully.
Steps for restoring database:-
a. Select the database in the required server and right-click on that to select tools, and then select the restore option.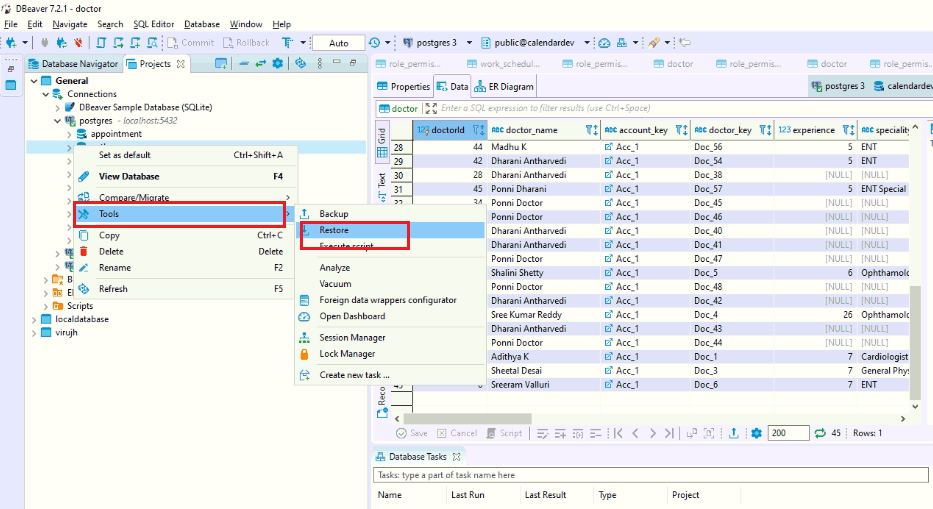 b. Now, the restore settings window will open, select format as custom and choose the backup file from the folder you created for back up, select SQL files, and finally select the backup file inside that folder.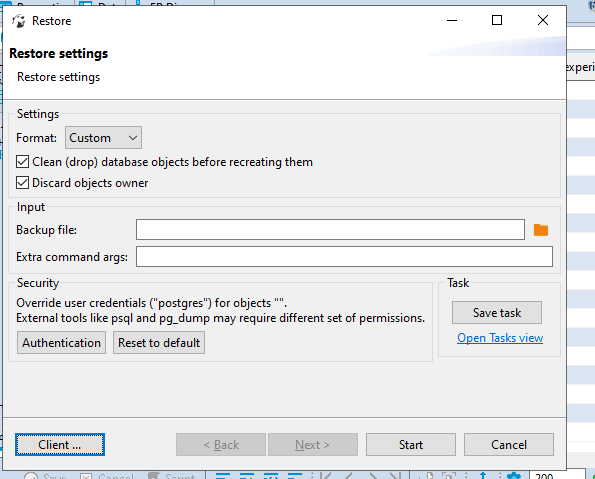 c. Now, check all checkboxes, add the client as PostgreSQL binaries, and click OK.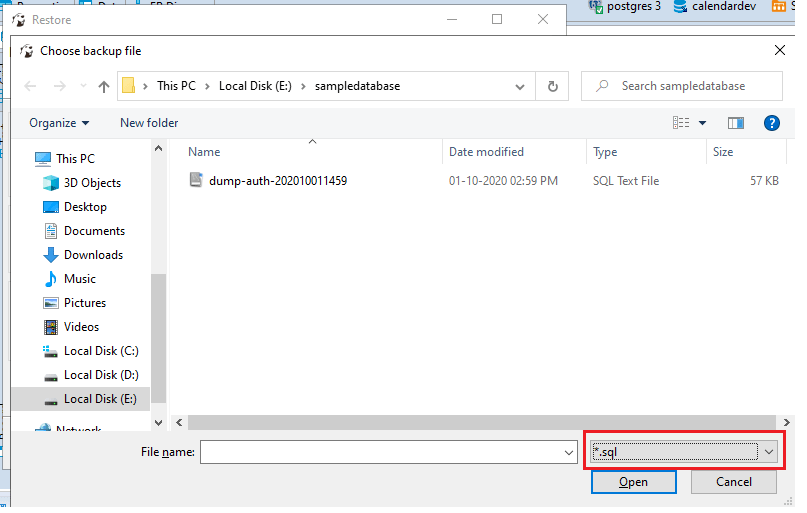 d. Click on start, and the database will start restoring. After the restoring process is done, a PostgreSQL popup window will open, click on ok to complete the process successfully.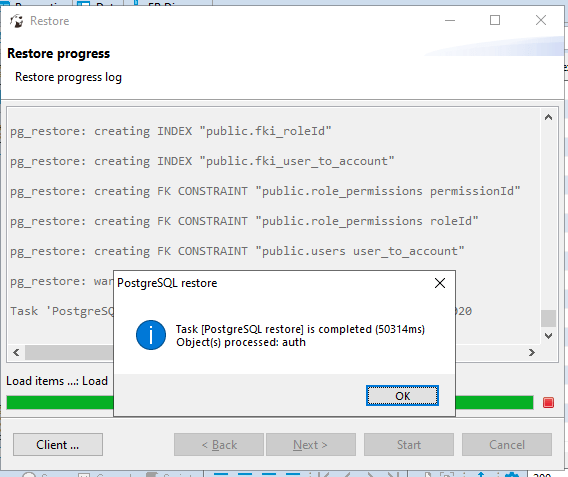 Technologies or frameworks or tools – Dbeaver and PostgreSQL 
Dbeaver – Dbeaver is a platform that helps us to view and manage many types of databases on a single screen. It is a free multi-platform database tool for developers, database administrators, and all people who need to work with databases. DBeaver works on all platforms supported by Eclipse framework, Linux, macOS, Solaris, AIX, HP-UX. The community support for Dbeaver is enormous; thus, you are guaranteed to get support from developers around the world.  If you want to try your hands on Dbeaver, start with the old-fashioned design that has all function buttons on the UI.
Platforms (Web, Mobile, Etc.) – Database.
Server or OS – Server 
Soft Suave is the top web and mobile app development company in India that is renowned for its first-class back-end developers. The availability of 300+ proficient developers with substantial technical expertise and hands-on experience makes Soft Suave the most preferred company for hiring back-end developers. Moreover, our developers are always ready to work on challenging tasks to bring out innovative and competitive solutions at an affordable cost.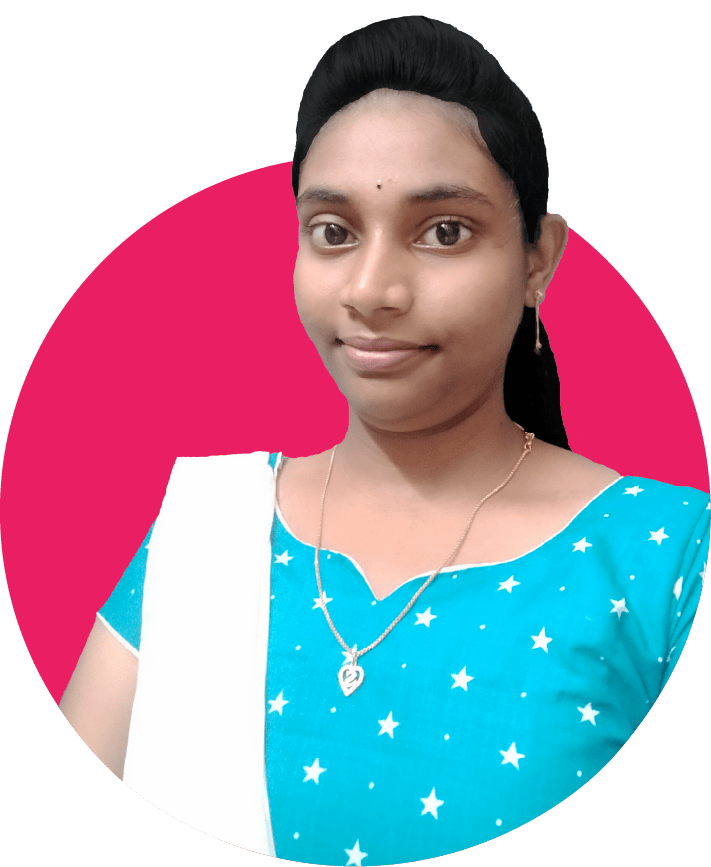 Dharani Antharvedi is an exceptional back-end developer at Soft Suave. She is proficient in HTML, CSS, NodeJS, NestJS, SQL, MYSQL, and PostgreSQL. Dharani enjoys working on APIs and is highly-talented to offer quality solutions to any complex issues.