By now, you've probably heard that remote developers are the future of the tech industry. And if you're like most business owners, you're probably wondering how you can get in on the action. One of the major factors to consider in How to hire remote developers is the technology they are familiar with and the tools they are comfortable working with. It is also important to consider the availability of the developers, their communication skills, and their ability to collaborate remotely.
Don't worry we're here to help. In this article, we'll give you a step-by-step guide to hiring your very own remote developer. So read on, and learn everything you need to know about finding, vetting, and hiring the best software remote developers out there.
How to Hire Remote Developers: - Overview
You're in the market for a new developer, but you're not sure where to start. You've heard that remote developers are the way to go, but you're not sure How to hire remote developers. Relax, we're here to help.
First things first: what kind of developer are you looking for? If you're not sure, we have a handy guide that can help you figure out what kind of developer you need. Once you know what type of developer you need, it's time to look for them. There are a few ways to go about this. The most obvious way is to post a job ad on a site like Indeed or Upwork. However, this can be expensive and rarely yields the best results.
 A better way is to use a developer outsourcing company or an agency. They'll do all the heavy lifting for you and will have a pre-screened pool of developers to choose from.
Benefits of Hiring Remote Developers:
Getting extra resources is always beneficial. Let's explore how much advantage you can get from hiring remote developers over recruiting in-house employees.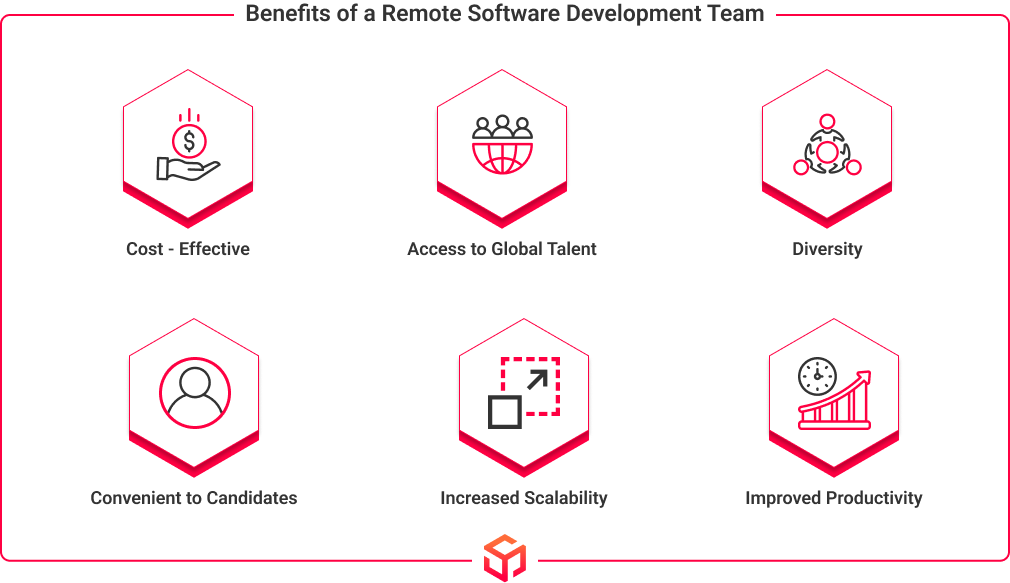 Access to Global Talents – The most obvious one is that you can find the best talent, no matter where they live.
Affordability –  One benefit of remote developers is often more affordable than their in-house counterparts. 
Availability – They're also more likely to be available since they don't have to commute or take time off for illness or vacation.
Communication and Working Environment – They're used to communicating and collaborating over distance. This means they're comfortable working in a remote team environment and are more likely to take direction easily.
Focus on Other businesses – You can concentrate on other internal businesses since the resource can take care of your project requirements.
These are some of the prime benefits of remote developers. Let's explore the next one.
Why Do Startups Need to Hire Remote Software Developers?
So you've decided that you need to Hiring remote developers, but you're not sure where to start. And with good reason—the market for developers is saturated and finding the right one can be tricky. But don't worry, we're here to help. In this guide, we're going to walk you through Hiring remote developers. By the end, you'll know exactly what to do and how to find the perfect developer for your team.
So why do startups need to hire remote software developers? The answer is simple: remote developers are more affordable and more available. Affordable because you don't have to pay for them to commute or for office space. And available because there are hordes of talented developers out there who are looking for work.
Where do you get the best mobile app remote developers? The answer is, India. Remote developers in India are often highly skilled in the latest technologies and have very competitive rates. They also have a strong and reliable internet connection, which makes it easy to communicate with them and collaborate on projects. India has a large talent pool of developers, so it is easy to find quality developers with the right skills.
Finally, staff augmentation is a cost-effective way to get IT to work done. It's often cheaper to outsource work to an external provider than to hire additional employees in-house.
Looking For Mobile App Developers To Be Onboard Immediately?
Just ping us and instantly get suitable developers onboard within 16 hours.
Challenges in Hiring Remote Developers:
Navigating the remote-hiring process can be tricky, and there are a few potential Challenges on remote developers you should look out for.
It's important to know that hiring remotely means dealing with certain time zone differences, language barriers, and cultural gaps.

You need to be aware of the potential of different laws and regulations in different countries. 

It is essential to understand the cost-of-living differences between countries when calculating salaries for remote developers is a

challenge for remote developers

Remember, communication within a remote team is more complex than it is within an in-person team. 

You need to make sure that everyone on the team feels comfortable using any tools necessary for communication (group chats, video conferencing tools, etc.) as well as adhering to your expectations regarding email etiquette, hourly availability, etc.
Best Countries to Hire Remote Developers:
In choosing the best countries to hire remote developers, there are a few key factors to consider.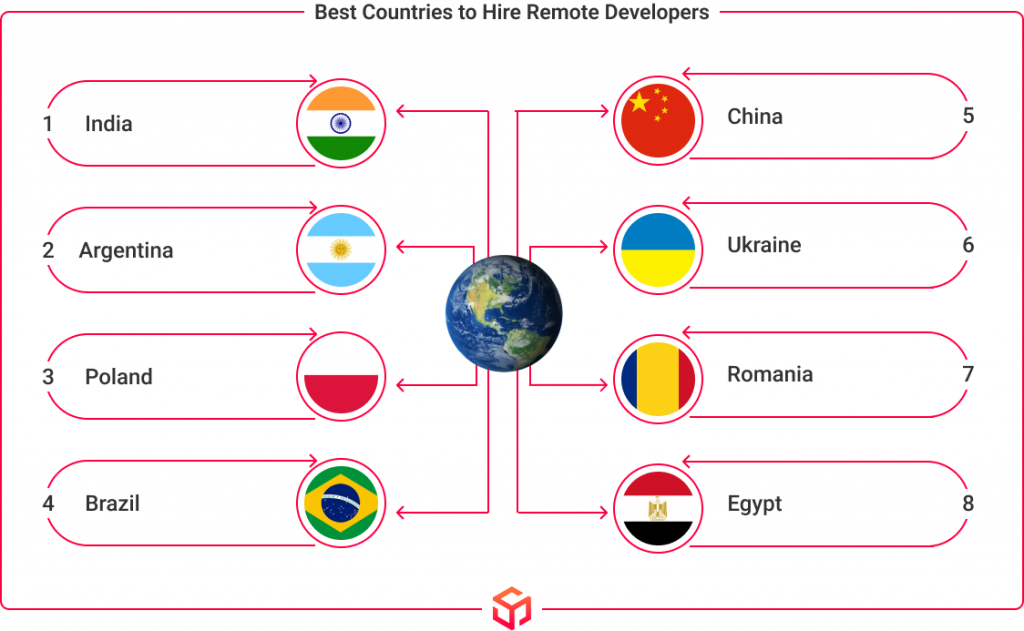 Foremost, you'll want to look for countries where English is widely spoken and technical expertise is of a high standard. You'll also want to consider the cost of labor in the country, as well as taxation and employment laws.
Hire remote developers in India, Romania, and Ukraine are some of the most popular choices in hiring remote developers. India is a splendid choice if you're looking for low-cost developers with a wide range of skills and experience. Romania has an established tech sector focusing strongly on programming languages like .NET and C#. Ukraine is a superb choice for those seeking experienced techies like Python and Java app developers.
You'll also want to consider hiring remote developers from countries like Canada, Australia, Japan, or South Korea if you're looking for other IT professionals. But India leads the top every year because you can Hire remote developers in India who can communicate well in English, understand your needs, work based on your time zone and you can get your work done at an affordable rate.
Hire Remote Developers: - Management Tips
When you're managing remote developers, you need to make sure you're maintaining clear expectations, providing feedback in a timely manner, and having effective communication technology in place. Here are some tips to hire remote developers.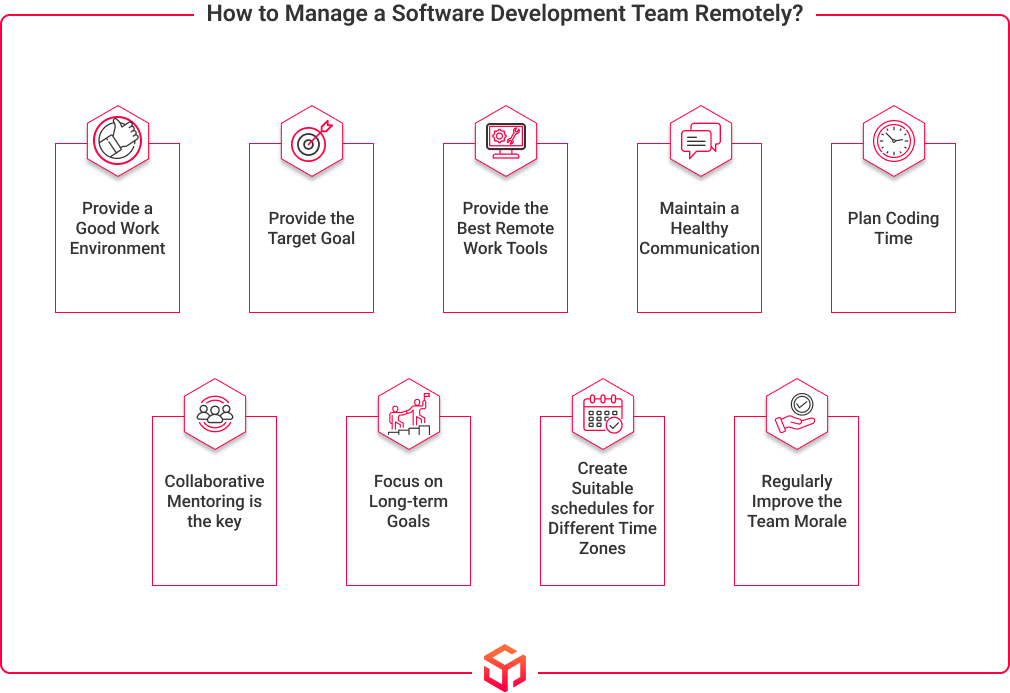 Set reasonable expectations and deadlines –This will help your new hire understand their job and give them an idea of what they need to do to succeed.
Feedback should be welcome and appreciated – Make things easy for them to ask questions or provide their own ideas. Providing timely feedback helps keep the team motivated and on track so they can do their best work.
Choose the best communication tools – Invest in the right technology if you plan on managing remote developers. Find tools that allow everyone to communicate quickly and easily whether through instant messaging or video conferencing and make sure everyone has access to it. Investing in these tools now will save you time and effort down the road as your team grows larger.
Technology and Skills – The most important thing while hiring a full-stack remote developer is to identify the technologies for your requirement. What are the technologies you need and what are the skills you need from those developers?
Advancements –  It's important to be aware of the latest developments in the software industry so that you can identify the technologies that are best suited for your project. 
I hope these tips to hire remote developers are helpful to you. Let's find out the skills of remote developers.
How to Check Remote Developer Quality?
A good way to check the skills of remote developers is by looking at their experience and portfolio. You can also check if they have any certifications in the technologies they'll be working with.
When interviewing them, ask them to provide evidence of previous work, such as code snippets or references from previous clients. Also, try to engage in a dialog about the project you need to be done and how they plan on approaching it. This will tell you a lot about their process and mindset.
It's also important to make sure that the developer understands your goals for the project, and can explain how the skills of remote developers can help you reach those goals. This can be determined through a Skype call or video chat, where you can discuss your needs face-to-face.
Finally, make sure that the developer understands any contract terms and conditions before signing anything so that everyone agrees. After all, there's nothing worse than misunderstandings down the line!
How to Hire Remote Developers: - Steps
So, do you want to hire remote developers? Great! Here's what you need to do.
Step 1 – Decide on filtering out the best developer outsourcing companies that suit your requirements. 
Step 2 –You should make sure that it clearly outlines the requirements and responsibilities, as well as the estimated budget and timeline. This will help you attract the right talent.
Step 3 –Narrow down your search by identifying key skills and experience that are necessary for the job. This will help you focus your search and will bring better results.
Step 4 –Once you have identified potential developer profiles from the outsourcing company, reach out to them and conduct an initial interview. This is where you will get a sense of their skill sets and whether there is a good fit between the candidate and what you are looking for. 
Step 5 –From there, conduct more in-depth interviews and set up performance tests to make sure that they can deliver on their promises. Sometimes, developer outsourcing companies offer free trials you can try on.
Step 6 – Finally, make sure that whatever contract terms we agree upon are clearly laid out so that both parties are aware of any terms or conditions they may have to abide by. Make sure all documents are accurate before signing them off on both sides. After that,—you're ready!
The most popular remote developers are React and Angular developers. There are developers who more often get hired are full stack developers since they know how to use both front end and back end, experienced in more technologies and tools. Even though, Java is always developers' favorite.
Now you know how to hire remote developers. Let's see the cost of hiring remote developers.
Costs of Hiring Remote Developers: -
Now, let's talk about the costs of hiring remote developers. It can be more expensive to hire remote developers than to hire in-house developers. Dubbed the "remote premium" by some, this discrepancy mostly comes down to two factors – experience and locality.
Remote developers usually have more experience than in-house developers, since they're hired from a global pool of talent. This means that many of the best and most experienced developers concentrated on remote pools of talent. And when you have access to the best developers from around the world using Upwork or Indeed, you need to pay for it. Hiring developers from an outsourcing company is the most convenient one.
The second factor is locality; some remote freelance developer pools offer a tremendous variety of pricing depending on where the developer is located. If a developer is in a high-demand area like San Francisco or London for example, you can expect that their fees will be higher than someone who lives in an area with less competition for jobs and lower living expenses overall.
How to Hire Remote Developers In Soft Suave?
Now that you know how to hire remote developers, why not give Soft Suave a try? Our team of experienced, dedicated remote developers is ready and willing to help your business grow.
Soft Suave offers a wide variety of services, from developing custom software solutions, APIs, databases, and websites, to mobile and web applications. You also have access to their community of experienced professionals who can provide valuable insights into the best practices for development.
Soft Suave's dedicated remote developers are passionate about technology and dedicated to helping you achieve your goals. They are also adept at quickly understanding complex ideas and developing effective solutions with minimal guidance. Plus, they can scale your team up or down according to the demands of the project.
If you're looking for reliable remote developers who won't break the bank, Soft Suave is a brilliant choice!
Conclusion:
As you can see, there are many benefits to hiring remote developers. By following the tips and steps in this article, you can find and hire the best remote fullstack developers for your business. Hiring remote developers can save businesses money since they don't need to pay for office space or other overhead costs associated with traditional in-office employees. 
Remote developers also have access to a much wider talent pool than if they were to hire locally. This means businesses can find developers with the exact skill set and experience needed for their projects.
Looking For A Skilled Remote Developers To Be Onboard Immediately?
Just ping us and instantly get suitable developers onboard within 16 hours.