As with all on-demand services increasing numbers of taxis, firms are keen to invest in semi-variable ways in order to gain access to the app market through their inventive taxi app development services. The wide acceptance of services that are available on-demand is among the many developments caused by the rapid growth of technology for information and communication.
The use of smartphones for different day-to-day tasks has increased since technology has improved and users' accessibility to internet services has grown. In the same way, getting around is significantly easier than it was previously due to the wide accessibility to develop a taxi booking app.
Nowadays, there are numerous taxi booking apps available in app stores. There always is a chance for better and more innovative versions
Figures For Taxi Booking Mobile App Development:
The taxi industry in the world was estimated as $69.18 billion in 2019 and is projected to reach $120.89 billion by the year 2027 an increase of 12.3 percent between 2020 to 2027. People prefer driving in their own vehicles due to safety and health concerns that will limit the size of the market by 2020.
According to forecasts for the industry according to industry forecasts, the global taxi market will expand at a rate of 22.3 percent, between $23.42 billion by 2020, and $28.65 billion by 2021. It is projected to be USD 327.54 billion by 2026. This is an 8.95 percent increase over the forecast timeframe (2021-2026).
Additionally, as the use of smartphones grows, so is the need for mobile apps. This means that now is the perfect moment for companies to make investments in taxi booking apps to achieve the desired return on investment for their business.
Most Well-Known Taxi Booking Apps:
It is popular to hire taxis in the privacy of home, and then just wait for the taxi arrives at their door as they relax on their sofa. Customers can now request taxis from one place to another with a variety of top taxi apps like Uber, Lyft, Grab, and Careem.
Which taxi app is the most effective? It's not easy to choose one of the many options and then book a taxi in one click. So, don't fret. We've put together an inventory of the best taxi applications based on their services great reviews and the amount of traffic they receive.
Uber: –
The Silicon Valley business, based in San Francisco, has revolutionized the concept of on-demand taxi booking services across the globe. Uber is now available in more than 700 cities in 65 countries.
Uber has increased in popularity because of factors such as its easy-to-use interface, its accessibility of cars and drivers as well as the ease of payment as well as ride safety precautions specific to a particular country, as well as numerous taxi rental models.
Features:
Sharing ride data and tracking it in real-time
Parting the fare
Stoppages can be added to the list.
Plan your routes.
Synchronize your meetings
Lyft: –
Lyft was established in San Francisco, California, in 2012. Lyft as well as Uber is in its own Application Software business. It has services in more than 220 cities throughout the United States including Vietnam as well as The Philippines, Thailand, Singapore, Malaysia, and Indonesia.
Features:
Monitoring in real-time of
Highly-secured
Sharing travel details
Keep your personal information hidden.
Assistance in times of need
Gett: –
The company was founded in London in the year 2011, Gett Taxi is an Israeli mobile service that is on-demand is supported by Volkswagen and operates in over 100 towns.
Features:
Automatic price calculator
Pets are welcome to travel with you (Regional feature)
Add multiple drop locations
Luggage service
Promo codes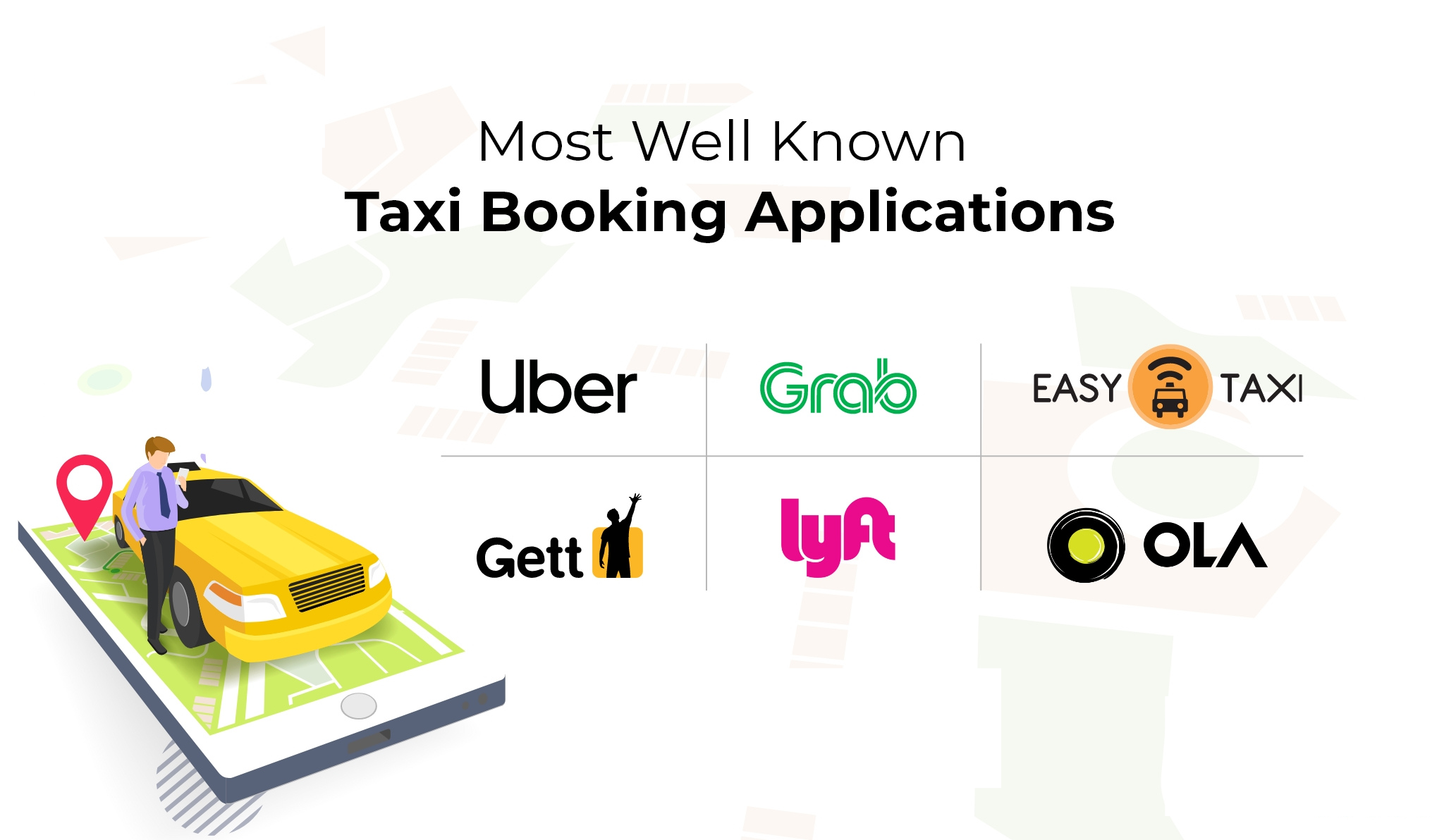 Ola: –
The taxi app Ola was founded as an online taxi aggregator in Mumbai in 2010. It now offers a service that covers India, Australia, New Zealand, New Zealand, and the United Kingdom (169 locations) with more than 100,000 vehicles. The app is well-known for its wide selection of taxi services through a smartphone application.
Features:
Highly-secured
Promo codes
In-app payments
Push notifications
Calculation of the prices
Grab: –
Grab was established in 2011 and is well-known throughout The Philippines, Indonesia, Vietnam, Thailand, Singapore, and Malaysia. Grab determined to ensure that taxis are a secure and reliable mode of transport.
Features:
Social media is the best way to register
Real-time monitoring of the driver's position
In-app payments
Push notifications
Calculation of the prices
Easy Taxi: –
Easy Taxi is a Brazilian taxi booking app development company operating across more than 30 countries. Easy Taxi was established in the year 2011. With millions of users across the globe The taxi booking app development has been a massive success. It is packed with a wide range of characteristics that make it an effective taxi booking app development in India the present day.
Features:
Real-time tracking
The Fare Calculator
Rate Card in digital form
Support for a variety of currencies
Flexible payment methods
Important Features In Taxi Booking App:
When you planned to develop a taxi booking app it should include a wide range of features to make passengers' and drivers' vehicle driving and riding experiences as comfortable as possible. The images below illustrate the essential functions that need to be part of the taxi booking application development services
Integration Of Payments: –
The app's primary feature is the payment feature. The user should be capable of paying for the ride with no hassle. Payment in cash, traditional payment methods including mobile wallets, mobile wallets, and mobile banking must all be accessible.
The likelihood of customers enjoying pleasant experiences if they have several payment choices.
Geolocation: –
Drivers and users can use the geolocation feature in order to pinpoint the location where the request was made. Riders are able to select where they'd like to collect and then delivered. In addition, drivers are informed of pickup requests by geolocation. Drivers can choose to accept or reject at any time.
In essence, the function lets riders and drivers be connected to others near to them.
Onboarding: –
The first step in using it is to allow this feature. Drivers and riders must be able to sign in and sign up immediately. This can be accomplished by manually entering the details or by signing up on an online social network that has an OTP.
Additionally, there is an onboarding feature for drivers which permits drivers to indicate their availability. Drivers can use the app to register for rides, take them on or decline them, and turn off the app when they have finished signing off.
Booking: –
This is exactly what taxi booking app development is about. Users must be able to book apps with just one swipe. Set up a slider or button that allows users to book a taxi by pressing it.
In parallel, provide similar functionality to the driver and driver, giving them the ability for them to reply to the request for a trip by tapping.
Route Tracking: –
Once the taxi is parked and confirm the direction they are taken on by using this function. It is possible to be certain they are safe on their journey since they can follow their taxi at all times.
You can end the trip or inform the app's admins if they find their cab traveling in a different direction. It is a kind of map navigation that lets you go to your preferred location. It is also an excellent instrument for drivers.
Ride Scheduling: –
Customers can book taxi services ahead of time using this feature. You can reserve an Uber by providing the date and time, and the driver will be assigned to the slot. Users will receive an email with confirmation after they've booked a ride.
It's necessary to install an app for calendars as well as an agenda for this.
Push Notifications: –
CRM comes with the ability to send push notifications. Alerts and messages allow you to contact your customers, potential customers, and drivers.
This feature lets the administrator of the panel communicate with users regarding special deals, schemes, or even client retention. This helps in retaining clients by increasing the level of engagement among consumers.
Destinations That Are Saved: –
This is among the most requested features of the app for booking taxis. Users can save locations that they frequent on a regular basis by using this feature. It could be their business location or home address or any other place in which they travel frequently.
It could also be determined on the basis of the user's recent or frequent searches.
Security: –
When you book a taxi it is important to consider trustworthiness as an aspect that is viewed by everyone. Taxi booking applications provide the user with data like the name of the driver, his contact numbers, the taxi's number, and more so that when the taxi comes you are sure that the driver is the person you want to be.
With the protection features provided above, you'll be protected from any dangers when traveling with a stranger.
Advanced Application, Consoles, and Panels To Keep You Ahead Of The Competition:
To keep up with the competition you must develop several application, consoles and panels for customers, drivers, and admin. This will allow the respective personnel to have command over their features and use the taxi services to the fullest potential.
Customer Application: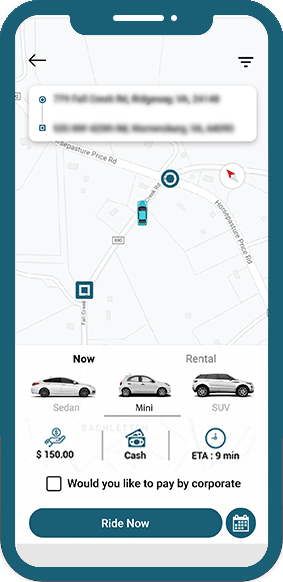 Rent a car:-
This enables the customer that wants comfort at a cost, to rent a car for a specific duration of time by selecting the type of vehicle according to the destination and customer needs.
Panic Button:-
Assuring your riders with a safe ride is one of the best features in a taxi booking application. Providing them with a panic button is even better in case of any emergencies.
Fare Estimate:-
This feature helps customers to have clarity on the estimated amount for the ride yet to be taken and time of the vehicle arrival.
Call Driver:-
This app will help customers to call a driver if they need any clarification or assistance regarding the ride or the taxi service.
Driver Application: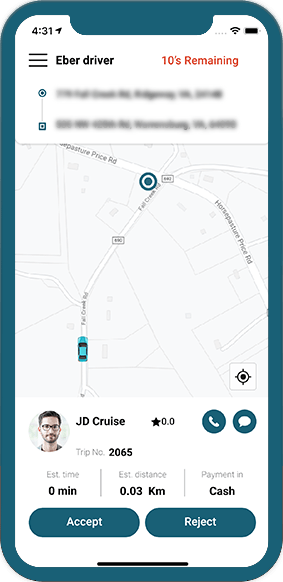 Doc Uploading:-
Drivers can upload their documents using the application for the verification process. The admin verifies and approves so the drivers can start providing services.
Earnings:-
The earnings reports of the drivers can be seen on daily, weekly and monthly basis. The mode of payment transaction will also be visible for the drivers for clarifications.
Real-time Map:-
Real-time maps are integrated into the application to make the ride more accessible and to find the best route to reach the customer waiting to be picked up.
Invoice Details:-
Invoices will be generated for the trips made by the drivers. The drivers can view all the payment details and charges involved in the rides exclusively.
Admin Console: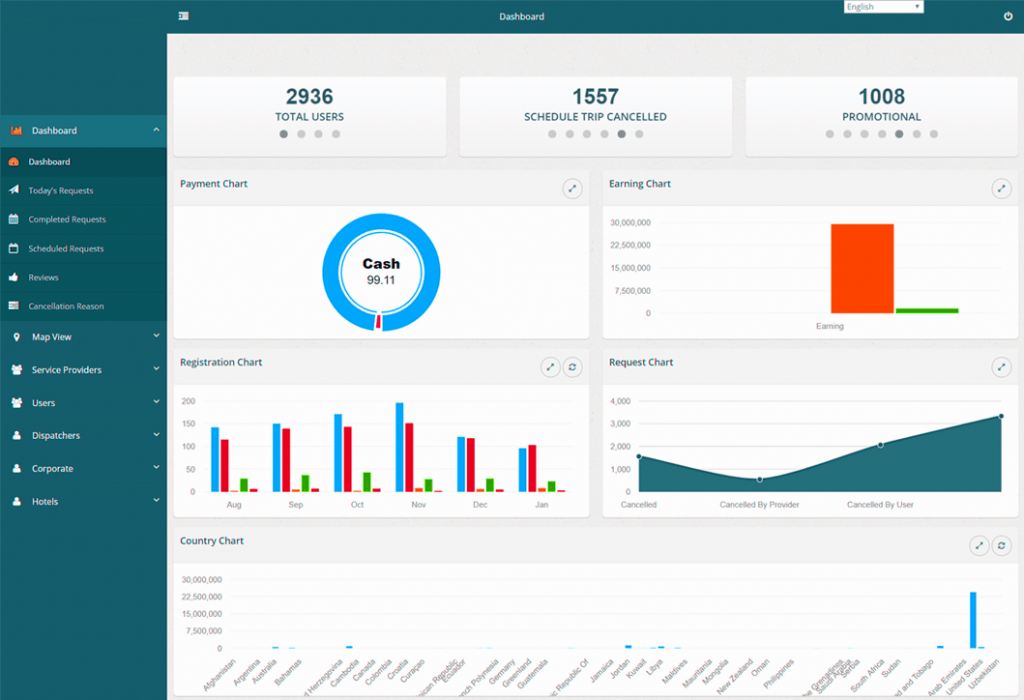 Admin Dashboard:-
This powerful dashboard has all the real-time data, graphical insights and trackers to make the taxi service hassle-free for the drivers and the customers.
Scheduled Requests:-
The scheduled requests with all the details including the payment modes, customer details of the ride come to the notice of the admin.
Mark Zones:-
The admin marks "green zone" for airports and stations to provide uninterrupted services and "red zone" a few places to disable the services.
Approved & Unapproved:-
The documents uploaded by the drivers will be available here for admin to approve or unapproved upon necessary verification.
Customer Panel: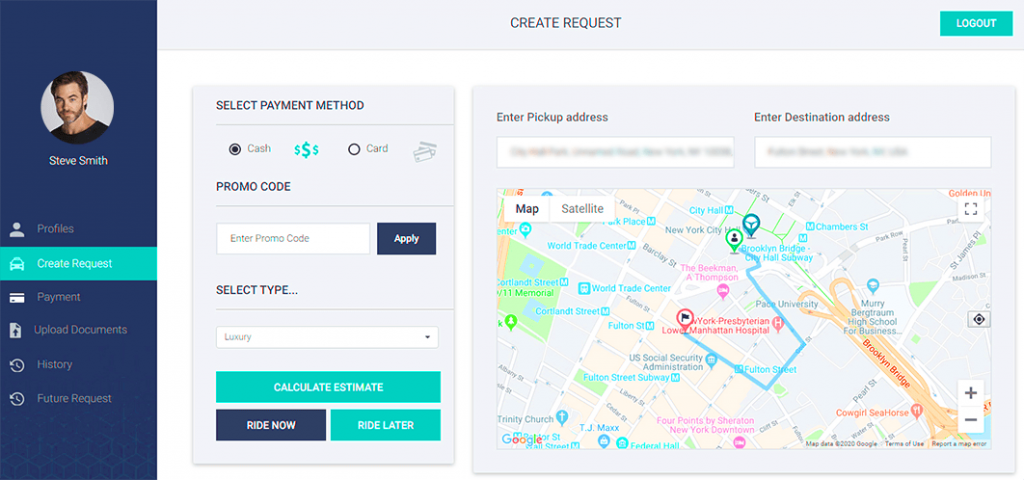 Loyalty Rewards:-
Loyal customers must be rewarded with coupons and digital codes. This will help the customers with discounts and free rides, which directly will motivate them to increase their rides in the future.
Vehicle Type:-
This feature allows the customers or riders to choose the vehicle type they are interested to make their ride comfortable and affordable.
Choose Driver:-
This add on feature of choosing preferred drivers helps the riders choose their most comfortable rider from past and book their taxi to reach their destination comfortably.
History:-
The riders can view the history of their past rides that includes all the places they have visited along with the payment details.
Driver Panel: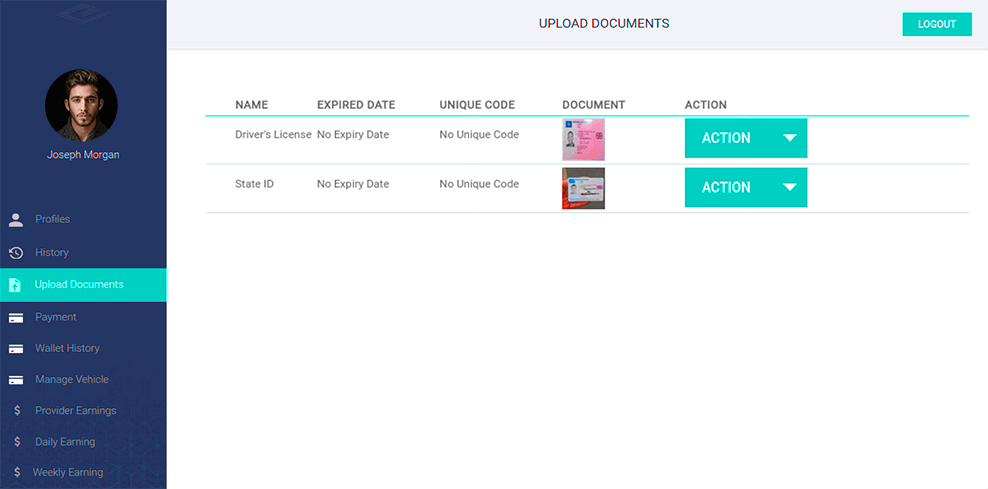 Manage Driver:-
The drivers can adding their latest profile pictures and edit their security information like passwords with this feature.
Manage Vehicles:-
The drivers will be able to manage their vehicle details by editing the colour, type and number of the car.
Bank Details:-
The admin transfers the earnings of the drivers securely to the bank account. The bank account can be added by the drivers using this feature.
Earning Details:-
The drivers can check their daily, weekly and monthly earnings details through a dashboard that helps them to increase their rides depending on their respective targets.
Benefits Of Taxi Booking App Development:
These benefits help you see how investing in the development of taxi booking apps will open your business up to new opportunities for success.
Improve The Business Reach:–
The primary benefit of investing in developing taxi booking apps will allow taxi businesses to extend their reach. It makes it easy for them to reach out to potential customers. The current generation is the generation with smartphones, so instead of calling for a taxi, they prefer to book one via an app. According to a survey, the majority of people use taxi booking apps online. This is an impressive number that could help businesses in attracting new customers. Therefore, the taxi booking mobile application development can be a great method to get your company up and running and attract more customers.
Improve Brand Credibility:-
Brand recognition is crucial for all businesses and especially for start-ups. Do you have any questions about how cab booking apps have received lots of attention around the globe?
They are well-known for their presence on the market and their services across the globe due to their brand recognition. Additionally, their decision to launch a cab app will allow them to expand their business to new cities and countries.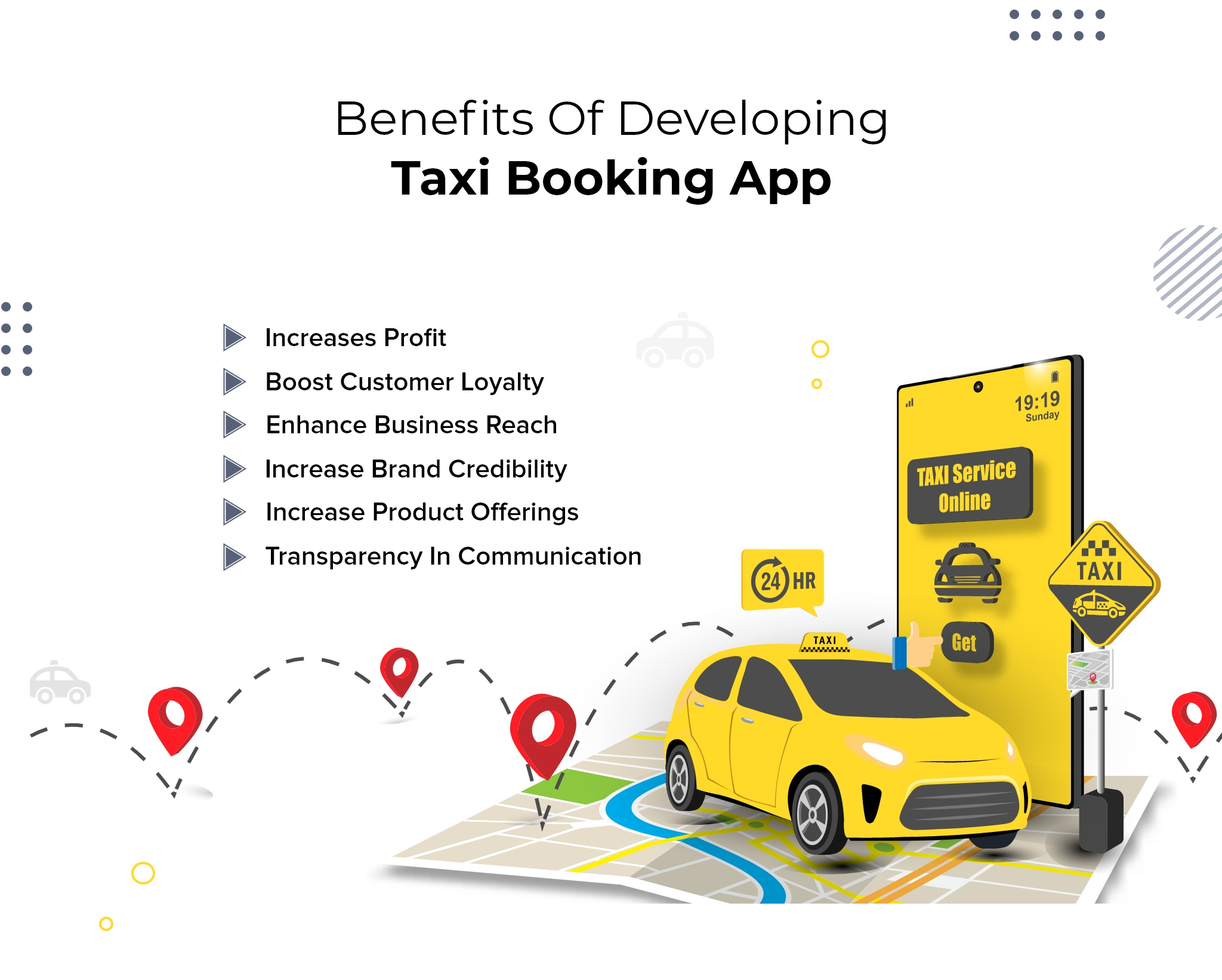 Enhance Customer Loyalty:-
A positive image of the brand can encourage customers to remain with a company over more time. Beyond your image as a brand, the quality of products and services you offer is the third most crucial aspect in gaining the trust of your customers. The consumer has a range of expectations and demands from a business.
To build lasting relationships with customers, businesses must first determine their needs and then provide solutions to meet their needs. The most effective feedback systems, that you can incorporate into your mobile application for booking taxis can help you determine these needs.
Drivers and customers are able to communicate their experiences via feedback mechanisms. They will be able to understand that your company is concerned about their needs as well as interactions with them. Businesses can turn their regular customers into potential customers by incorporating these features into their mobile app development.
Increases Profit:-
To run their business efficiently Taxi drivers typically make large payments to the aggregator's program. If you run a taxi service, establishing your own mobile application could help you save money on commissions. The in-house taxi booking software can boost your profits and expand your business rapidly.
Enhance Product Offers:-
Every taxi company offers taxi booking and ride-sharing as regular services to their customers. Offering a wider selection of products in turn will add worth to your business. If you offer traditional services you could provide your customers with some unique options for example, like selecting their preferred vehicle, driver, and many more.
These tools can help your business in drawing more clients. You will not only gain an edge over your competition as well as your customers.
Transparency In Communication:-
One of the toughest tasks is to maintain open channels of communication between drivers and their customers both consumers and businesses, and between drivers and businesses. Unfortunately, there are many offline taxi booking app development companies that are unable to succeed due to ineffective communication.
However, online taxi booking app can help avoid these miscommunications and give customers a pleasant experience.
Cost Structure Of Taxi Booking App Development:
Calculating the cost of creating a taxi application is more challenging. Although many app development companies have their own specifics in the app development services, the cost to create an app that's 'Uber-like' isn't definite. If we take a look at the simple version of the application that is based on the MVP features and a simple UX/UI design, the cost could exceed $XXXXX.

There's no need to worry about the cost of maintenance and support for applications such as these. There's only a small amount of backend assistance required. If you're looking for a complete app that has both basic and advanced capabilities, you can expect to spend between $XXXX and $XXXX.
Conclusion:
Be sure to consider the possibility of using a taxi booking app development company like Soft Suave. As we've said before there is an increasing demand for more efficient and affordable methods of transport a
nd transportation. The advent of autonomous cars in the near future will eliminate the need for drivers in the future, reducing operating costs and getting rid of parking issues.
To conclude, the taxi booking app development service will require a significant commitment of time and money. It is essential to locate reliable and trustworthy mobile application developers. The first choice you should make is app development in a team that is supportive and technologically advanced.
Frequently Asked Questions: