In the age of technology we live within, anything is only a click away. You need to call a taxi and a couple of tapping's to the telephone and you're done. Need to buy an attractive dress that has the summer theme, just an only a couple of taps on the phone, and you're completed. It's easy, thanks to the growing trend of mobile apps on-demand. Of the various types of mobile apps that are available on-demand there is one specifically that caters to grocery shopping. In actual fact, it is true that the rise of Grocery Delivery App Development was seen as more than a blessing to the majority of people. They simply loved the idea of ending the endless lines that they were forced to wait in when they went shopping. No more!
The number of on-demand grocery apps is growing at an alarming rate. As compared to prior years, there's an enormous increase in the amount of mobile grocery app customers. They love the concept of making online orders for their groceries and then having them promptly delivered to them.
This happens without the need to visit physical supermarkets and stand in lines to pay. This is the main cause for this dramatic rise in the number of customers who buy groceries online.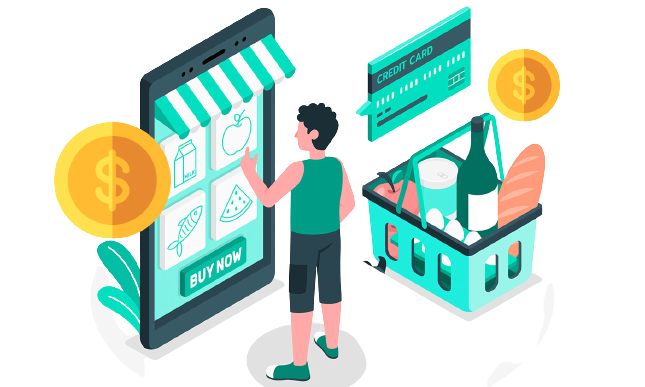 There are a lot of app developers and app development companies that develop grocery store mobile applications for companies that need them. They develop unique, speedy user-friendly applications that include unique features that make them popular to the customers.
Grocery Delivery Mobile App development:
Before moving on to details of the grocery mobile app's development Let's look at the current market size.
A study, which took place just recently, revealed the fact that 35% of users in the community prefer to order groceries online and these figures are growing at an alarming rate. The idea of Grocery Delivery Mobile App development has taken off with a roar of enthusiasm.
According to CNBC, It is anticipated that by 2025 online grocery sales could make up 20 percent of the market.
The other data suggests that the use of mobile apps for grocery will grow by 50% over the coming months.
This is why it's the perfect time to implement some adjustments to your business strategy to make your business more accessible to prospective customers. At present, there is a best way to do this than with the grocery mobile app. They can provide an exceptional experience for customers and can greatly assist in boosting revenue.
On-demand Grocery Delivery App Development: -
The operation of the majority of these grocery delivery apps is very easy. This makes it possible for everyone to utilize the application. The apps provide a vast array of items in the supermarket and let users create filters to make the process of searching more efficient for shoppers.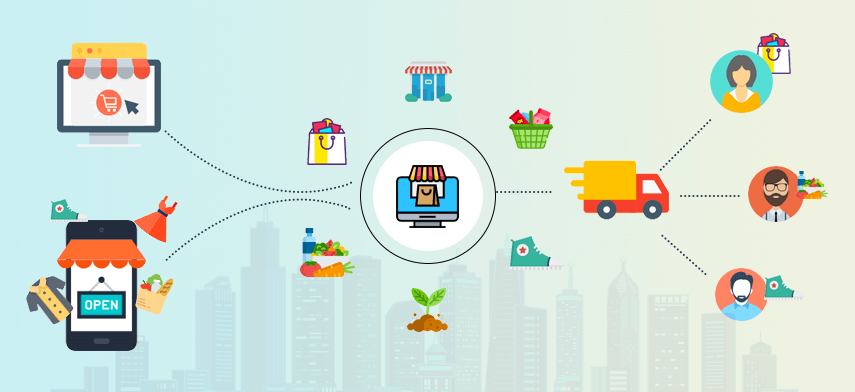 The apps function as a virtual store, and users can search for items in accordance with their preferences make orders immediately, and complete effortless transactions that are cashless. The result is that an on-demand app for grocery delivery app can make the entire process easy and simple for shoppers.
Q. What kinds of Grocery Delivery Mobile apps are available on the market?
If you're planning to Develop a Grocery Delivery Mobile App for your company, take note that there are lots of choices available to you. Below, we will discuss the most popular types of grocery apps on the market. They include:
1. Aggregators Apps: -
The concept behind this type of app for grocery is to list the grocery stores that are nearby to the customers. The user is able to choose one of the grocery stores on the app.
After navigating to the menu within the app, the user is able to add items they wish to buy, in the quantities that they prefer to add to the shopping cart. Once the cart is fully loaded the customer can checkout and make the payment through the payment option within the app.
When the payment has been processed, the customer will be notified of an order confirmation, and the transaction can be monitored through the user's account in real-time.
In this case, the job of the application will be to link the customer with the store that sells groceries, and the delivery is handled by the store's proprietor since the role of the aggregator is to show the store's location along with its restaurant on its app.
2. Marketplace Apps: -
The app of this kind is identical to the model of an aggregator The only difference is that this marketplace includes the delivery team who will deliver the groceries to the address of the customer.
3. Single Stores Apps: -
In this app model, the grocery proprietor gets an app created for his store. The owner is responsible to manage everything that comes with it, including maintaining the app, maintaining the menus up-to-date as well as delivering the food items to customers, and obtaining the payments.
4. Grocery Chains Apps: -
The majority of Grocery chain apps operate with the idea of Walmart and Walmart offers its own application on demand. The functionality is comparable to Single Stores at the micro-level operations.
5. Personalized Grocery Apps: -
These applications are specifically designed for consumers, helping them to plan their shopping methods efficiently. It assists shoppers in making lists of grocery items, setting reminders, and then sharing information about their groceries and their friends.
In the end, the goal of grocery delivery apps development can be to help make the shopping experience easier for shoppers and to provide an excellent user experience.
The market leaders currently in place within the segment for grocery delivery apps:
On-demand grocery app development is believed to be the most lucrative market at the moment and the biggest companies are Shipt, Instacart, Peapod, and Amazon Fresh, which have succeeded in making an impression in this area.
Peapod: Established in 1989.
Instacart: Established in 2012
Shipt: Established in 2014
FreshDirect: Established in 2002
Farmigo: Established in 2009.
Q. What are the main characteristics that make this app a Grocery Delivery mobile app?
The key features and functionalities of your grocery delivery app determine your success in the app market. Your app's success is rated based on the innovative and problem-solving features you have in your grocery delivery app.
1. Grocery User Panel: -
User Profile
Browse Products
Search Products
Make With List
Schedule Delivery
Order Tracking
Order History
Multiple Payment Options
Feedback & Settings
Social Share
Invite Friend
In-App Calculator
2. Super Admin: -
Manage Customers
Manage Shoppers
Manage Stores
Category Management
Order Management
Featured Product
Marketing Tools
Make Refunds
Sales Reporting
Support Enquiry
Real-Time Analytics
Role-Based Dashboards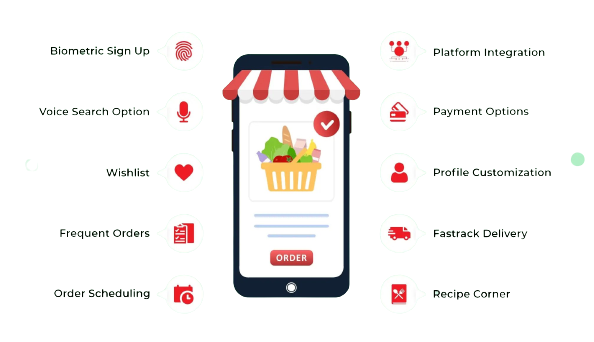 3. Delivery Boy: -
Delivery Request Notification
Accept or Reject Delivery Request
Track Customer Location on Map
In-app Chat/In-app Calling
Get Delivery Confirmation
4. The Grocery Store: -
Order Notification
Inventory Management
Accept or Reject Orders
Manage Payments
View Feedbacks
Customer Support
 In-app Chat/In-app Calling
Advanced Features of the Grocery Delivery App:
After you've learned about the most important aspects of a Grocery Shopping mobile app, you must learn about additional features and functions that can be included in the app for grocery delivery. This ensures that your app remains ahead of the pack.
1. Push Notifications: -
This function is quite effective in boosting the engagement of users with the app, which can greatly aid in retaining and acquiring new users. It is crucial to the success of an app that users are constantly engaged with it, however, this should be conducted so that users don't feel upset or annoyed.
Push notifications are fantastic to be used to notify consumers about new offers as well as discounts on grocery items. In addition, notifications can be sent to consumers about their latest purchases in order to ensure that they're informed about the happenings.
2. GPS Tracking: -
To develop a grocery delivery mobile application, GPS (Global Positioning System) functions are vital and are beneficial for drivers in finding routes. In addition, it assists in bringing up-to-date information to customers, in regards to orders and delivery.
3. Behavior Tracking: -
This feature is of great assistance as it efficiently monitors users' behavior on the app and suggests products to them when they return to the app for the next time. This is efficient and makes the whole process of shopping for groceries efficient.
4. Real-time Analytics: -
This feature is vital to be updated with everything happening in the app via graphs and figures. It is, therefore, easier to make plans for the future and develop strategies and suggestions to entice customers.
5. Loyalty Programs: -
To keep users glued to your app, it's vital to offer loyalty programs regularly for your most loyal app users, for example, you could offer them discounts on holidays or even gifts when they have reached a certain limit.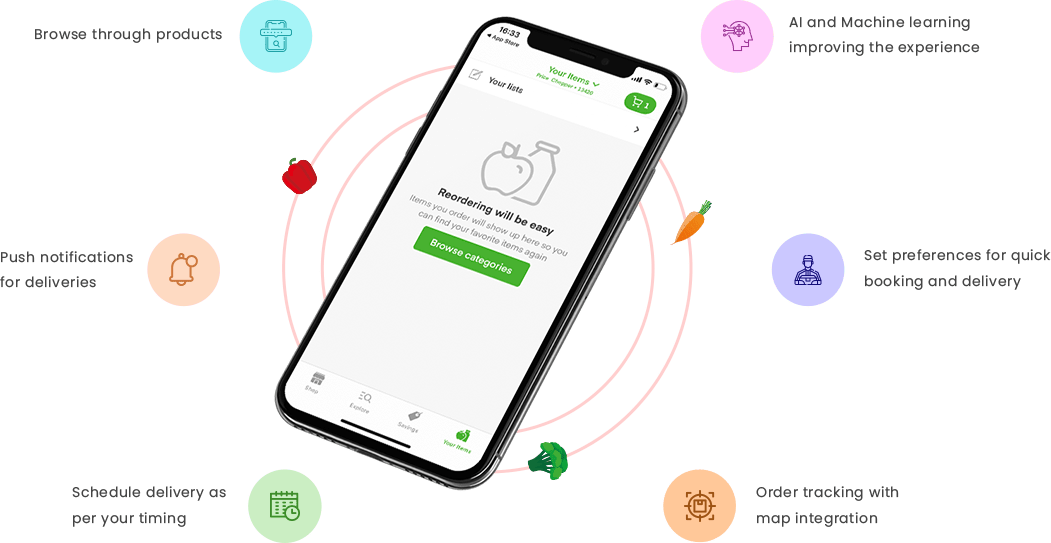 6. Marketing Tools: -
The goal of this feature is to help promote your application's mobile version to your targeted customers, by offering specials for new users as well as by running advertisements in-app.
7. Shoppers Tracking: -
To make this feature work it is also necessary to incorporate GPS capability, which has been mentioned previously. This Shoppers Tracking feature is helpful in locating users every time they are in close proximity to your grocery shop. You can then provide them with promotional offers and discounts, encouraging customers to come to your local grocery shop to avail of the discounts.
8. In-App Calling: -
This feature is helpful for calling in-app store owners or delivery persons. it also permits the delivery driver to call the store owner and customer to contact the user as well as to call the person who delivers.
9. In-App Chatting: -
In-app chat allows users to communicate with the person who is delivering and store owners should the customer need to provide any specifics.
10. Rate & Review: -
This feature allows the user to rate and rate the app. The app users are able to evaluate the effectiveness of the app as well as an online grocery store using reviews and ratings posted by other customers. The app allows users to give ratings to the driver.
11. Re-Ordering: -
Incorporating this feature in your application, you'll let your customers instantly make a new order for the items they bought in the past. This will save time and effort and will make the entire process much more efficient.
Guide to Build Grocery Delivery App Development:
A team that is well-organized with you is the most important part of developing a grocery delivery Mobile App. If you have a competent team of app developers in place, you will guarantee the success of your app to the maximum degree.
When choosing a company you choose, make sure their app development team is comprised of experienced and skilled employees, including:
1. Project Manager: -
The person in charge is responsible for keeping teams, at every level of development all on the same page. Because he/she is the link with the development team It is essential to make sure that the person is equipped with excellent communication and management abilities, in order to keep the entire team well-informed and on the same page at all levels.
2. App Developers: -
It includes the mobile app developers for iOS and Android, back-end developers, and. You can choose the developers based on the platform you prefer, for instance, if you wish to develop an application that runs on the Android platform, then you should choose Dedicated Android Developers.
If you're keen on creating an app that works on an iOS platform search for Dedicated iOS Developers. However, If you plan to create your app for each platform, you should work with both developers.
Front-end developers will handle the development process of the front-end app, while back-end developers will handle the back-end.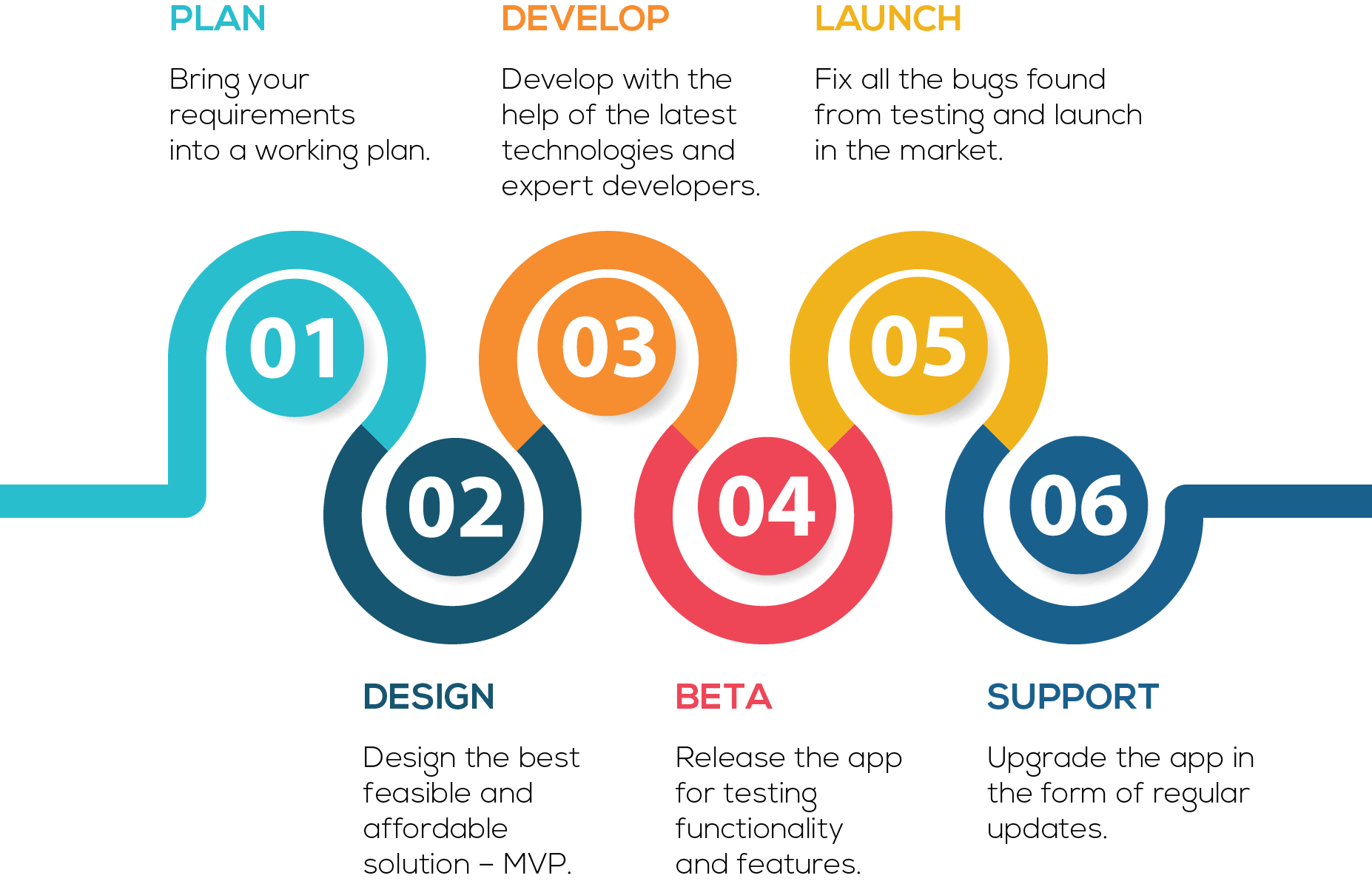 3. Designers: -
They are responsible for the appearance and feel of your mobile application.
4. Quality Analysis Experts: -
A mobile app is not a success if it's full of errors and bugs. Also, QA experts make sure that your app functions smoothly and is free of errors and bugs.
5. Delivery Manager: -
The person in charge is accountable for delivering the mobile grocery delivery app to customers.
Cost to Create a Grocery Delivery Mobile App:
There are a variety of aspects that influence the price of any mobile application A few of which are listed below.
The app's complexity
The number of apps platforms
Development Team Size App
Development Region
3rd Party App Integration
The complexity of the app is influenced by the functions and the design that you select to integrate with your app. The more intricate the features and design will be, the more expensive the price.
Then, if you select only one device, iOS, or Android to develop your app, then the price will be lower than an app created to work on all platforms. Next comes the development area.
If we go by this estimation We can estimate the price to develop an app for mobile with important features and on a single platform, it will be between $XXXX and $XXXXX, if you decide to hire Indian Developers or a grocery delivery app development company. But, developing an application with the most features available for both platforms will cost you around $XXXXX.
Conclusion:
In this article, we've discussed specific aspects, the importance of partnerships that yield profit, and ways to make money that will help you to use Uber for food shopping applications. What you require next is an app for the grocery delivery business.
You can cross-check your ideas with us since we are a renowned mobile application development company located in the United States and India. We've developed applications of different categories that work on each of the Android as well as iOS platforms. Take a look at the following outcomes that we have obtained from our app development.
If you have questions regarding the on-demand grocery delivery app development cost, timeframe or any update to your version on the app store Contact our expert in technical support. All you have complete is to fill in the contact form on the footer of the page and we'll respond in less than 48 hours. Additionally, it will be a 30-minutes of free consultation.