If you are not able to join a zoom meeting through your laptop or phone, ask your kid, and they will know all the possible ways to join the meeting. Kids nowadays are tech-savvy than adults. The ongoing coronavirus pandemic has made kids evolve on a higher level in terms of technology and knowledge.
Education Industry:
The education industry in 2020 is fast-growing. When the education system in the world was looked sluggish, came the COVID-19. The disruption in the education industry was inevitable. Starting from leading educational institutions to the kids, everybody moved on to robust eLearning solutions. Looking at the shift, you can easily guess the language the next generation will speak – digital.
Digital solutions have taken over traditional solutions. eLearning solutions have taken over classrooms. Digital transformation was expected without a doubt, but the timing was unexpected.
eLearning App Development Industry:-
The eLearning market has crossed the $200 billion mark in 2019 and is expected to exceed $375 billion by 2026, according to a new report from Global Market Insights, Inc.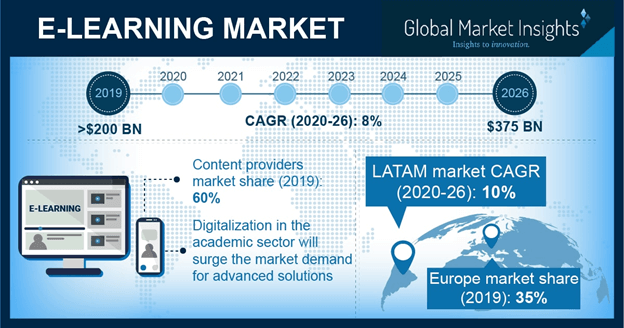 If you look into the growth deeply, the eLearning app development industry would definitely have a significant part to play. eLearning and education application development companies are like two peas in a pod. They complement each other while growing sharply and benefitting the users simultaneously.
eLearning app development solutions have seen a significant turnaround in 2020. No old techniques are helpful for individual and community growth. Therefore, modern-day app development companies and business owners are applying unique eLearning techniques to develop successful eLearning apps and reach the right audience in the market.
Different Types of e-Learning Apps:-
eLearning applications differ from person to person. All applications that, in a way, helps knowledge transfer is an e-Learning application. Let's take a look at the most common types of eLearning applications available in the market so we can help you choose which app suits your business needs for development.
Online Courses Application:-
Online courses are the most common eLearning apps found in the education industry. They are widespread around the world for the massive knowledge transfer made using simple video and audio content. The availability of online courses on programming to cooking has made people around the globe get adapted to eLearning.
Education Institution Application:-
Application for education institutions is the most essential and useful application right now. App development companies are filled with requirements from educational institutions to develop highly-interactive mobile apps.
The COVID-19 has forced the world to go mobile, and this is the only option for educational institutions to sustain in the market. Educational eLearning apps will help educational institutions in attendance, tests, online classes, and grading. It makes the teaching and grading process easier.
Exam Preparation Applications:-
Exam preparation application facilitates users to prepare for exams and take up mock exams effectively. It enables users/ students to prepare efficiently with the help of time management and scheduling. A few types of exam preparation apps are; Tests and quizzes and database with study materials.
To develop a successful exam preparation app, you must concentrate on push notification alerts to remind users about the goals and a system of assessment to make their exam preparation successful. Additionally, you can also provide tips on studying effectively and scoring big.
New Language Learning Applications:-
One of the trending apps in the eLearning app development industry is the new language learning app. People that travel often and people that migrate to another geographic place are the customers. Although COVID-19 has terminated traveling in 2020, 2021 is almost full with travel plans.
The number of travel plans for overseas trips is increasing rapidly. People need to know at least a few basics on a specific regional language when they travel overseas, and this is the gap in new language learning apps fill.
Education Supporting Applications:-
There is still a demand for education supporting apps among the students and people worldwide. Online dictionaries, libraries, and note-taking apps are all a part of education supporting apps. Business owners that have a limited budget to invest in the eLearning platform can go for education supporting app development and reap a considerable profit.
Key Features Of On-Demand e-Learning Applications:-
What is that unique feature that makes eLearning more popular and appreciated by many? This question is found in many individuals. Let's find out right away and make use of those in the near future.


Pros and Cons of eLearning App:
Every application will have its own set of pros and cons. Likewise, the eLearning app also has a set of advantages that benefit the customers largely and a few cons that disrupt the usage of eLearning apps. Let's take a look at the pros and cons of the eLearning app and be prepared for the ups and downs that occur during the usage.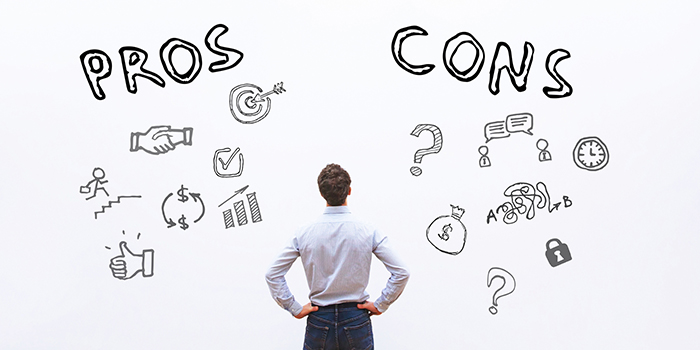 Availability: Content in the eLearning application is available 24/7. It paves the way for endless learning until you are familiar with a concept. Most of the eLearning apps succeed by availing their content throughout 365 days and 24 hours so the students can use it during any of their desired time.
Cost-effective: eLearning apps are cost-effective than the traditional method of learning. A classroom charge to complete a programming course will cost you several hundred dollars. However, with eLearning apps, you can complete the programming course will assessment under 20 dollars.
On-demand courses: eLearning apps facilitate you to choose your courses on demand. Traditional education methodology forces students to learn a planned list of subjects, no matter how important it is for the students. However, eLearning allows students to choose what fits their learning capability and plan according to their schedule & plans.
Lack of physical activity: eLearning application reduces physical activity. Although technology in the education industry had grown largely, parents are more concerned about the health of their kids due to lack of physical activity. Allowing kids to stick to mobile devices is a red flag for the parents of this generation.
Internet connectivity: Internet connectivity is the biggest foe for educational applications. Videos can be streamed only if you have a healthy internet connection. No internet or lack of robust internet connectivity will restrict your content availability. Although offline courses are available, the resource will be limited.
Software and hardware issues: eLearning apps have to be maintained and updated regularly. Failing to update or maintain will result in bugs and software issues. Utility apps like eLearning must be taken care of very well. Likewise, hardware compatibility also has to be addressed if you are developing an eLearning application.
How Much does it Cost to Make an e-Learning App?
eLearning mobile apps for Android and iOS will cost you according to the requirement you share with the development company. Likewise, your choice for an eLearning application development company will also play a vital part in the cost decision. At Soft Suave, eLearning app development solutions would cost around $10,000 and increases depending on your customized requirement.


Wrapping Up!
In the education industry that is growing fast-paced, it is upon you to develop the right eLearning solution for your audience. The above steps will guide you to develop a successful eLearning application development at an affordable cost.