People are busy in 2021 and they need quick and hassle-free solutions. Starting from buying daily needs to ordering food, everything is done online. Advanced technology and the growth of the internet is the main reason.
Marriage is an auspicious day that needs a lot of physical and mental effort. Thus, starting from the selection of bride and groom to the day of the wedding a lot of planning has to go into the process.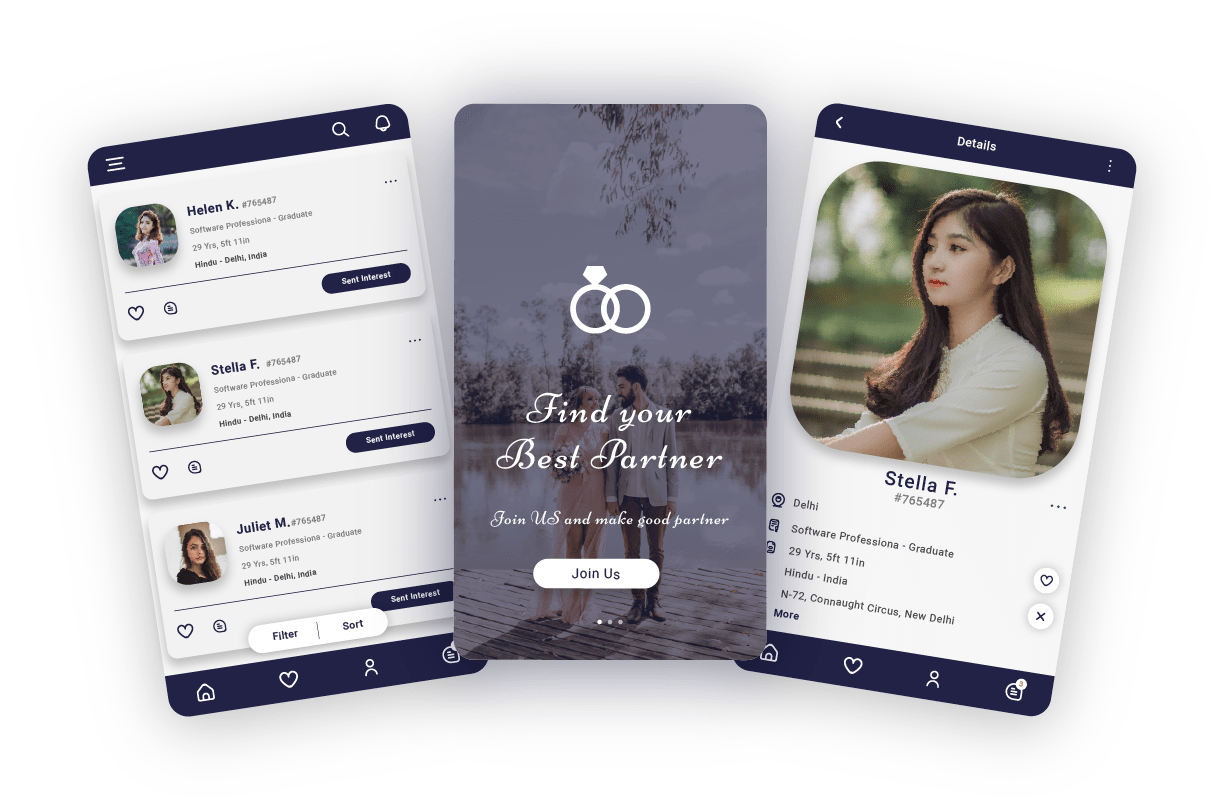 Gone are the days where your family, relatives, and friends found a suitable marriage partner using agents. Also, matrimony Apps have made lives easier and quicker for all. It saves time, cost, and efforts of people in search of a bride and groom.
Matrimonial Industry in 2021:
The matrimonial industry is shaping up successfully in 2021. The world was stuck with COVID-19 and all the industries froze without any revenue and profits. However, the matrimonial industry was the quickest to recover and stand tall in the market.
The rules set by the respective governments and the social distancing guidelines prohibited grand marriages from happening. Now that the COVID-19 vaccines are out, rules are relaxed and marriages are happening everywhere around the world.
Business owners that are already in and new to the matrimony industry are trying to leverage technology and relaxations to build their business. Matrimony App Development is surging in 2021.
According to Statista, the revenue in the matchmaking segment is projected to reach US$3,103m in 2021. Also, the revenue is projected to show an annual growth rate of 8.48%, resulting in a projected market volume of US$3,961m by 2024.

Importance and Scope of Matrimonial App:
People are busy and want solutions at their fingertips. In a busy life, it is a great idea if you have an App that shows potential matches to the users. Thus the scope of the Matrimony app is massive in 2021 and the time cannot be better to start your app development.
Developing an app will let your customers find the perfect match by simply registering in your app. Moreover, the filters in the app will help the users to bridge the gap found in differences.
The scope of the matrimony app is huge because the users get the privilege to browse many profiles at a time. Also, if you offer high privacy and security, you can compete with the best in the business.
You can start by hiring a mobile app developer to build a robust mobile app and scale up your business.
Must-have Features of a Matrimony App:
The success of your matrimony app depends on the features you offer. It is a must for you to offer a secure and convenient platform for users to find their perfect matches. Also, a powerful app with interactive features is a success factor that increases user engagement. Thus plan to build an app with features that engage users.
Moreover, you also have to build an admin app to control your user app. Thus keep in mind before you start the development.
Here is a list of basic features;
Sign-ups and log in – Users can signup using their name or mobile number. You can also integrate OTP to allow your users to sign-in securely.
Add profile – Adding profiles is the most crucial feature that facilitates users to add information and find the right match.
Membership – This is the feature that will generate revenue for you.
Push notifications – Push notifications will let the users know all the functions that happen in the profile. It is a must to integrate push notifications and allow users to know what happens in the app in their absence.
Payment gateway – Payment gateway is a must in an application. Also if you integrate a secure gateway, users will feel safe and convenient to make payments.
Match generator – Match generator is the core feature of a Matrimony App that will generate suitable matches according to the requirements of the users.
Custom filters – Human wants are unique. This is the need for a custom filter that helps users to choose their perfect match.
Advanced Features of a Matrimony App:
When you start with your matrimonial app development, you can begin with the basic features to attract more users. However, you have to integrate more advanced features if you want to retain them in your platform.
Let's take a look at the most advanced features that would add value to your matrimony app;
User Privacy and Blocking:-
Privacy is a major concern in today's world. Users would love it if you offer extra privacy in the form of end-to-end encryption in your app. Also, if things go beyond control, users should have a choice to block the other party.
Geo-location:-
Adding geolocation will help users to filter matches based on location. It will also benefit users to find a partner near their location or choose from a specific location according to their needs.
Social Integration:-
Everyone is on social media. Integrating social media with your matrimony app will help users understand the likes and dislikes of the matching partner.
Data Security:-
Matrimony app will have the most sensitive and confidential data. Thus your app must be highly-secure and assure the data will be protected and not shared with any third-parties.
BioData Generator:-
It is common for users to sign up without any basic information like biodata. Thus fill the gap with a Biodata generator. All the user has to do is share the basic information, which will turn into a noteworthy biodata.
Also Check: Guide For Building Food Delivery App
Best Tech Stack for Matrimony App Development:
If you are a confused entrepreneur that wants to know what technologies to use for your matrimony app, here is a list for your reference.
Smartphone: Android or iOS
Push Notifications: Twilio, Push.io
SMS and Voice: Nexmo, Twilio
Backend: PHP, JavaScript, MySQL
Payments: Braintree & PayPal, Stripe, EWallets, NetBanking, and Cards
Database: MongoDB, Hbase, Cassandra, Postgress, Mail Chimp Integration
Cloud Environment: AWS, Google, Azure
Realtime Analytics: Hadoop, Spark, BigData, Apache Flink, Cisco, IBM

Cost to Develop a Matrimonial App:
The matrimonial app development cost clearly depends on your requirement. If you have a low budget you can proceed with a matrimony app clone from a renowned company like Soft Suave.
However, If you have a lot of custom ideas, the development cost will be expensive. Below are a few factors that contribute to the cost of developing a matrimonial app.
Custom features and functionalities
Design & size of the App
App developers location & experience
Development platform
Wrapping Up
2021 is the year of growth in the matrimony industry. It is on you you leverage the opportunities and build a scalable solution for your business. If you want a cost-effective and remarkable solution, you can get in touch with the leading mobile app development company, Soft Suave.
As governments around the world are relaxing the social distancing rules, the number of marriages would rise exponentially. Build a top-notch matrimony app and be a leader in 2021.