Are you interested in knowing how to build a food delivery app? Look no further than Soft Suave, a food delivery app development company that can provide you with a complete guide to the process.
As the demand for food delivery services continues to rise, the need for food delivery app development companies like Soft Suave has become increasingly important. Online food delivery has become a part of everyday life for many people, with over 50 million active users of food delivery services in the U.S. alone. This number is only expected to grow as more people adapt to a convenient lifestyle and the impact of the Covid outbreak continues.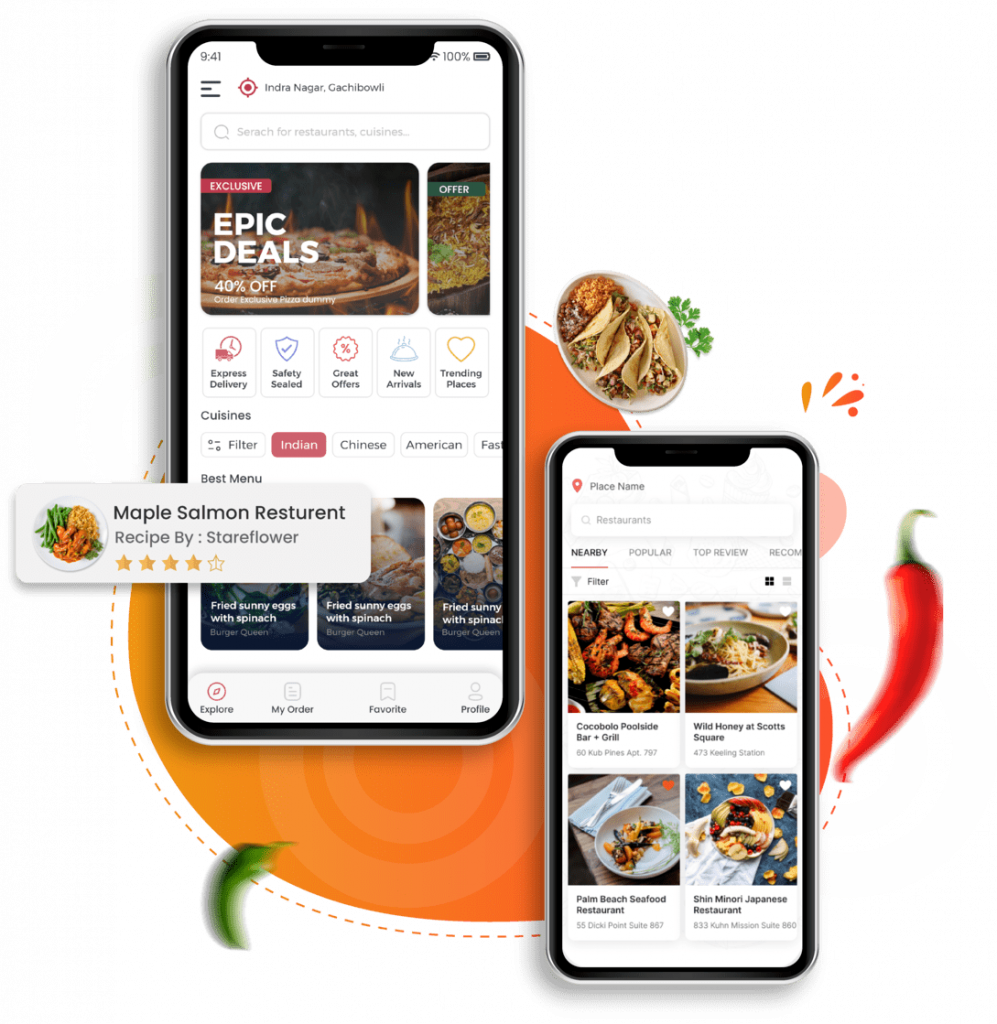 In this blog post, we will explore everything you need to know about food delivery app development, including the top food delivery app development services. Where does your audience live? How can you make sure your app stands out from the competition? What should your app look like? Soft Suave, a food delivery app development company in India, can provide you with the answers to all these questions and more.
Market Demand For Food Delivery App Development
Although food delivery apps have been a staple in the mobile app development industry for many years now, the industry has steadily grown in popularity over the past several years. This is because more people are actively seeking food delivery options. Consumers are also increasingly relying on mobile and online ordering platforms, making food delivery apps among the most convenient options.
 Whereas a decade ago, only a small percentage of consumers actively ordered takeout food, nowadays many people order takeout more often than we dine in at restaurants. 
Because the need for food ordering services increased, there are many food delivery software development companies getting their way to increase their revenue through food ordering app development.
Worldwide, according to Statista, the revenue for online food delivery keep on increasing since the demand is predicted always to be increasing in the upcoming years.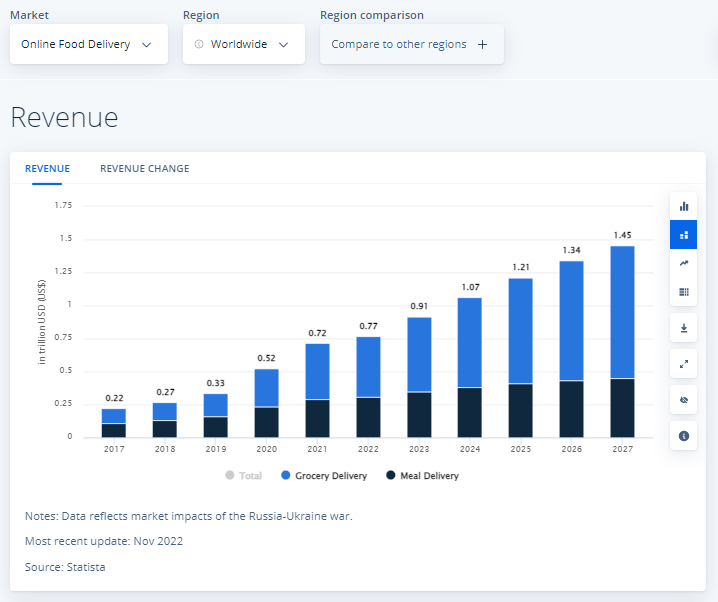 Even after the pandemic, people started to rely more on online delivery services which include many factors that keep food delivery software development company to grow further.
There are 3 Main Factors that play a role in Keeping Food delivery apps in demand constantly. we are,
Constant On-Demand Market
Food craving never stops, so the Food delivery services too. The current era is the peak of Globalisation, As a result, people like to try different cuisines of food from various nations. Because of that, you can get food from anywhere around the world available on your doorsteps. Who doesn't want it? Who doesn't want to try watching a Korean drama with a bowl of Kimchi fried rice and Soju?
After Covid Growth In the Industry
" When things turned from Want to Need. 
It sure gets on-demand for people"
For food delivery industries, there's a major financial and development growth after Covid. 
Even after the pandemic, people continue using these Food and grocery delivery services for convenience. So, the Food and other Edible products deliver Mobile and web applications development also increased in IT Industry is the Epic success of every food Industry brand.
Adaptation of Convenience Lifestyle
If you are reading this right now, you already adopted a convenient lifestyle. The headline of this Blog post shows it all. "A complete guide". A one-stop page to get all the information you wanted. Right? Well, You won't be disappointed. 
" We are unconsciously adapting to this lifestyle as time is the factor that plays 2 roles in the same place. 
 You don't have enough time. 
 You can get everything within time."
Benefits of Food Delivery App Development
There are so many food delivery app development companies that are mushrooming for this demand because of how much businesses and startups want to invest in food delivery services as a business because of its growing demand. There are many benefits associated with developing such a platform. Let's see,
Growing demand
–
In the introduction, the food delivery industry is moving at a rapid pace. There is a growing need for platforms to simplify the ordering process and connect consumers with food delivery drivers. 
The potential for growth
–
As the industry continues to grow and strengthen, there will be an increased demand for platforms that can facilitate food ordering and delivery. Food delivery apps will become more and more important as time goes on. 
A chance to develop your brand
–
An app that facilitates food ordering and delivery will also provide you with a great opportunity to develop your brand. You can put your business Identity name or logo on the app, and that will probably be synonymous with food delivery. 
Opportunity for additional revenue
–
By creating a food delivery app with a food delivery app development company, you'll have the chance to monetize your platform and offer additional services, such as food and restaurant recommendations, Event booking, and more. Well, you got an entire platform. Play it.
Strategy for long-term success
–
Creating a food delivery app is a dominant strategy for long-term success in the food delivery industry. It's a great way to get your name out there, and it will provide you with a splendid chance to distinguish yourself from the competition.
Know-How Each Side Of The App Works?
We've already discussed some benefits of developing a food delivery app, but do you know how the app functions on different panels?
Let's break that down now, shall we? 
Customer App:
Your main product is the customer application. Food and drinks can be chosen and delivery times and locations set. You can also include offers and other services. Using this app, customers can pay for their orders, track their order status, and even track couriers in real time.

Nearby Restaurants –
Customers can view all the nearby restaurants and search for the name and food items easily.
InApp Payments –
Supporting Multiple payment gateways and paying online inside the app is one of the great features of food delivery apps.
Restaurant Menu –
This helps users to choose the different menus from various restaurants, we can choose the food we want to order by comparing their choices with delivery costs and offers.
Rating & Reviews –
The Feedback, reviews, and ratings for the restaurant, drivers, and the food delivery services can be separately given by the customers.
Push Notifications –
Order confirmation, current order status, order cancellation, and offers can always be on their phone as notifications for more engagement.
Social Media Login –
The food delivery app allows users to share their experiences, food images, and reviews on social media.
Coupon Management –
Coupons and offers are shown in every order placed. we can choose them easily from it.
Order Tracking –
Using the real-time order tracking feature, users can keep track of their food orders. It is possible for users to track the exact location of their orders and estimate how much time it will take for a driver to arrive.
Restaurant App: 
This panel is the heart of the app. This is where every transaction starts and ends. The customers start to look for the food, the order in it, and the order request is updated here, the  On the Restaurant partner side of the app, the restaurant panel shows orders placed, how much we earned, and ratings. Also, we can manage orders like accepting or rejecting them.

Profile –
This option allows restaurant owners to create profiles for their restaurants, payment details, and other contact information about their restaurants.
Manage Offers & Discounts –
To make ordering food easier for customers, restaurants can come up with new discounts and offers or customize the existing ones.
Menu Management –
This option allows restaurants to add menus, and descriptions and manage prices, customizable options, etc.
Payment History –
All orders can be managed in one place, and restaurants can view all ongoing orders, dispatched orders, pickup orders, and scheduled orders.
Manage Orders –
Managing orders can be done in one place, and restaurants can see all orders – ongoing, dispatched, picked up, and scheduled.
Push Notifications –
As soon as a new order is placed, a notification is sent, as well as a status update on the order that was received or shipped, or the payment received online.
Real-time Tracking of Driver –
Real-time location tracking allows restaurants to track drivers' locations. The time and route of each delivery can also be checked.
Driver's App:
Based on their Availability, drivers can accept or reject the request to deliver the Food and we also can do more than that in this panel. This helps manage their profiles, and have an engagement with customers, restaurants, and the main admin regarding the order delivery.

Profile –
Drivers can log in and create their profile, contact information, and driver's license can be added here.
Realtime Requests –
Drivers will be notified when the customer put on any requests while engaging.
Manage Orders –
Drivers can manage multiple deliveries using this option. Whether it is dispatched, packing, or packaged and ready to pick up.
Availability Settings –
Drivers can set the Availability by going offline at different times of the day, so we won't get notified.
Order History –
we can save and manage the food delivery information and track their earnings.
Delivery Information –
Delivery information will be provided to the drivers about the location and customer details.
Realtime Tracking –
With real-time tracking for the customer's location, we can clearly track and see the map route for the destination.
Payment History –
Payment history and earnings tracking can be easily done using the Drivers panel of the food delivery app.
Admin Panel:
One of the most important features of the Food Delivery App is the admin panel. It is where you can customize your account and manage your orders. You can also view your orders, add notes, and contact the restaurant. The admin panel is where you can see your order history, view your orders, edit your billing information, and see your last order.

Customer Management –
The details of customers, cuisines, restaurants we prefer, and the orders we place are displayed in the admin panel.
Menu & Timing –
Using this panel, the restaurants can easily add different menus for different timing like breakfast, lunch, and dinner.
Restaurants Management –
Adding, removing, updating, and engaging with the restaurant.
Delivery zone Management –
The restaurant manages the order status, delivery, and queries from this panel.
Driver Management –
This section has all the information about the driver's license, contact details, and availability.
Analyzing & Reporting –
we can get track of the growth with the help of insight stats from this dashboard.
Payment & Commission Management –
Managing payments and commission tracking can be done in this section.
Promo Codes –
This option helps manage the coupons and offers by the restaurants and food delivery services to the customers.
I can see it tempted you to make an app like this. Well, we can use the Full stack technology to make a ravishing mobile and web application for an online Food delivery Business and Existing Restaurants who want to make their own brand application.
Here, we are guiding you to choose the suitable technology for your Food delivery app development based on your business goals.
Tech Stack to Develop a Food Delivery App
Tech stacks are Frontend and Backend. Whilst backend technology includes web frameworks, programming languages, servers, and working structures, Whereas, Frontend technologies contain HTML, CSS, JavaScript, and UI frameworks and libraries.
You can also hire Full stack developers from Soft Suave who works on both front-end and back-end technologies as a leading food delivery app development company in India. But if you want to choose a different technology for food app development? You have options.
You might wonder which tech stacks are best. For a food ordering app development company, we know how exactly to do this. Well, there are many frameworks that work for food delivery apps. Here are the most common ones.
Back-End Technology:
The backend is responsible for handling and managing storage, database, and other resources. It is the data access layer of software. Choosing the right back end can decide the good accessibility of the application. Choosing the right Back end app development company is also Important.
Server:- Nginx
NGINX is open-source software for web serving, reverse proxy, load balancing, and more. It started out as a web server designed for the highest performance and stability. Efficient in handling Income traffic for the food delivery apps.
Frameworks:- Laravel
Laravel is one of the PHP frameworks mostly used for food delivery app development. It is one of the secure frameworks. So, it is good for app development. You can hire a PHP development team from India. 
Database:- MySQL and Redis
MySQL helps it effortlessly to scale and boost high-performance functionality.
The own hashing mechanism of Redis' facilitates object storage and optimizes caching.
Hosting: – AWS and VULTR
It is the best option for hosting because its object storage service supports up to 1,000 GB with 1 TB of bandwidth. Our developers can upscale or downscale any application on demand with  AWS or VULTR.
---
Looking to Hire Backend Developers? Contact Us Today!
---
Front End technology:
Front-end technology is more of Visual elements of the application where the user interactions are done. The most used tech stacks for front-end development are AngularJS, ReactJS, Backbone, Vue.js, Sass, Ember JS, and Npm.
Cross-Platform: – Flutter
 A single codebase allows you to create beautiful, natively compiled applications for mobile, web, and desktop. Open source, free, and widely used, Flutter works with existing code.
Hiring a flutter app development team who knows how to use the technology to the right path that achieves both market goals and app success might be a risk-tiring task. 
Leave it to Soft Suave's app development team for a hustle-free engaging app development process. 
Cross-Platform: –
React Native
React Native helps speed up performance and make the app works seamlessly which is suitable for food delivery apps where there are thousands of people using it at the same time. You can hire react native app development team for achieving market goals.
iOS Platform:- 
Objective-C & Swift
Objective-C and Swift are specially designed programming languages for Apple users as it is an iOS Platform. They are general purpose, easy to use, safe, and secured dynamic technology for smooth and stable running in iOS applications. The iOS app developing team from Soft Suave are well trained in various app devlopment projects.
Android Platform:-
Java
Java's highly secure solutions and sandboxing help the apps stand out from others. Choosing Android is one of the best market goals since most of the users in the world are android users.
If you want to develop your food delivery app using Java, hire our Knowledged Java developers team.
Android Platform:-
Kotlin
We also use Kotlin as it is interoperable with Java and gives easy maintenance.If you want to know more about app development, get a free consultation from Soft Suave app development team. 
You Might think app development looks like a long-term process right? Of course, it is. But is a Longtime success investment.
 Even though, If you need an app Instantly, No Worries! You can go to the Clone app development You can get Instant apps like UberEats, Grubhub, Swiggy, food panda, etc. Since we market tested, You don't have to worry about anything and just go for It!
---
Looking to Hire Frontend Developers? Contact Us Today!
---
How to WIN OVER the Competitive Markets?
Favorably, there are plenty of ways to differentiate yourself from other food delivery apps on the market. Here are some,
Choose a niche – One of the best ways to set yourself apart from the competition is by choosing a niche. This means that you should narrow your focus and only provide food delivery services for a specific type of cuisine or in a specific region. By choosing a niche, you'll be able to set yourself apart from other food delivery apps that are attempting to be all things to all people.
Offer unique ordering methods – Another way to set yourself apart from the competition is by offering unique ordering methods. For example, you could create a food delivery app that allows customers to order meals by playing a game. Alternatively, you could design an app that allows users to order meals through voice commands.
Create a unique reward system – You could also differentiate yourself from the competition by creating a unique reward system. For example, you can offer free meals to customers who refer their friends to your app. A rewards system like this will entice many people to try your app and will help you set yourself apart from the competition. 
Offer free deliveries – You could also differentiate yourself from the competition by offering free deliveries. This is a great way to set yourself apart as a generous service that really cares about its customers.
Regional and Cultural Focus – We all know food is deeply connected to culture and geography. If the food delivery app focuses its marketing on that, like regional languages, culture, and customs.
Eyes on Competitors – Having an Eye on competitors is one privilege to make yourself unique from others and can stay in the business being forwarded.
Best UX/UI – Having a Unique and good user-friendly app can easily make customers use it more for convenience.
Cost Estimation for Building Your Food Delivery App
Depending on the features you are looking for and the method you choose to build an app and based on the Additional requirements and design. The cost may vary. It will be a good choice for you to Consult with an experienced food delivery application development company.
After analyzing your needs and requirements, we can give you the cost estimation needed for your Food delivery application development. Some Full stack development companies even give promotional or seasonal offers that may cost you less but no compromises in quality.
How to Create Your Own Online Food Ordering App?
If you've read this far, you've likely realized that creating a food delivery app is no small feat. In fact, many businesses spend years creating their own food delivery apps. If you want a successful food delivery app, you'll need to first conduct in-depth market research. To make it simple, try to answer these questions.
What kind of OS platforms does your app want to be in? Like Android or iOS.
Do you want a Mobile application only or a Web app too? 
How do you want to Build your food delivery app? Like Clone or Custom.
There are some other factors that also needed to consider.
But, You don't have to worry about anything. There are many app development companies like Soft Suave with years of experience in the same field and repetition of doing projects like Food delivery app development can make anything possible.
Why Choose Soft Suave?
Soft Suave is the best food ordering app development company India filled with an experienced and talented app development team who are ace at creating a Food delivery application for both Web and Mobile devices as how you want to build it.
Most importantly, you can get a free Consultation before stepping into the Online food delivery Business.
Conclusion:
I hope you now have a clear understanding of the food delivery app development process. As you may already know, the food industry market is constantly growing and evolving. So, if you're planning to invest in this sector, there's no need to worry. In case you need an extra hand, you can always rely on Soft Suave, a leading food delivery app development company in India, to help you develop your app and bring your ideas to life. Their experienced team can provide you with a robust and scalable app that meets your specific requirements and helps you stand out in the market.
Frequently Asked Questions