Agree or not! Nowadays every problem has a mobile app solution. Gone are the days where people worried about what they are going to cook. With the ever-changing digital scenario, this problem of what to cook also has a perfect mobile app solution called "the food delivery app". According to a recent survey, around 81% of people order food online for convenience. This reason has caused many companies to go for food delivery app development. The amount of success in the food delivery business is huge in comparison with the other businesses. There are many ways to increase the growth of your food delivery business but going for mobile app development should be your first choice as it has many benefits that will increase your business drastically.
If you are interested in Developing a Food Delivery App, then this blog is the right place for you to understand the step-by-step guide for successful food delivery app development for your restaurant.
Food Delivery App Development:
A food delivery app should not just help the consumers choose food for delivery but should show the quality of the restaurant in terms of food, standard and business. A food delivery mobile application will increase the stature of a restaurant if it is developed according to the industry standards. During a Food Delivery App Development it is necessary to consider the performance of the app, as it needs to be excellent and highly responsive for all the consumers, restaurant owners and delivery staffs simultaneously.
Benefits of Food Delivery App Development:
Undying Industry: – The food industry is an evergreen industry where the demand for food-related business will never perish. Utilizing this in the form of a food delivery application would be the wisest decision.

Wide Customer Base: – The number of active smartphone users has been increasing day by day. This is directly leading to the usage of apps to order food. Developing a Food Delivery App will yield you young people, office workers, families with children, etc. who gradually will turn into potential customers who will give a stable amount of orders.
Types of Food Delivery Mobile App:
1. Aggregator Model: – This mobile application will serve as the mutual point of connection for the restaurant and the customer. While the customer places an order in the App, it will be directed automatically to the restaurant so the order is prepared and out for delivery. The delivery will be taken care of by the dedicated delivery personnel staffed by the restaurant owner.
2. Logistic Support Model: – This model serves the same benefit as the aggregator model but this model holds the huge market potential right now. This model facilitates both small and big restaurants with third party delivery personnel to pick up the prepared food orders and deliver them to the customers.
Looking at the convenience and profit involved in the logistic model, the aggregator model is rarely used in the market right now.
Application Panels:
When developing a food delivery application it is essential to consider developing the following panels. These panels will facilitate smooth business and would help you gain more customers.

User Panel: – The customers will use this app to place their orders depending on the availability of restaurants.
Restaurant Panel: – The restaurant owners use this app to accept or deny the orders placed by the customers.
Delivery Personnel Panel: – A third party personnel will use this app to stay in touch with the restaurant and the customer to promptly collect the order from the restaurant and deliver it to the customers.
Essential Features of On-Demand Food Ordering Apps:-
A simple and easy to use interface is the first and foremost feature to add while developing your food delivery app, which will directly help more people to use your app.

There are many features that can be added to a food delivery application to make your food delivery app successful. However, listed are the features that will make your food delivery app stand out of the competition and gain you, numerous customers.
Estimated Time of Delivery:- Every customer after placing an order will be waiting to receive their food promptly. This feature gives a rough estimate of the time of delivery that will help the customers to choose restaurants according to their convenience.
Real-time Location Tracking:- This feature will facilitate the customers to live track of the whereabouts of their order to stay aware of when they will receive their orders.
Push Notifications:- Adding push notification to your app will help you inform your customers about the available offers in the restaurants and will also notify customers regularly on the status of the orders. This feature helps you to stay connected with the customer.
Multiple Payment Solutions:- Providing your customers with multiple payment solutions is the best feature you can add to make your customer satisfied and happy using your food delivery app. This requires the integration of the right payment gateway that will support all the payment methods like credit, debit, net banking, and cash-on-delivery.
Reward Programs:- Integrating reward programs into your app by providing loyalty points, discounts at regular intervals, and coupons will attract and yield you more customers amidst huge competition in the market.
One-touch Customer Support:- This feature will enable people to contact customer care with just a click if any situation arises regarding complaints on food quality, grievance addressing, and refund initiation.
The Cost Estimation to Build Food Delivery App like UberEats:-
The cost of developing a food delivery application clearly depends on the features you want to integrate into the app. An experienced mobile application development company would give you the best suggestions on features to integrate and estimation according to your requirement considering your market size and competition.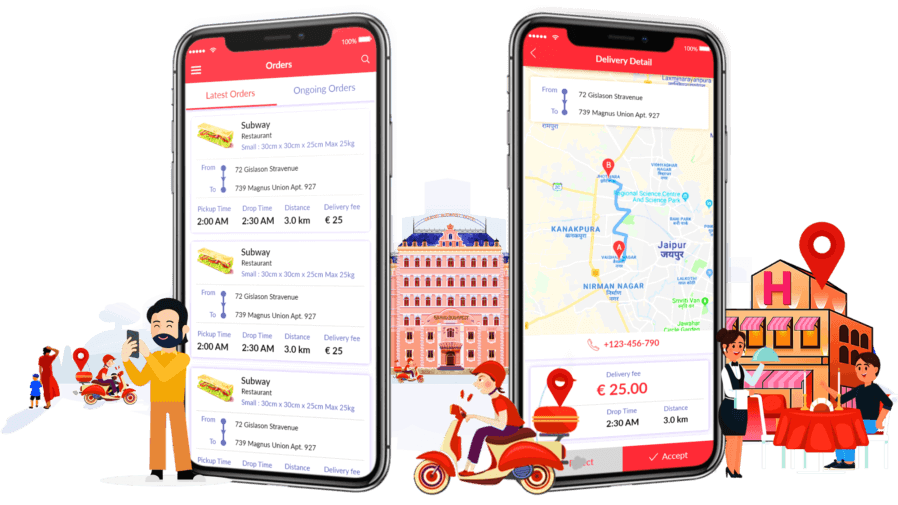 For a food delivery app with basic features, it will cost around $XXXX and for an advanced app, it will cost around $XXXXX. However, before going for your development, doing some research on the features you need and the platform you want your app to be will solve most of your doubts and reduce your spending on app development.
Wrapping Up!
Following the steps mentioned in this blog will definitely guide you to Develop Food Delivery App for your restaurant at an affordable cost with industry best standards. Above all, consider your business motive before you start the development so it can help you achieve success effectively.