The world is becoming increasingly digital every day. Mostly people from the developed countries have started preferring online products due to the cheaper rates and attractive discounts. Leveraging this opportunity, online business owners are expanding their market to various other trending industries. Healthcare is one of the most trending sectors that is growing exponentially in 2020. The primary reason behind the surge in growth is the outbreak of COVID-19. Medicine delivery application is one successful app that is making rounds in all healthcare institutions.
According to the report from Zion Market Research, the global e-pharmacy market was approximately USD 42.32 Billion in 2018 and is expected to generate around USD 107.53 billion by 2025, at a CAGR of around 14.26% between 2019 and 2025.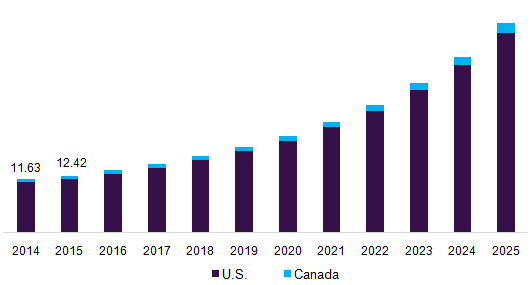 Choosing to develop a medicine delivery app is the right decision. Moreover, with the current demand, you are can reap more than 10X profit if you start the development instantly. The increasing busy and app dependent lives have made pharma delivery app a considerable growth potential for business owners. Developing a successful medicine app is the focus of every business owner in 2020. However, the biggest concern is the development cost.
Tips to follow before starting your Medicine Delivery App Development:-
Here are a few tips to analyze and follow before you start your Medicine Delivery App Development.
How much does it Cost to Develop a Mobile Application?
The cost of developing a mobile application is expensive. Especially if you want to develop a trending application, it will cost a fortune. Extravagant price is the primary reason business owners give up and reconsider their business goals from developing a business mobile application. It is a blatant lie if some company tells you that they can build apps at a low price because the apparent fact is that medicine delivery app development cost is expensive. Business owners must ready to allocate a budget of $XXXX and $XXXXX for application with simple features and complex, innovative features respectively.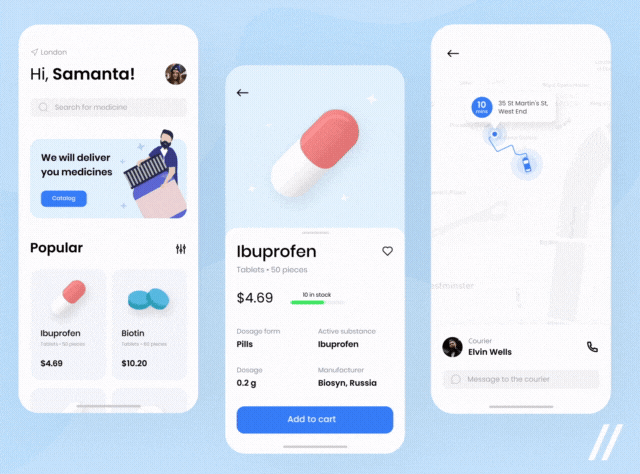 When it comes to medicine delivery application, the cost of development will exceed $XXXX. The addition of innovative features and complexity involved in the integration are the two common reasons that will boost the cost of medicine app development.
Why should you Analyze Competitors and the Current Market?
When you enter a new sector for mobile application development, it is essential to do the necessary research and competitor analysis. Medicine delivery is a booming industry that has a significant scope in the app development market. The best way to leverage the growth opportunity successfully is by researching how rivals are performing and accessing growth strategies.
While there is enormous competition in the current market for medicine app delivery, competitive analysis is an essential part for you to stay ahead in the race. The current market is effectual due to the unprecedented conditions.  In-depth understanding is necessary to cope up with the ever-changing market. Thus, you have to be on your toes and stay aware of the changing trends in the medicine delivery business.
Steps to Develop Cost-effective Medicine Delivery Application:-
Apps are developed at an expensive cost. However, the good news is, it is possible to create cost-effective medicine delivery applications. Trust me! Cost-effective solutions are different from cheap solutions. Cost-effective solutions will have the best quality features integrated into the apps for the specific amount paid. Nevertheless, cheap solutions are zero quality apps that will cost dead cheap in the market.



Follow the below-mentioned steps to turn your expensive medicine delivery app into a cost-effective solution.
#1. Hire Developer –
Hiring a developer is the best choice that will help you reduce the cost of development. However, there will be challenges in hiring the right mobile app developer that fits into your medicine delivery app development needs.
#2. Choose the right app development company –
Choose the right mobile app development company to reduce app development costs extensively. Starting with an ample of research and going through testimonials, and portfolios will help you fix the right app development company for your medicine delivery app development.
#3. Outsource the project –
Several business owners are well aware of this model; however, they end up on the wrong side. Outsourcing to on-demand medicine delivery app development companies like Soft Suave can yield great results at an economical cost.
Tips to follow during your Medicine Delivery App Development: -
Check out the below-mentioned tips to follow during your Medicine Delivery App Development.
Best Team Structure for Medicine Delivery App Development:-
Developing a successful medicine delivery application needs a pool of highly-talented developers who can work together as a team. Here is the team structure to follow if you are looking out to deliver a robust medicine delivery application.
#1. Project Manager –
It is necessary to employ a project manager that has sound technical knowledge and practical management skills. A project manager is the one that identifies your requirements and advises the team with the right mobile app development approach.
#2. Proficient Developers –
Developers are the foundation of your app development project. If you want a successful medicine app delivery, approach a leading mobile app development company that houses top talents. Giving your project to proficient developers will reflect on the success of your application in the future. Moreover, the developers have to be well versed either in iOS, Android, or Hybrid.
#3. Creative Designers –
90% of the applications succeed in the market due to the attractive design of the application. Make your medicine delivery app attractive with the top creative designers, and you are guaranteed to succeed in the market. Spend time and money on the front-end to earn 10X profits in return.
#4. Quality Testers –
Quality testers are responsible for testing the UI/UX and make the application bug-free. Employing the right tester will assure a flawless app with interactive features.
#5. Marketers –
In a technologically advanced era, marketers play a crucial role. An application must be well marketed in advance to reach the right audience. Traditional marketing ideas will fail, whereas an excellent digital marketing idea will assure you of good quality and cost-effective results.
End-to-end Development Process of Medicine Delivery App: -
The success of the medicine delivery app entirely depends on the development process, followed by the development company. Business owners must make sure the dedicated mobile app development company follows the steps mentioned in the figure below.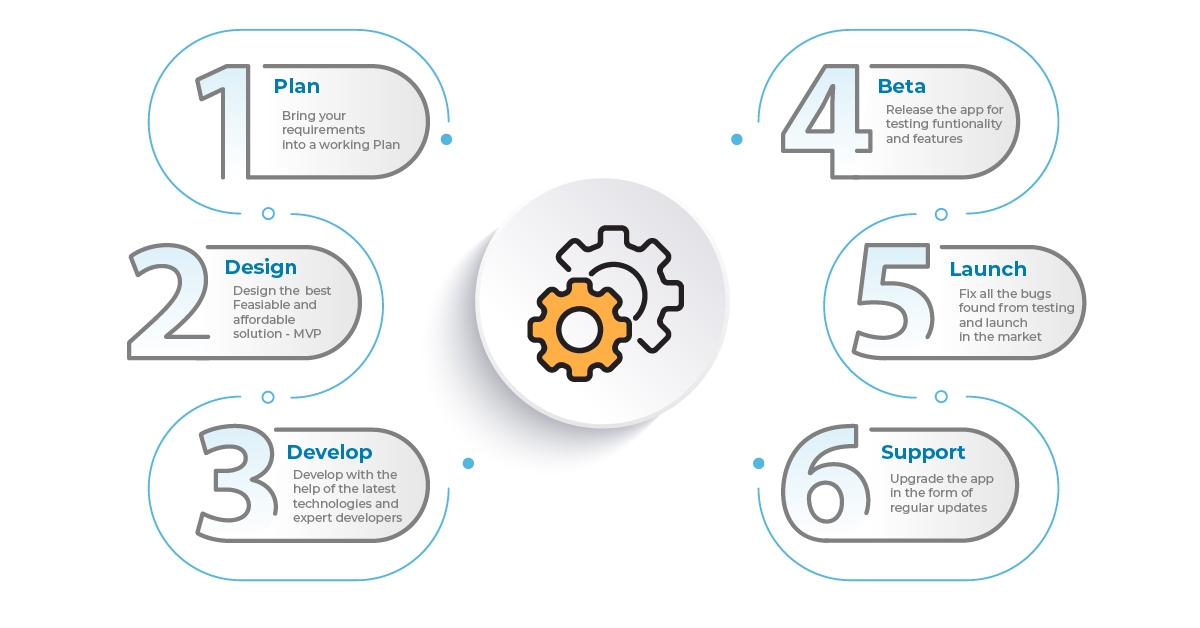 Must-have Features for a Successful Medicine Delivery App Development: –
When you want to develop a successful medicine delivery app, you need a few must-have features that have to be integrated into the application.
Listed below are the features;
Registration and Login: – Every customer has to register and login to use the application. The registration process will help you to understand your customers broadly and personalize your marketing, depending on the available data.
Geolocation: – Geolocation services are one of the essential features that should be integrated into a delivery application. Especially when it comes to the medicine delivery app, where every second count, it is a must to incorporate all the possible features associated with Geolocation.
Push Notifications: – Push notifications facilitates you to get in touch with your customers quickly. It elevates the engagement level and brings you closer to your customers. Moreover, all the offers and discounts can be communicated through push notifications. In the modern era, push notifications are the bridge between you and your customers.
In-app communication: – In-app communications prove vital in medicine delivery applications. Communication with customers has to be secured in the healthcare industry, so in-app communication is the best way for your customers to connect with the delivery personnel.
Payment gateway: – Payment gateways help customers of your application to pay securely and hassle-free. Payment gateways even offer different payment options in the form of credit card, debit card, cash on delivery, and wallet payment. Integrating a secure gateway is the best way to keep your customer satisfied with your application.
Reviews and Ratings: – Feedbacks are the best way to improve your application and its features. Allowing your customers to share their thoughts through reviews and ratings will not only create a good bond but also helps you enhance application according to customers' suggestions.
Customer Support: – Offering customer support to your customers is a symbol of trust. Medicine delivery applications need 24/7 support to address all the queries raised by the customers.
Must follow Steps after your Medicine Delivery App Development Process:-
Here are a few important steps you have to follow after you complete your Medicine Delivery App Development.
Choose Support Services after Application Development
In a tech world that is growing exponentially, timely version updates and enhancements are a necessity. The most prominent service in an app development process is the support services. Due to the expensive cost involved in support service, only a few app development companies offer this service. However, App Maintenance & Support Services enhances your business and primarily elevates your app experience.
A team that will help you create practical and seamless experiences on any device is the best team to employ while developing your medicine delivery application. Support services are different from development services; hence leveraging developers who have excellent experience on app service and maintenance would be a perfect fit.
How to Avoid Failures in Medicine Delivery App Development –
Here are a few reasons why medicine delivery application fails in the market. Please read it carefully and try to avoid these errors while developing and deployment to secure successful application development.
Poor UI/UX –
Customers use an application mostly based on the UI/UX of the app. However, when the user experience and the interface is complex, the usage becomes complicated for the users. Users get irritated and uninstall such an application. Negative outcomes like this will make your medicine delivery app a failure.
Choosing an Inefficient Development Team –
Doing extensive research is the thumb rule to consider while selecting the development team for your medicine delivery application. Only efficient development teams that have experience in all the technologies in the industry can develop successful applications.
Privacy Rule Compliance –
Medicine delivery apps must comply with many rules and regulations. Business owners must be proactive in understanding all the local rules and regulations, so the application passes the test during deployment. If you fail to be aware, your application will fail in the market badly.
Bonus Tip to Accomplish Greater Success
Following all the above steps while developing your medicine delivery app will land you in a safe spot. However, here is a bonus tip that will guarantee you 100% success in the market. Many business owners are not aware of this success hack. Here it goes.
Start promoting your medicine delivery application to your customers while the app is in development. It would be too late if you start after the deployment. Business owners lag in this process and start the promotion only after the app is deployed, as they do not trust the app development process. However, if you hand over to the best mobile app development company like Soft Suave, you can start your promotions in the mid-way. Thus, the reach of your medicine delivery application will be massive when you deploy it to the market for your customers.
What are you going to deliver?
Now you have known all the steps to follow while developing a medicine delivery app.  Start from doing some good research, understand the market, approach the right medicine delivery app development company, allocate the perfect budget, and finally start promoting before deployment.
You are all good to start developing a successful medicine app now!
Happy developing to you.