In the digital era, the popularity of online products has soared, captivating consumers worldwide, particularly in developed countries, who are drawn to their affordability and enticing discounts. This growing trend has prompted online business owners to venture into various booming industries, including healthcare, which is currently experiencing a remarkable expansion in 2023. Among the notable successes in the healthcare sector is the need for medicine delivery app development.
As consumer purchasing patterns have evolved, there is now a strong preference for ordering a wide range of goods from the comfort of their own homes. Even the pharmaceutical industry has not been immune to this shift, resulting in the emergence of many medicine delivery apps accessible through various app stores.
According to Statista, the market for online pharmacies is projected to reach a staggering value of US $31.64 billion by 2023. Between 2023 and 2027, we expected the online pharmacy market to grow at an impressive annual rate of 13.40%. Given these promising statistics, now is an opportune moment to consider developing a pharmacy delivery app.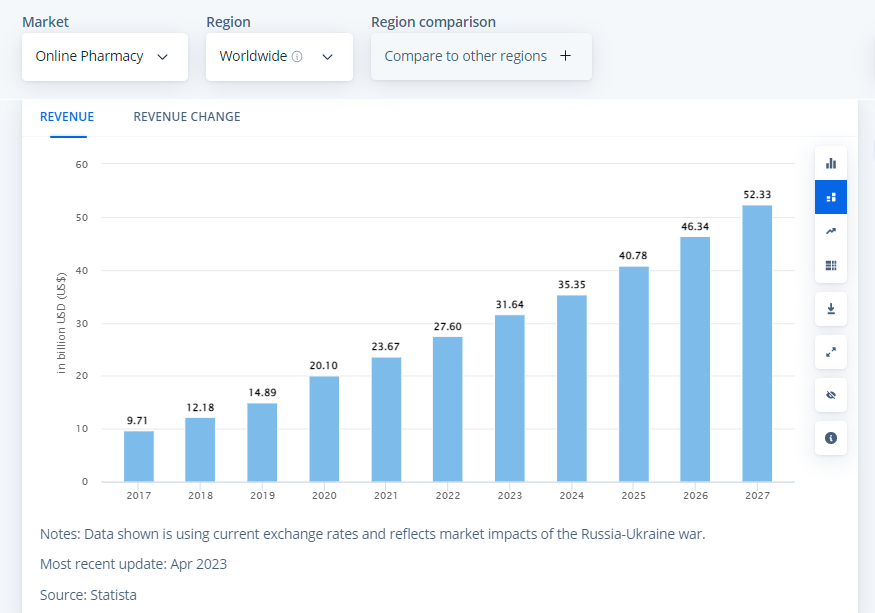 Choosing Medicine delivery app development in India is an excellent decision, given the current demand. With the increasing number of busy and app-dependent lives, a pharma delivery app has tremendous growth potential for business owners. Developing a successful medicine app is the focus of every business owner in 2023. However, the biggest concern is the development cost.
To address this issue, partnering with a medicine delivery app development company in India can help you develop a cost-effective solution. These companies offer medicine delivery app development that caters to your specific requirements, including mobile app development, that is both efficient and affordable. Developing a medicine delivery app in India is a lucrative business opportunity with a high growth potential. To develop such an app at an affordable cost, it is recommended to partner with a reliable medicine app development service in India that offers high-quality services.
Tips To Follow Before Starting Your Medicine Delivery App Development
Here are a few tips to analyze and follow before you start your Medicine Delivery App Development.
Developing a mobile application can be a costly endeavor, particularly if you aim to create a popular and in-demand application. The high expenses associated with app development often deter business owners, leading them to reconsider their goals of launching a business mobile application. It is important to note that any claim of building apps at a cheap price is misleading, as the truth remains that the development cost of a medicine delivery app is substantial.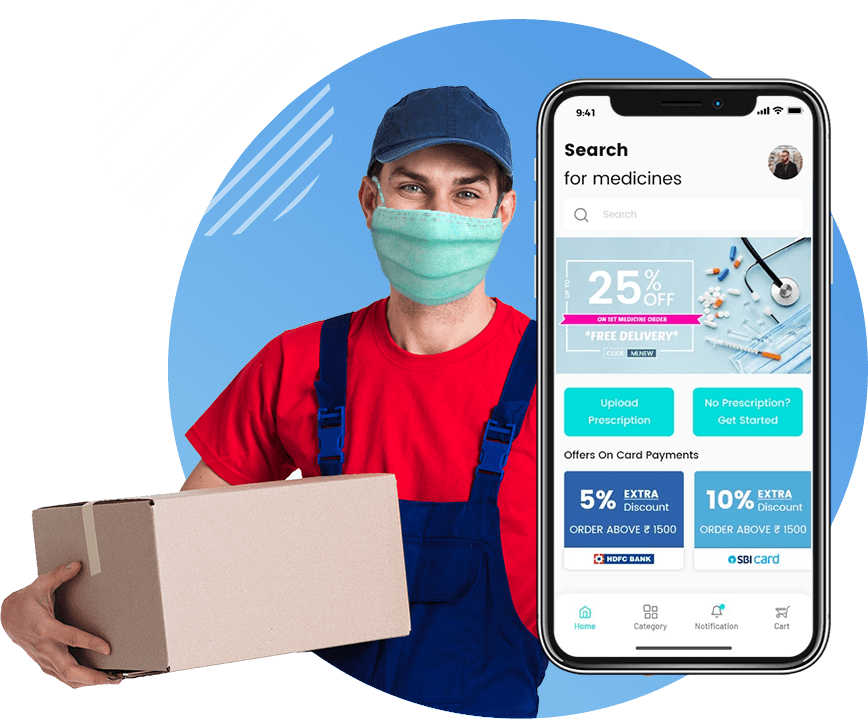 Precisely, with medicine delivery app development, the cost of development typically exceeds. This higher cost can be attributed to incorporating advanced features and the complexities involved in seamless integration.
Why Should You Analyze Competitors And The Current Market?
When you enter a new sector for mobile application development, it is essential to do research and competitor analysis. Medicine delivery is a booming industry that has a significant scope in the app development market. The best way to leverage the growth opportunity successfully is by researching how rivals are performing and accessing growth strategies.
While there is enormous competition in the current market for medicine app delivery, competitive analysis before starting medicine delivery app development is an essential part of you to stay ahead in the race. The current call is productive because of the unprecedented conditions. An in-depth understanding is necessary to cope with the ever-changing market. Thus, you have to be on your toes and stay aware of the changing trends in the medicine delivery business.
Steps To Develop Cost-Effective Medicine Delivery Application:-
Developing a cost-effective medicine delivery application in India can be a lucrative venture, considering the increasing demand for convenient and efficient healthcare services. This article outlines the essential steps involved in the development process, along with key considerations for choosing the right development company. With a focus on medicine delivery app development in India, we aim to provide insights into creating a successful and cost-effective solution.
Conduct Market Research:
Before diving into the development process, thorough market research is crucial. Analyze the current landscape of medicine delivery apps in India, identify competitors, study their features and functionalities, and understand customer expectations. This research will help you define your unique value proposition and make informed decisions throughout the development journey.
Define the App's Core Features:
Based on the research insights, determine the core features your medicine delivery app should have. These may include user registration, medicine catalog, prescription uploads, secure payment gateways, order tracking, notifications, and customer support. Prioritize essential features and plan for additional functionalities that can be added in future updates.
Choose the Right Development Company:
Selecting the right medicine delivery app development company in India is vital for a successful project. Look for dedicated mobile app developers with expertise in healthcare app development. Evaluate their portfolio, client reviews, and industry reputation. Ensure they understand your vision and have the technical proficiency to deliver a cost-effective solution without compromising on quality.
Design the User Interface (UI) and User Experience (UX):
A user-friendly and intuitive UI/UX is crucial for engaging and keeping app users. Collaborate with designers to create an appealing and easy-to-navigate interface. Focus on seamless browsing, efficient search functionality, clear medication information, and streamlined checkout processes. Prioritize simplicity and accessibility while maintaining a visually appealing design.
Develop and Test the App:
Based on the completed design, the development company will begin building the medicine delivery app. They should follow agile development methodologies like Soft Suave to ensure continuous feedback and timely iterations. Rigorous testing should be performed to identify and fix any bugs or usability issues, ensuring a smooth user experience and optimal performance.
Implement Security Measures:
As the app deals with sensitive medical information and financial transactions, robust security measures are vital. Implement end-to-end encryption, secure user authentication, and compliance with data protection regulations like HIPAA (Health Insurance Portability and Accountability Act). Conduct regular security audits and vulnerability assessments to maintain data integrity and user trust.
Launch and Promote the App:
Once the app is ready, prepare for a successful launch. Create an effective marketing strategy to generate awareness and attract users. Leverage digital channels, social media platforms, and collaborations with local pharmacies and healthcare providers. Encourage user reviews and referrals to enhance visibility and credibility.
Tips To Follow During Your Medicine Delivery App Development
Check out the below-mentioned tips to follow during your Medicine Delivery App Development.
Optimal Team Structure for Medicine Delivery App Development:
Project Manager:
Having a skilled project manager with technical expertise and effective management skills is crucial. They will identify your requirements and guide the team in choosing the right mobile app development approach.
Proficient Developers:
The success of your medicine delivery app relies on the capabilities of your development team. Partner with a leading mobile app development company that houses highly skilled developers. Their expertise in iOS, Android, or Hybrid development will significantly impact the future success of your app.
Creative Designers:
An attractive design is paramount to the success of your app, as it significantly influences user engagement. Make your medicine delivery app visually appealing with the help of a creative team from a top medicine delivery app development company. Allocating resources toward front-end design will yield substantial returns in terms of user satisfaction and profitability.
Quality Testers:
In addition to ensuring that the app is bug-free and seamless, the Quality Assurance team also tests it across different platforms to make sure it works correctly on a variety of operating systems and devices. Employing skilled testers guarantees a flawless application with interactive features.
Marketers:
In today's technologically advanced era, marketers play a crucial role in app success. Effective marketing strategies are essential for reaching the right target audience. Traditional marketing approaches may fall short, so invest in digital marketing expertise to achieve cost-effective and high-quality results.
End-to-End Development Process of Medicine Delivery App
The success of your medicine delivery app hinges on the development process followed by your chosen development company. Business owners must ensure that the dedicated mobile app development company adheres to the following steps:

Must-Have Features For A Successful Medicine Delivery App Development
When developing a medicine delivery app in India, there are several must-have features that can contribute to its success. Here are some key features to consider: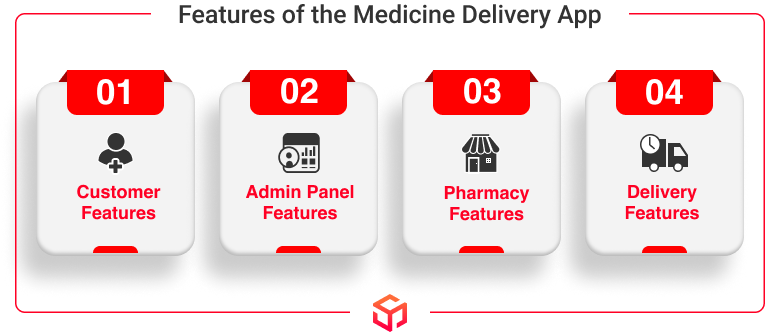 User Registration and Profile:

Allow users to create accounts and manage their profiles with personal information, delivery addresses, and prescription details.

Medicine Catalog:

Build a comprehensive database of medicines with details like brand name, generic name, dosage, usage instructions, and substitutes.

Search and Filter:

Implement robust search and filtering options so users can easily find the medicines they need based on various criteria such as name, category, composition, or price.

Prescription Upload:

Enable users to upload their prescriptions securely for verification and easy ordering.

Real-Time Inventory Management:

Integrate with pharmacies and update medicine availability in real-time during

medicine delivery app development

to avoid out-of-stock situations and ensure accurate information for users.

Medicine Ordering:

Allow users to add medicines to their cart, specify quantities, and proceed to checkout for a seamless ordering experience.

Multiple Payment Options:

Integrate popular payment gateways, such as debit/credit cards, net banking, e-wallets, or UPI, to provide convenient payment options.

Delivery Tracking:

Implement a feature that enables users to track their orders in real time, providing updates on the delivery status and estimated arrival time.

Notifications:

Send timely notifications to users regarding order confirmation, dispatch, delivery status updates, and offers/promotions.

Secure Transactions and Data Privacy:

Implement robust security measures, including SSL encryption and compliance with data protection regulations, to ensure secure transactions and protect user data.

Ratings and Reviews:

Allow users to rate and review medicines and delivery services, helping others make informed decisions and improving the overall service quality.

Customer Support:

Offer seamless customer support through various channels like in-app chat, email, or phone to address user queries, concerns, or issues.

Medicine Reminders:

Provide a feature that enables users to set reminders for taking medicines to ensure adherence to prescribed schedules.

Loyalty Programs:

Implement loyalty programs or reward systems to reward users and encourage repeat orders.

Analytics and Insights:

Incorporate analytics tools to gather user data, track app performance, and gain valuable insights for making data-driven business decisions.
While there are many app development companies in India, it's important to choose a reputable and experienced company that specializes in medicine delivery app development. Consider factors such as their Portfolio, Client reviews, Expertise, and ability to deliver timely and cost-effective solutions.
Must Follow Steps After Your Medicine Delivery App Development Process
After the completion of your medicine delivery app development process, there are several important steps you should follow to ensure the success and smooth operation of your app. Here are some key steps to consider:
Testing and Quality Assurance: Conduct thorough testing of your medicine delivery app to identify and fix any bugs or issues. Ensure that the app functions seamlessly on various devices and platforms and that all features are working as intended.
Regulatory Compliance: Ensure that your medicine delivery app complies with all relevant laws and regulations in India pertaining to pharmaceuticals, data privacy, and healthcare. This may involve getting the necessary licenses and certifications.
Partnering with Pharmacies and Distributors: Establish partnerships with trusted pharmacies and medicine distributors to ensure a reliable supply chain for your app. Verify their licenses and credentials to ensure the authenticity and quality of the medicines.
Secure Payment Gateway Integration: Integrate a secure payment gateway into your app to facilitate seamless and secure transactions for users. Partner with trusted payment service providers to ensure the safety of sensitive financial information.
User Onboarding and Registration: Develop a user-friendly onboarding process that allows users to easily sign up and register on your app. Implement features like user verification, secure login, and password recovery to enhance user experience and security.
User Support and Feedback: Set up a support system to address user queries, concerns, and feedback. Provide multiple channels for users to reach out for help, such as in-app chat support, email, or phone support.
Marketing and Promotion: Develop a comprehensive marketing strategy to create awareness about your medicine delivery app. Use various marketing channels, such as social media, online advertisements, influenced collaborations, and content marketing, to reach your target audience.
Continuous App Maintenance and Updates: Regularly update your medicine delivery app with new features, bug fixes, and security patches. Monitor user feedback and analytics to identify areas for improvement and implement necessary updates to enhance user experience.
User Education and Awareness: Educate users about the benefits and functionalities of your medicine delivery app. Provide resources, such as FAQs, tutorials, and blog articles, to help users navigate the app effectively and understand its value proposition.
User Data Security and Privacy: Implement robust security measures to protect user data and privacy. Comply with data protection laws and ensure that user information is encrypted and stored securely.
Continuous Improvement: Gather user feedback and analyze app performance metrics to identify areas for improvement. Continuously enhance your app based on user needs, market trends, and technological advancements.
Legal and Insurance Considerations: Consult legal professionals to ensure that your medicine delivery app complies with all legal requirements. Consider getting appropriate insurance coverage to protect against potential liabilities.
By following these steps, you can ensure that your medicine delivery app is well-prepared for launch and delivers a seamless experience to users in India.
Bonus Tip To Accomplish Greater Success
Following all the above steps while developing your medicine delivery app will land you in a safe spot. However, here is a bonus tip that will guarantee you 100% success in the market. Many business owners are not aware of this successful hack. Here it goes.
Start the promotion of your medicine delivery application to your customers while the app is still in development. Waiting until after deployment will be too late. Often, business owners underestimate the app development process and delay promotion until after deployment. By entrusting your project to a top medicine delivery app development company like Soft Suave, you can begin promotions midway. This approach will cause a massive reach for your medicine delivery application once it is launched in the market for your customers.
Conclusion:
Developing a medicine delivery app can revolutionize the way medicines are accessed and delivered. By following the step-by-step process, partnering with a reliable medicine delivery app development company like Soft Suave, and incorporating essential features, you can create a successful app that improves convenience for users and unlocks new business opportunities in the medicine delivery industry. Stay informed, adapt to user needs, and provide exceptional user experiences to thrive in this evolving market.
Frequently Asked Questions
How can I find a reliable medicine delivery app development company in India?
To find a reliable medicine delivery app development company in India, consider their experience, portfolio, client reviews, expertise in app development, technology stack, and ability to provide timely support and maintenance. Soft Suave has it all in one place. Explore our pages to know more about our service and approach.
What are the essential steps in developing a medicine delivery app?
The essential steps in developing a medicine delivery app include market research, Defining App Requirements, Designing UI/UX, App Development, Testing, Deployment, and ongoing support and maintenance.