On-demand applications keep people at peace. It has also become an inseparable part of our lives. If you want a cab for an unforeseen meeting, you have Uber. If you are don't have enough pizzas, you have Post mates to cover. Lastly, if you have a pile of laundry that needs your attention, that's when an on-demand laundry app comes into play.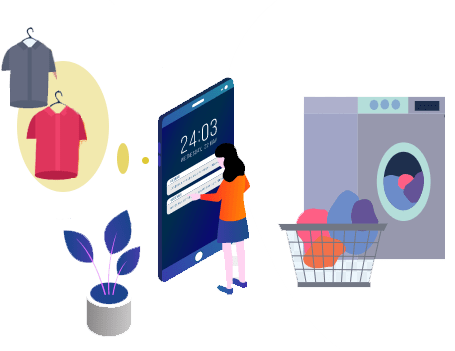 Gone are the days' people were worried about doing their own laundry at a commonplace. The industry has been evolving since 2010 and making headlines. According to Grand View Research, the global dry-cleaning & laundry service market size is valued at USD 60.88 billion in 2019. It is expected to grow at a CAGR of 3.4% from 2020 to 2027, which is valued to be 79.91 billion. The country that contributes most to the growth of the laundry industry is North America. It holds the dominant position in the global online on-demand laundry service market with around 32% share. Top mobile app development companies in India are filled with requirements to develop on-demand laundry applications.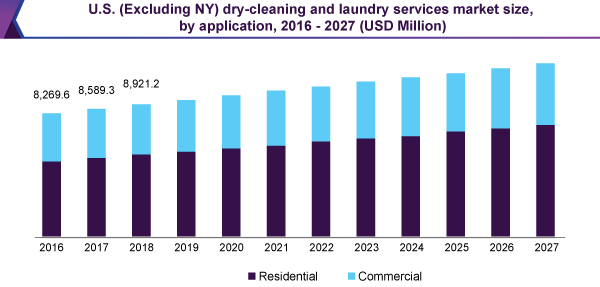 Laundry applications help people to concentrate on other essential tasks in the day rather than washing clothes. Moreover, they allow laundry services that are dedicated to providing quality service at an affordable cost to take over and do the job for them.
Types of Business Models for Laundry Application:-
If you are getting into the Laundry business, it is necessary for you to understand the types of business models available in the laundry business. These models determine the success and failure of your business.
On-site business model
Marketplace business model
Onsite business model:-
Individual business owners that want to establish their name in the laundry industry will use this model. They manage their own pick-up and delivery with the help of their employees. They even have their own infrastructure to carry on all the processes related to their laundry business. They offer customer service to handle all the grievances and positive reviews. A few examples are Liox cleaners and WashClub.
Marketplace business model:-
If you are a start-up, the marketplace business model is the most suitable model to enter the laundry business. It helps you to join a platform that already offers a leading laundry service. The partnership is the primary mode of business here. Transactions happen between the operator and the customer, but you will only receive a percentage of the profit. Once you succeed in the marketplace model, you can proceed to the on-site business model. A few examples are Cleanly and Mulberrys.
Must-Have Features in On-Demand Laundry App:-
If you are into the laundry business, it is necessary for you to have three applications that help to run the business smoothly. Below are the three applications;
Customer's mobile application
Laundry man's mobile application
Delivery man's mobile application
There are a few must-have features that must be available in a laundry application if you are planning to develop an app for your business.
Sign up, or registration: – This feature allows clients, customers, and owners to register and login to the application. You can integrate social media accounts to make the registration/sign-up process easier for the users.
Price estimation: – The price estimation feature offer users to know the exact price of the service to be availed. It allows you to calculate the estimation based on the materials and number of clothes we choose.
Status of order: – This feature enables you to know the status of your order if you have availed of a laundry service. Moreover, it gives you the exact whereabouts of your clothes.
Customer reviews and offers: – One of the most sought-after features in a laundry application is customer offers and reviews. A business will be successful only when offers are given for customers' usage. If you are a business owner, you should leverage this feature to provide offers to customers and get positive reviews in return.
Push notifications: – Push notifications to help you to stay engaged with your customers. It facilitates you to inform your customers about upcoming offers and the introduction of new services in the locality.
Payment gateways: – Every business needs a monetary return. A payment gateway is one such feature that helps you to receive payments swiftly from your customers.

Cost to Develop a Laundry and Dry Cleaning App:-
Most of the business owners get stuck during development because of one factor – cost. The cost of on-demand laundry app development is expensive in 2020. But if you get in touch with the leading laundry mobile app development company in India – Soft Suave, you can get your custom on-demand laundry app development at an affordable cost. The developers are dedicated and have hands-on experience in developing applications for the leading companies in the laundry industry.
At Soft Suave, it would never cost you a fortune to develop a laundry application according to your custom requirements. However, you can consult the team of developers easily and get a free estimation to know if it works around your budget. It is to be taken into consideration that the cost of your laundry app development increases if many innovative features and functionalities are integrated.
Laundry App Development for Your Business: Pros and Cons
Every business has its own pros and cons. The laundry app is not an exception. Although it saves a lot of time and effort for the customers, there are a few features that make the users get stuck in the process. Features like tracing the clothes and tracking the delivery are still a barrier in 2020. Top mobile app development companies like Soft Suave are trying hard to integrate innovative features to overcome these barriers and find the best possible solution for the industry to grow mainly in 2020.
Wrapping Up!
On-demand laundry app development is still in the growth phase. It is wise if you consult leading laundry app development companies like Soft Suave if you are looking out to develop a ground-breaking laundry application. A tailor-made laundry application from companies like Soft Suave will definitely help you achieve success at an economical cost.
In 2020 holding a competitive edge in the market is the success factor. If you are a business owner, it is a must to invest economically and attain the desired results in the laundry industry.