Starting from kids to older people everyone is crazy about traveling. The growth in technology has made traveling easier than before. Gone are the days when you have to plan 3 months in advance to fix your destination, book hotel rooms, and flight tickets. Now all the above can be done with a click of a button. Although COVID-19 has halted traveling in 2020, the market looks bright for the industry.
According to GetYourGuide, people in the U.S plan to take more trips in 2021 than they did in 2019. With 42% of respondents cited fear of catching COVID-19, others plan to travel at some point within the next year. Interestingly 57% of the respondents over the age of 45 plan to take a trip within the next 1-6 months.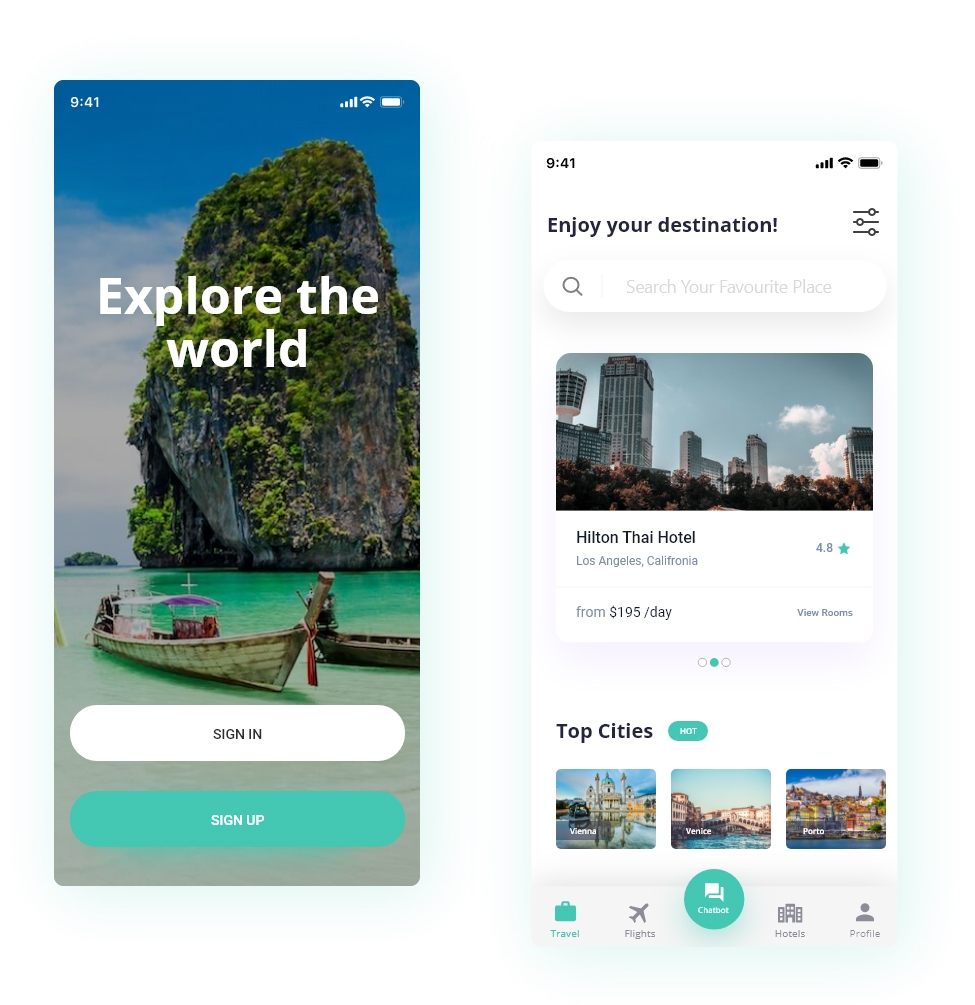 Looking at the above numbers business owners are getting ready for a happy season. Many have even started to get in touch with app development companies to build travel solutions. In a world filled with mobile apps, a travel app is the best choice. It can be used to plan destinations and book hotels & tickets with a single click from anywhere and anytime.
Travel Booking App:
A travel booking app is a tool used in mobiles to plan and manage travel while on the move. Consumers that want to create itineraries, book flights, and access travel guides can use travel booking apps for convenience. Developing a travel app is not easy. But with the right choice of company and technology, it is easy and cost-efficient.
Types of Travel Booking Apps:
There are many travel booking apps that are discerned based on their custom features. Here are a few;
1. Hotel Booking Apps:-
There are tons of hotel booking apps in the App Store today. But only a few are useful. This app allows users to check room availability, price, and book other services. In addition, these type of apps uses offers and discounts to persuade users to book hotels. An app like Trivago is an example of a successful hotel booking app development. Because it offers all the necessary features along with simplicity to the app users.
2. Flight and Train Booking Apps:-
This type of app helps the users to find the best train and flights according to their convenience and budget. Flight and train booking app provides the list of all the trains and flights and it is upon users to choose which fits their schedule. Checking seat availability is the primary feature of this app.
3. Navigation Apps:-
You might wonder why a navigation app is a part of travel booking app types. However, without proper navigation, no travel plan will succeed. The navigation app helps the users to take the best possible route during their travel. The app also suggests and lists down the popular places to visit during the journey. When users travel to new or unknown places navigation apps are the lifesavers.
4. Ride-Hailing Services Apps:-
Ride-hailing is a vital part of travel plans. These apps help users to book taxis easily from anywhere. Besides users that are traveling to new places, ride-hailing apps help them reach their destination seamlessly. Uber is the best example of a ride-hailing services app.
Basic Features to Integrate into Travel Booking App:
The success of the Travel booking app development rests upon the features you want to integrate. Here is a list of features that would assure success for your app. These features are the most common features. However, you add your custom features depending on your industry and budget.
* Travel Planning:-
This is the first and foremost feature your app should have. Because it lets users plan and organize their trips rightly. It is easy to choose destinations, schedule trips, and get travel tips using this feature. If you offer an interactive travel-planning feature, your app will be a hit among the users.
* In-app Booking:-
In-app booking is one of the basic features of any travel app. This feature facilitates users to book buses, trains, and flights without going out of the app. Starting from finding the right trains & flights to checking seat availability, this feature makes the travel process easier. However, with the right offers and discounts, you can win over your customers easily.
* Navigation:-
Navigation features make any travel app complete. More the features more will the users and traffic. If you stick only to travel and booking users may leave the app and choose a different app for navigation. But if you integrate navigation the users that used your app for travel planning and booking will come back for navigation. Therefore this is a feature that will help you achieve real success.
* Reviews and Recommendation:-
Millennials trust reviews for each and everything. This is the right feature to lure more customers to use your app. Adding a dedicated page to share reviews and recommendations is a perfect idea. It will not only increase the experience of the app users but also add value to users that travel to certain new places.
* Expense Tracking:-
One of the most important features that will add value to your travel booking app is expense tracking. Travelers forget to note down their expenses while traveling. Thus adding a feature that can work as an expense tracker will be handy and help all your app users.
Step-by-step Guide on Developing a Travel Booking App:-
Travel booking app development is simple. But the process has to be right for the app to succeed in the market. Let us now figure out how to make a travel booking app, both engaging and successful.

Step 1: Define Objective of Your App
Deciding on your type of app is the first process. Because it will help you focus on a goal and achieve it easily. It is you who should decide if you want an app for hotel booking, travel planning, ride-hailing, or navigation. Moreover, all the features and functionalities depend upon the type of app you choose.
Step 2: Research
Researching will help you understand the market. Besides you can plan and customize your features to fill the gaps of your competitors. This is a business trick SMBs follow to outpace the competition in the rising travel industry. Also, it is a must to identify your target audience. Without which your app will be aimless.
Step 3: Choose the Right Development Partner:-
Developing a travel app is made easier when you approach the best mobile app development company like Soft Suave. Because your development partners determine the success of your app. Besides all your plans they also play a vital part in your travel booking app development.
Choosing a development company will offer a team of dedicated resources that are focused on achieving your goals on time and on budget. Basically, a good team should comprise of;
Project Manager
Mobile App Developer
UI/UX Designer
Quality Analysts
Digital Marketer – Optional
Step 4: Deployment and Marketing:-
The final stage of development is deployment. This stage makes sure that your app reaches every user. Besides you can also start marketing your app before you deploy it so it will reach the right target audience.
Cost to Develop Travel Booking Mobile App:
Every business owner wants to build a travel booking app. But, the cost is the only factor that stops them from going forward.
Also, many owners do not know that they can control the costs. Here are a few vital factors that determine the final cost of the travel booking app.
The Mobile App Development Company and its location
The number of features and the complexity of the App
The volume of innovative & interactive UI/UX designs
The back-end API and infrastructure
The approach of development – Native or Hybrid
Most importantly, the platform of development – iOS or Android
With the factors mentioned above, it would cost around $XXX to develop a travel app. But here is a killer deal for you. Companies like Soft Suave are best for Travel Booking App Development Company. Their development cost is less compared to other leading competitors. Because they are located in India and house 1% of the best mobile app developers in the world. They also have expertise and experience in a wide array of industries.
Final Thoughts:
The travel industry is growing exponentially. Now you have known the step-by-step guide to build a travel booking app, you have to start immediately. Besides the cost and idea, you need the right mobile app development company that can develop under your budget.
If you are a travel booking company or an agency you should start your travel booking app development with Soft Suave. They utilize the best resources to help you achieve customer expectations and increase engagement. If you need a kickstart, get a free quote with your requirements right now!