---
"The world is a book, and those who do not travel read only a page." ~ Saint Augustine.
---
Everybody loves traveling. It is hard to find people that spent the whole year without leaving their hometown. According to WTTC, travel, and tourism is the second-fastest-growing sector in the world. Advancements in technology are the major reason behind the growth. Nowadays, booking a hotel and planning a travel plan is simple.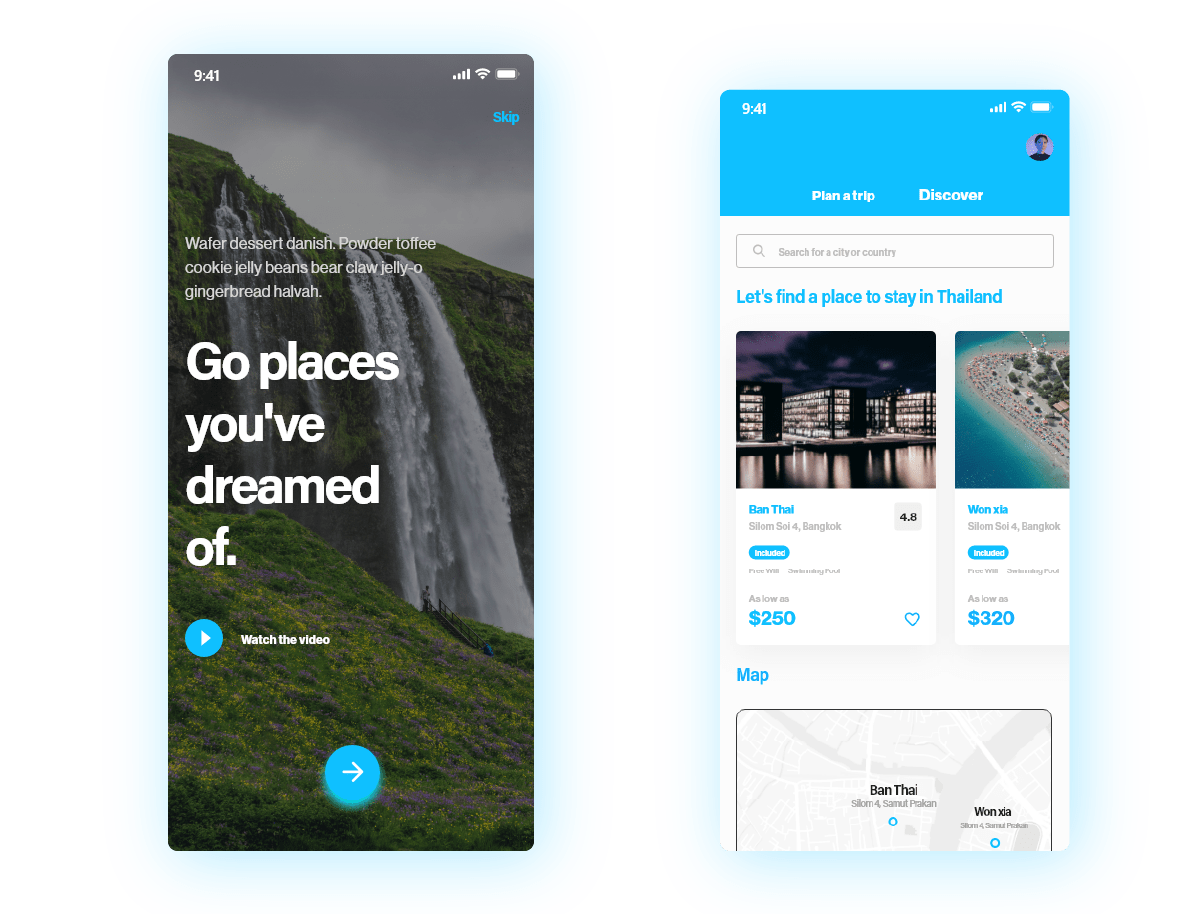 Reports show that by 2020 about 700 million people will be booking their hotel rooms online. Due to the COVID-19 pandemic, there is a decline in the total number of hotel bookings. Perhaps, this state will change in 2021.
If you are a hotel owner, this blog is for you. Now is the right time for you to invest in technological advancements. A hotel booking application is the best and most affordable step you can take instantly. But, there are a few challenges parallel to it. In this guide, we'll share how to overcome challenges and build a hotel booking application for your hotel.
Planning:
Good planning initiates a successful app development. Bad plans consume a lot of time and money during development. Thus, it is wise to utilize a good amount of time on good planning.
The following are a few processes involved in planning for Hotel Booking App development.
Hotel Booking App Development Company:
The success of your application solely depends on the mobile app development company you choose. However, in 2020, finding the best hotel booking app development company is simple. First, find the companies that create top-notch solutions. Then, look out for a development team that comprises expert talents with rich experience.
A complete development team will look as follows:
iOS/Android engineer
Back-end engineers
UI/UX designer
QA engineer
Project Manager.
Features of Hotel Booking Application:
The core purpose of your app is to let users book hotel rooms smoothly. As a business owner, make sure to integrate innovative and basic features that make the booking process easier. Besides, give importance to adding interactive features that add value to your customers.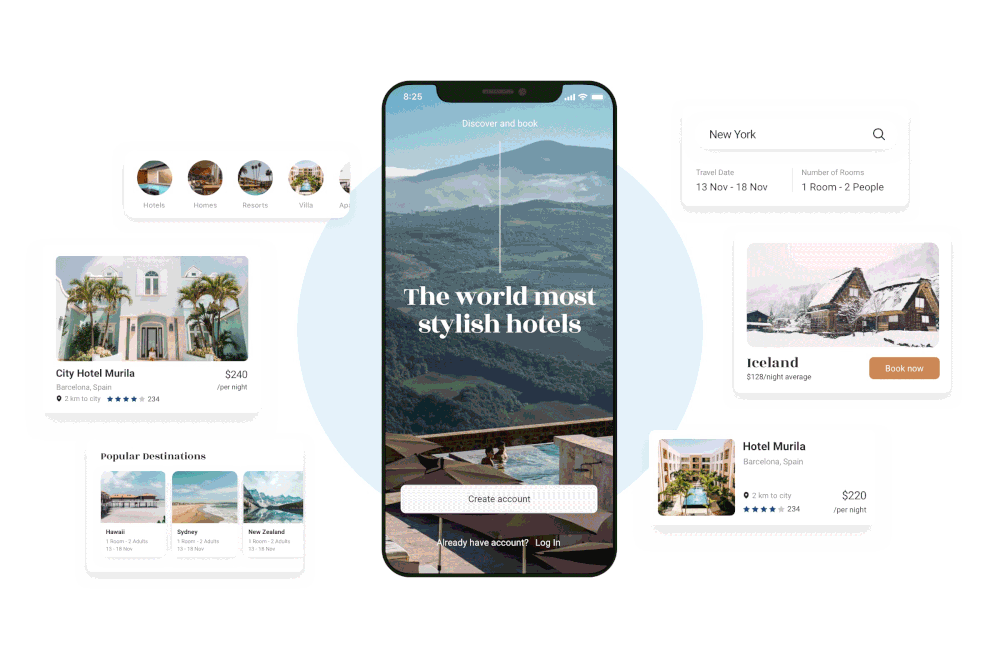 Because people prefer dynamic and interactive apps over static apps. Here is a list of features that will help you build a successful hotel booking app.
Registration:
Registration of users is the basic feature of a hotel booking app. Customers always prefer quick login and registration. However, making it simple for your users is in your hands. Likewise, adding a few easy-login methods (email + social media) will also increase your user base. In contrast, you will lose customers if you do not give importance to the registration screen. Finally, make your login page user-friendly to increase conversion rates.
Hotel search engine:
Most hotel bookings app fail due to unfitting hotel search engines. Get the help of expert mobile app developers and build a robust in-app search engine. Because a good hotel search engine is the foundation of a hotel booking app. Moreover, add necessary filters to make the search results befitting for your application.
Who would hate your app if you show the search results with good visuals? Knowing the secret now, make sure to use attractive visuals to display search results to your users.
Accommodation Details:
Every user is bound to know accommodation details when using your hotel booking app. And, every user will have custom filters. So, develop a robust accommodation details screen that shows effective results according to the customers' filters. The more the information you offer your users more will be the conversion.
Payment Gateway:
A hotel booking is successful only when a payment is made. Most of the users prefer applications that offer various payment options. So, integrate the best payment gateway that facilitates multiple payment options. Also, consider adding a credit card, PayPal, pay in cash at reception, etc. features to your hotel booking app.
The success of the bookings depends on the right payment gateway. Thus, stay wise to choose the right gateway that fits your business needs. All you have to do is pick the provider. The development team will do the rest.
Push Notification:
Push notifications are the holy bridge that connects you and your customers. Using this feature effectively will increase your engagement rate and make your customers loyal to your brand. However, push notifications might turn annoying for some users. So, the utmost care has to be shown before notifying any info app users. As a result, you can both stay in touch with users and convey any info at once.
Development:–
The actionable part of this hotel booking app is developed. This is the phase where all your business ideas and plans come to life. As a business owner, you have to care during this process. Because your app's success depends on it. Here are a few tips to follow during the development process.
Hotel Booking App Development Process:–
The development process is the most vital part of a Hotel Booking App. Every business owner will have unique plans. However, it is up to you to choose the best plan that fits your business needs. In 2020, the best choice is mobile app development. Although it is costly, it is the right step. The development cost and process decide the success of your app. Therefore, you have to try and make it as useful as possible. Let us take a look at the most successful development process.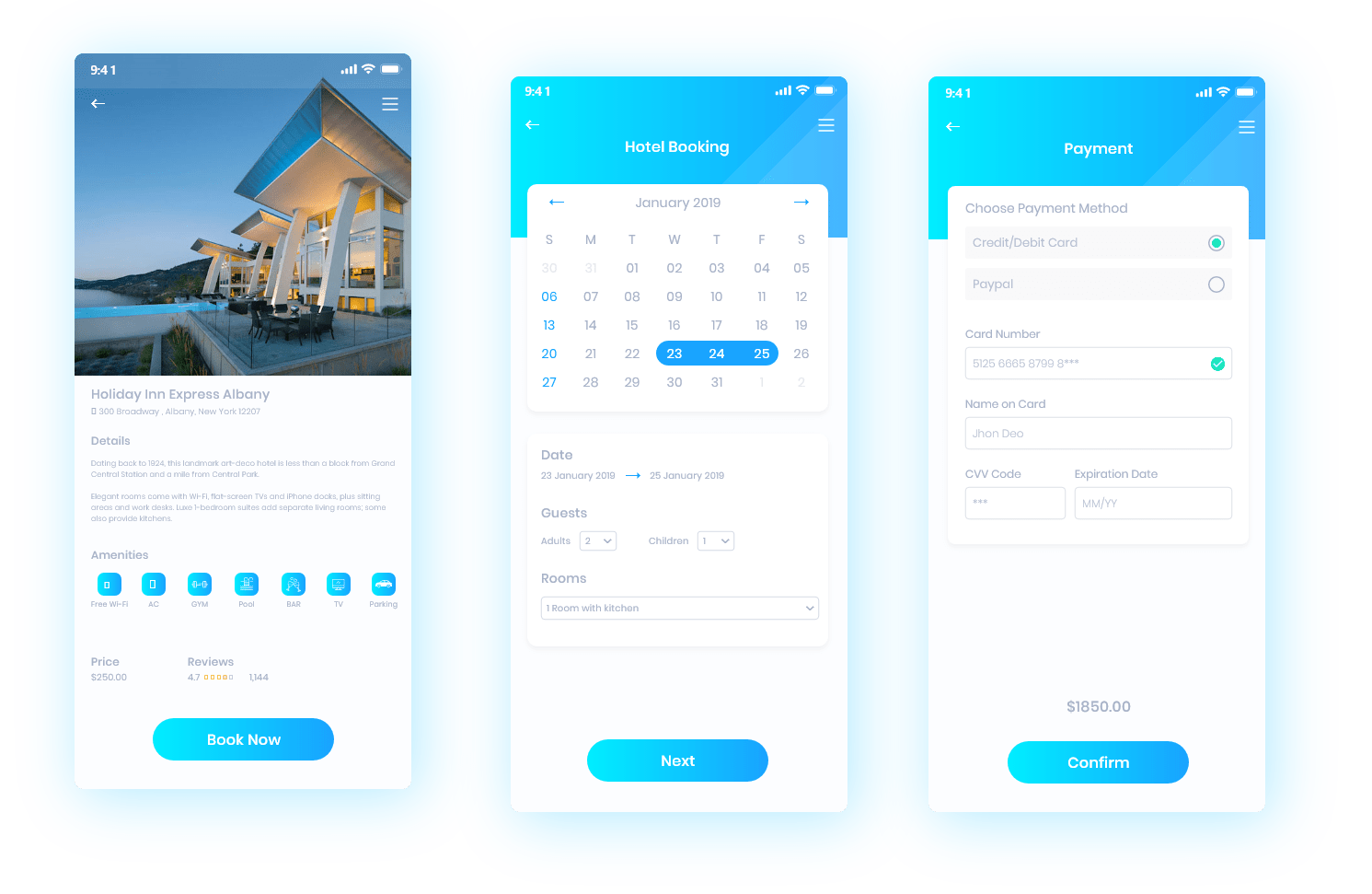 Strategy:
The first phase of Hotel Booking App Development is defining the strategy. A clear strategy is a stepping stone to success. So, make sure you research and frame a strategy that gives a clear picture of your app idea. In this phase of development you have to;
Identify your app users.
Research competitors
Establish app goals
Select a mobile platform for your app
Analysis And Planning:
Every plan has to turn into an actual project. Analysis and planning is the phase that does it. After you analyze and prepare a product roadmap, your development team will take over to turn them into an application. This phase includes identifying the app development company and skillful resources. After this, you have to choose the tech stacks for your app. Finally, decide on the name of your Hotel Booking app. Because it is good to ensure if your app name is not already in use.
UI/UX Design:
The purpose of our app development is to deliver seamless and quick hotel booking. But, what is the use if the UI/UX is complex? Therefore, involve the best UI/UX designers to develop user-friendly app screens. According to reports, most people use an app for its attractive UI/UX and not for its features. So adopt simple yet intuitive designs to keep your app users engaged.
App Development:
This is a vital phase where real app development happens. All your plans, analysis, tech stacks, and innovative features turn into a working app here. The expertise and experience of your development team will work in handy in this phase. Set milestones to analyze the speed and quality of work by your developers. The success of your app is determined in this phase. So, keep the process simple to get desirable results.
Testing:
Testing during an app development process makes your app stable, usable, and secure. Use complex test cases to address all the aspects of app testing. Here is a list of the testing process your Hotel Booking App should undergo;
User Experience Testing
Device and Platform Testing
Performance Testing
Functional Testing
Security Testing
Deployment And Support:
Deployment is the final phase of the app development process. Although this is the final phase, deployment does not achieve success. Real success is when your app reaches your target audience. Releasing an app needs a developer account in the iOS and Android app stores. So, before launching, make sure to have a developer account and supportive metadata.
After launching your app, spread the word through effective marketing. Encourage users to add feedback and reviews so you can add those features in future updates. Deployment is not the end of your mobile app development team. Compile user feedback and make your team start releasing updates, and bug fixes. As a result, your hotel booking app will start trending among your target audience.
Cost Of Hotel Booking App Development:–
It is a myth that hotel booking app development is expensive. However, the cost will depend upon various factors as listed below;
Choice of App Development Company and its location.
UI/UX Designs
Technology Stack
3rd Party Integration
Technical Difficulties
It is not possible to determine the exact cost of the hotel booking app. But, we can make the app affordable with a good plan and execution. Building your app with a leading app development company like Soft Suave will also save more costs for you.
Wrapping Up:–
If you are a hotelier, Hotel Booking App is an essential tool in 2020. Many people love traveling because of the simple & quick hotel booking process. Although our world is stuck with COVID-19, the future looks bright for the travel industry. So it is now the right time to integrate tech and build your own hotel booking app. Start by getting a free quote and consultation from Soft Suave. Then, choose your development team and tech stack. Finally, launch the best and most useful hotel booking app for your users. You can also market your app to succeed quickly in the market.