The App development industry is the most competitive and rewarding industry of this decade. Business owners that want to start a new business or want to expand their existing business are making app development their first and foremost priority.
App development is easier and simpler with MEAN stack and Full-stack developers. However, due to the increasing demand for app development, getting hold of a developer's expert in MEAN technology and Full-stack is harder and expensive.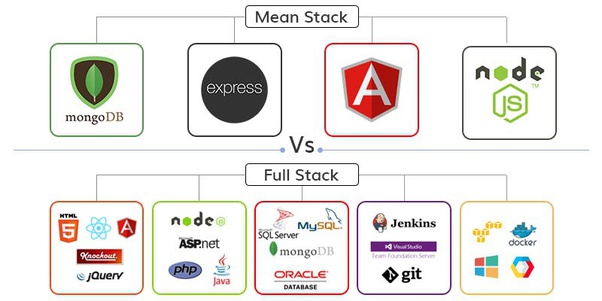 If you are looking for a developer to work on your next project, this article will help you choose the perfect developer. However, there are few factors you have to consider before taking your final decision.
Full Stack Developer:
A full-stack developer is one who is expertise in almost all technologies that facilitate in front-end and back-end development of an app or website. They can work on databases, build interactive interfaces and build APIs for the server effortlessly.
Moreover, a full-stack developer will be proficient in more back-end languages, HTML, CSS, and JavaScript. They also concentrate on visual design, project design, and UI/UX of the application/website.
Responsibilities of Full Stack Developer:-
The responsibilities of a full-stack developer in more compared to that of a MEAN stack developer. Below are a few responsibilities;
It is the responsibility of the full-stack developer to develop the front-end website architecture.
Designing interactive and persuasive UI/UX for webpages
Developing functional and robust databases and servers
Ensuring cross-platform optimization
Taking care of the responsiveness of Apps
Working hand-in-hand with graphic designers
Taking care of the end-to-end development process
Developing APIs
Balancing technical and the client needs
Benefits of Full Stack Developer:-
A full-stack developer can offer many benefits to the business. Undoubtedly they are all-rounders. They can single-handedly complete the web app development seamlessly. However below are a few benefits a full stack developer can offer to a business;
Complete knowledge on both front-end and back-end allows business owners to hand over the projects without any second thoughts.
The quality of the app/website development will not be compromised as full-stack developers will be well-versed in all the latest updates on technologies
Full-stack developers not only know how to tackle the codes but are also well-versed to design the best UI designs.
Full-stack developers are the most cost-effective choice if you are looking to build an MVP. Because they will be equally well-versed in app development and designing.
Full-stack developers work as a team. Hence the delivery of the project will be timely and fast.
Your maintenance and updates are hassle-free if you hire full-stack developers as they will be accustomed to the latest updates on all the tools and techs.
---
Looking for a Fullstack developer? Contact Soft Suave
---
MEAN Stack Developer:
A MEAN stack developer is one who is expertise in specific technologies like MongoDB, ExpressJS, AngularJS, NodeJS. Moreover, they are JS-based application developers who have exceptional knowledge and skills in JavaScript.
MEAN stack developers work on both front-end and back-end. However, the only difference is MEAN stack developers are limited to a few technologies and tools. Whereas, full-stack developers have incredible knowledge of almost all technologies and tools.
Responsibilities of MEAN Stack Developers:-
The responsibilities of MEAN stack developers are less compared to full-stack developers. However, they play the most important roles in app development. Below are a few responsibilities of MEAN stack developers;
Deploy Apps in AWS cloud and debug hosting-related issues
Establish development environment tools as needed
Design and maintain complex databases; both relational and non-relational
Identify production-related issues and resolve them instantly
Design, develop, test, and deploy robust products regularly
Experience in managing NodeJS, MongoDB, AngularJS, and ExpressJS.
Team up with developers and designers to build scalable and highly responsive solutions
Benefits of MEAN Stack Developer:-
MEAN stack developers are incredibly talented and can offer a lot of advantages to businesses in 2021. Below are a few benefits that will help you choose between full-stack or MEAN stack developer for your next project;
MEAN stack developers complete app/website development faster as they have to code both the frontend and backend only once in JavaScript.
A MEAN stack developer can easily migrate the code from one framework to another easily.
Testing is simpler for App/website as MEAN stack developers have the privilege to test the output on the cloud
MEAN stack developers are pocket-friendly for start-ups and SMBs
MEAN stack developers also have exceptional experience in real-time product demonstrations. and make it simpler.
---
Looking for a Mean Stack developer? Contact Soft Suave
---
Wrapping Up:
Choosing between the full stack developer and MEAN stack developer is always a challenge. However, with all the facts and benefits highlighted before you, the decision-making process will be easier. However, if you need any guidance or consultation for your next project, get in touch with Soft Suave. We can help you hire the best web app developers for your web app development projects.