Imagine you're the owner of a small business. You've been using the same IT staff for years and they've been great, but your company is growing and you need more help. You could go out and hire a new IT staff, but that would take time and money. Or you could try the IT staff augmentation services. 
IT staff augmentation allows you to supplement your current IT staff with additional highly skilled professionals on an as-needed basis. It will help you manage your expanding business with different expertise.
This is one of the most convenient ways, especially in the technological sector.
What Is IT Staff Augmentation?
IT Staffing Augmentation is hiring outside professionals to work on IT projects or provide technical support. Company needs can determine whether this is a short-term or long-term solution.
This process allows companies to scale up. Or down their IT department, depending on the needs of the business. IT Staffing Augmentation Services also allows companies to access specialized skills and knowledge that may not be available in-house.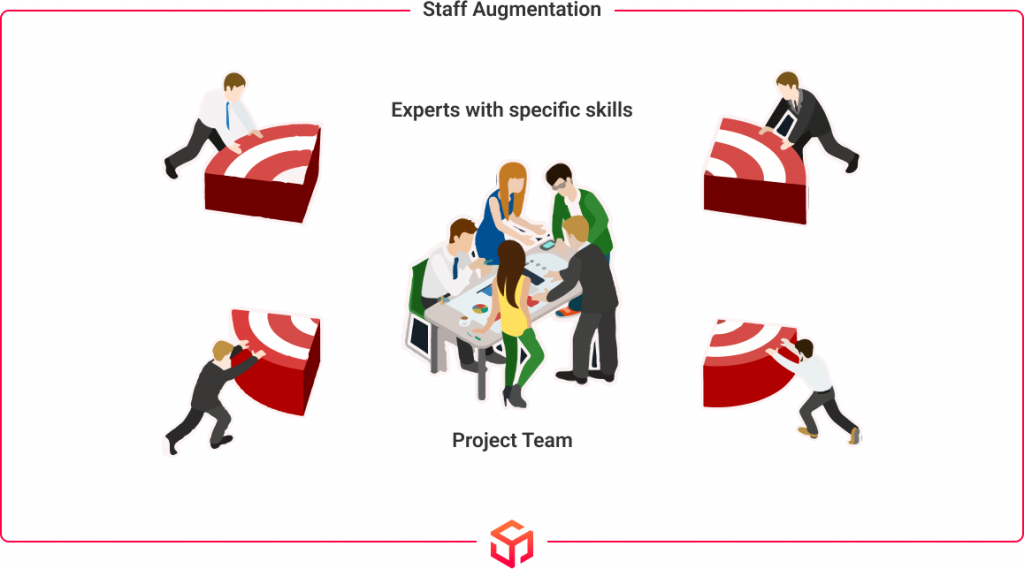 Augmentation can be a great way to get the help you need when your business is experiencing a surge in activity, or when you have a specific project that requires extra resources. It can also be a way to "test drive" a potential employee before making a full-time commitment.
How Does IT Staff Augmentation Work?
If you are wondering about How Does Staff Augmentation Work? Here's how. When a company uses Staffing Augmentation, the first step is to identify the need. This can be anything from needing help with a specific project to needing support for the entire IT department.
The company finds a provider who has the skills and knowledge it needs through Software outsourcing companies or developer recruiting sites. The outsourcing company will then send over a developer or team of programmers who have the skills to meet the company's needs. You can hire them for a specific project or ongoing support. 
IT Staffing Augmentation Services, Whether to keep or let go of the team depends on the company. If they decide to keep them on, the team becomes a part of the company's staff and works just like any other employee.
---
Looking to Hire Mobile App Developers? Contact Soft Suave
---
Why Should Companies Use Staff Augmentation?
There are a few reasons companies should use staff augmentation. 
First, IT Staff Augmentation allows the company to scale up or down its IT department quickly, depending on the needs of the business. If the company is expanding, it can bring in more IT professionals to help with the added workload. If the company is downsizing, it can reduce its IT department by outsourcing some of its work.
Second, Staff Augmentation benefits companies' access to specialized skills and knowledge that may not be available in-house.  For example, a company may not have in-house experts in cloud computing or big data analytics. By using staff augmentation, the company can bring in outside professionals who can help with these projects.
Finally, staff augmentation is a cost-effective way to get IT to work done. It's often cheaper to outsource work to an external provider than to hire additional employees in-house.
Benefits of IT Staff Augmentation:
With IT staff augmentation, businesses can benefit from increased productivity, cost-effective solutions, and quick turnaround times. You get so many benefits from hiring IT staff for your project. Here are some benefits,
Get started right away with experienced professionals

Choosing an expert over a generalist will depend on the skills you need for your particular project

Objectivity and fresh ideas from a professional who is not involved in office politics.

Augmented Flexibility Saves Time and Money

IT Staff Augmentation Service

provides companies with the flexibility to scale IT operations on or down depending on their needs. 

It also helps them lessen the work of hiring, training and managing IT staff since they can outsource those tasks to an experienced provider.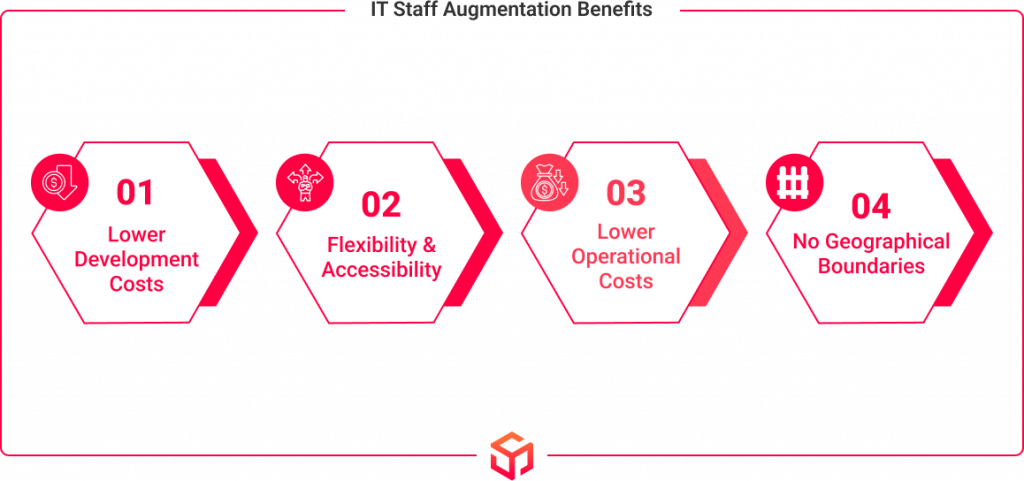 Challenges of IT Staff Augmentation:
IT staff augmentation is a cost-effective way to supplement an existing team with specialized knowledge and skills. However, it also poses certain challenges, such as the need to manage a large talent pool, ensure the right mix of skills, and manage the cost of recruiting and hiring. For IT Staff Augmentation, there are some potential drawbacks you should know. 
Staff Augmentation challenges

start with the cost of hiring outside IT professionals being higher than having full-time staff members. 

A third-party company typically employs these workers, so such a company cannot guarantee the quality of the work. 

This can lead to costly mistakes if the contracted workers lack adequate experience and knowledge is one of the alarming

IT Staff Augmentation challenges.

Since each project has a different duration, it is impossible to predict the costs, and resources required.

Communication between in-house employees and outside contractors can be tricky, leading to potential conflicts that may disrupt workflow and ultimately affect project success.
Staff Augmentation vs Other IT Cooperation Models:
IT Staff Augmentation offers a multitude of advantages compared to other IT cooperation models.
It is an economical way to access experienced IT professionals without hiring permanent staff. This can save companies significant money and help make projects much more efficient.

IT Staff Augmentation

allows a company to scale up or down its IT department as needed. This flexible model allows companies to adjust to any changes in their business needs, including seasonal spikes in demand or rapid growth in customer numbers.

This process provides access to specialized skills and knowledge that may not be available internally. By working with outside consultants, your company can take advantage of their expertise while avoiding the expense and long-term commitment that comes with hiring additional full-time staff.
How Do You Choose the Right Model?
When considering IT staff augmentation, one of the biggest decisions you'll need to make is which model is right for you and which country to choose. The most common models are,
Full-time augmentation:-
The most popular model involves hire dedicated developers on a longer-term basis. This model offers the most cost savings for teams that need consistent resources for projects or support.
A contract-to-hire augmentation:-
 A great option if you're looking to bring additional resources on board quickly without committing to a long-term contract. This allows you to bring in experienced professionals who can start strongly and easily transition into full-time roles when needed.
Dedicated resource augmentation:-
This is best if you need specialized skills or expertise and scalability options such as expanding or reducing your team size as needed. This allows you to access personnel with specific knowledge and experience in the future at budget-friendly rates.
On-demand resource augmentation:-
Ideal for projects with specific needs that require quick turnaround times and minimal scalability requirements. They hired IT professionals on an as-needed basis with no commitment to the company.
In choosing the Country, India is in the First position for IT Staff augmentation every year. India continues to rank as the top country for IT Staff Augmentation each year, even in 2023. The total market size of the Indian IT market, including eCommerce, is 235 billion U.S. dollars  according to Statista.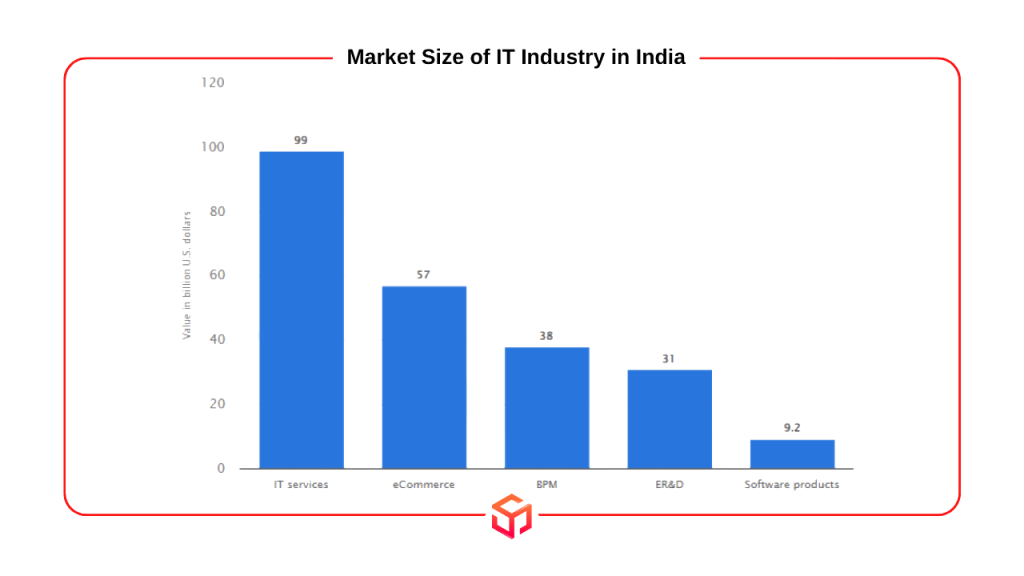 India has a large, highly educated, and specialized workforce that is uniquely suited to meeting the needs of business and industry. IT Staff Augmentation Services In India also has an advanced infrastructure that enables the efficient delivery of and products to both domestic and international markets.
 A strong culture of entrepreneurship and innovation can increase the value of IT Staff Augmentation Services In India.
How to Make the Most Out of Team Augmentation:
If you decide to take the plunge and do team augmentation, there are some tips that you can keep in mind to make sure it's as successful as possible. 
First, you'll want to ensure that the company that you're working with has an excellent reputation and is providing qualified personnel. You also want to make sure that they have a good understanding of your organization, your goals, and objectives, and the project you're working on.
Another important factor is communication
Both sides should be crystal-clear about the work, the timeline for completion, and all other details related to the project. 

It's also essential to make sure that we give explicit instructions for any tasks that your staff augmentation team will complete. Finally, be sure to set up a system for tracking progress so that everyone agrees with much as possible.
IT Team Augmentation Process Flow:
The IT staff augmentation process flow can vary depending on the organization and the specific project, but it follows the same path. 
It begins with identifying a need and a scope of work, followed by developing a list of requirements and specifications for the project. 

Then, the company will evaluate potential vendors or consultants who can provide the necessary IT staff members. 

Once a vendor singled out, they'll develop a contract detailing expectations and deadlines, as well as any additional needs from the company (e.g., insurance, and background checks).

After that, the vendor will begin recruiting for the specified roles and hire qualified candidates. The vendor may employ these candidates directly or by the company through an agreement with the vendor. 

The last step is to set up onboarding processes for these new staff members and provide them with any necessary training or systems access. The goal is to get them up and running quickly so that they can begin contributing what they have identified to whatever project.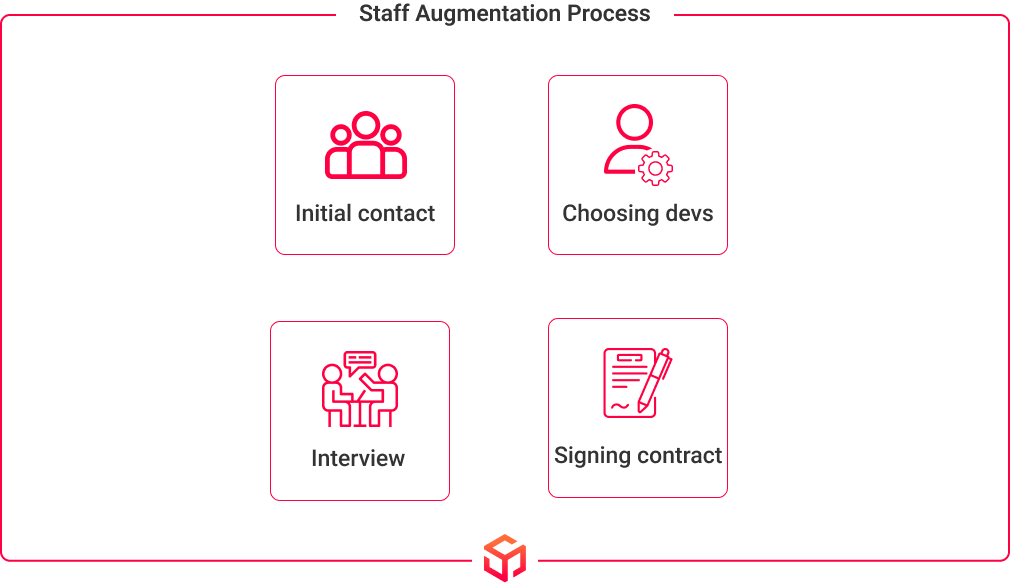 Choosing IT Staff Augmentation Company - Soft Suave
Hire remote developers from Soft Suave have so many advantages, including:
Access to a larger pool of pre-vetted talent:-
When you hire remote developers from Soft Suave, you have access to a larger pool of pre-vetted and qualified professionals who have already gone through background checks and skill set screening. This saves you time and money since you don't have to spend time and resources on vetting candidates yourself.
Up-to-date market insight:-
An experienced staff augmentation provider will be familiar with the current market trends price, skill sets that are in high demand, etc. This insight can help save costs as you don't overspend on IT team augmentation.
Customized solutions:-
Custom solutions that are tailored to your specific business needs. This makes it easier for your business to hire remote developers for specific roles quickly and efficiently.
Conclusion:
So, what is IT staff augmentation services? In short, it is a process by which a company can quickly and easily bring in outside IT professionals to work on specific projects or provide technical support. This can be a great way to scale up quickly or down your IT department, depending on the needs of your business. It can also be a great way to access specialized skills and knowledge that may not be available in-house.
However, there are also some challenges associated with IT staff augmentation. For example, you need to be sure that you are working with a reputable and reliable staffing company. You also need to make sure that you clearly understand the project or support needs and the skills and experience of the professionals you are hiring.
Overall, IT staff augmentation can be a great way to get the IT to help your business's needs quickly and easily.
Looking For A Skilled IT Staff To Be Onboard Immediately?
Drop us a line to build a technical solution that supports your business needs.
Frequently Asked Questions
What is IT staff augmentation? Why do you need it?
IT staff augmentation is bringing in skilled IT professionals to supplement an organization's existing IT staff. We often use it when an organization needs to scale up its IT capabilities for a specific project or to fill a temporary skills gap. It can also bring in specialized IT skills that the organization may not have in-house.
How do you get staff augmentation?
What is the difference between staff augmentation and outsourcing?