So you're thinking about hiring an offshore developers to help build your new software product. You know it could save you a ton of money, but you're still on the fence about outsourcing such a critical part of your business. Trust us, it's worth considering. 
Offshore developers can provide major benefits for startups and enterprises alike. Forget what you've heard about cheap code and language barriers. Hiring offshore software developers can rival any in-house team. They provide cost savings that go straight to your bottom line. And with remote collaboration tools, you'll barely notice the distance. If you're looking to scale your product fast without scaling your costs, here are the top benefits of hiring offshore developers.
Top Benefits of Hiring Offshore IT Teams
With the reliable IT outsourcing partner and management approach, an offshore development team can become a vital resource to help scale a startup. Give it a try and see how it benefits your startup.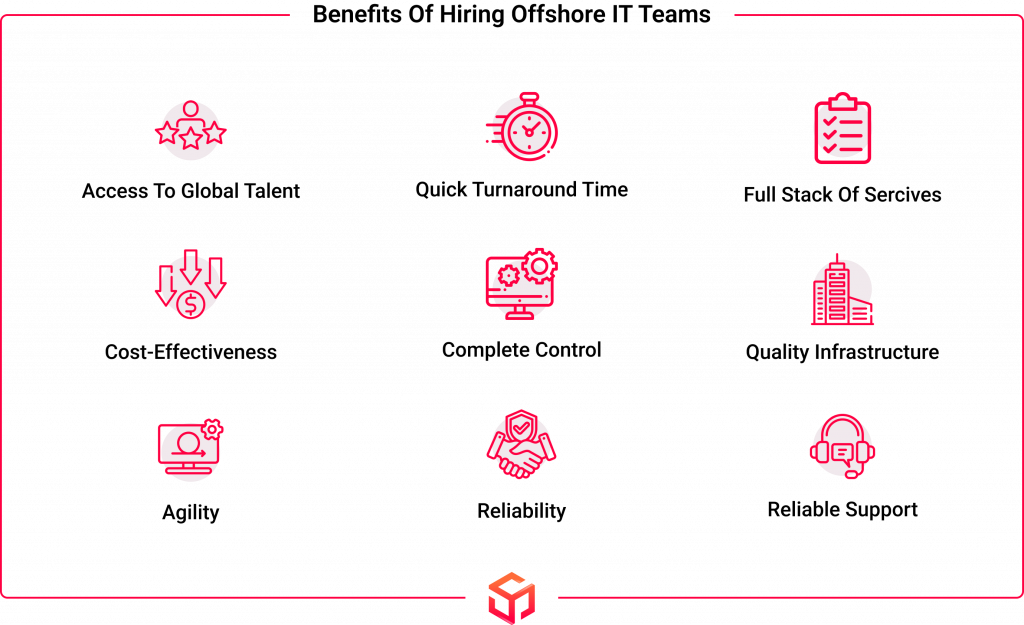 Access Top Talents
Offshore developers often have superb technical skills and experience, especially in emerging technologies. They go through intensive training and education programs to learn the latest languages, frameworks, and methodologies.
By tapping into the global talent pool, you have access to the best and brightest. The top 1% of developers are spread around the world, so don't limit yourself to your local area. Offshore teams frequently have expertise that would cost a premium locally. They keep their skills and knowledge up-to-date to meet the demands of a global market.
You'll have a dedicated team of highly qualified developers for a fraction of the cost. The savings in salary and benefits alone can be up to 50-70% lower than hiring locally. With access to elite, affordable talent, you can build a world-class team to drive your digital transformation. Your offshore developers will have the technical chops and experience to take your company to the next level.
Save on Costs With Offshore Software Developers
Offshoring development work to skilled teams overseas can save your company big bucks.
You'll pay a fraction of the cost for top tech talent. Developers in Asia, Eastern Europe, and Latin America charge much lower rates, often 50-75% less than in the U.S.
Lower operational costs –

Office space, equipment, and infrastructure also tend to cost less in other parts of the world.

Tax incentives –

Some countries offer tax holidays and other incentives for tech companies, allowing you to keep more of your budget.

Cost of living –

The lower cost of living in many offshore locations means developers don't require high salaries. They can live comfortably on less.
Add all this up and you'll realize substantial savings that drop straight to your bottom line. Your offshore team becomes an investment that boosts profits and helps your business scale.
Specialized Expertise
When you hire an offshore IT team, you gain access to a specialised set of skills and expertise that may be hard to find locally. Most reputable offshore companies employ large teams of developers, designers, and project managers with experience in a wide range of technologies, frameworks, and programming languages.
Whether you need a team skilled in niche areas like blockchain development, data science, or IOT solutions, an offshore IT outsourcing partner likely has the specialised talent and knowledge to get the job done. They stay on the cutting edge of new technologies so they can provide the expertise you need for your project. Leveraging these specialised skills allows you to quickly scale your team to meet the demands of your business.
Accelerated Project Timelines
When you hire an offshore developer, you gain access to top talent from around the world. Offshore developers often have specialized skill sets that can accelerate your project timelines.
Offshore developers frequently have niche expertise that allows them to complete tasks very efficiently. They are able to leverage their deep knowledge and experience with various technologies to speed up development.
By accessing global talent, you have more options to find developers with the precise skills and proficiency levels needed for your project. This makes it possible to scale your team quickly and keep projects on an expedited timeline.
Improve Efficiency With Dedicated Offshore IT Teams
Offshore developers allow you to build a dedicated team of IT experts to improve efficiency. Hiring offshore developers typically costs a fraction of onshore teams. Paying lower wages means major cost savings that impact your bottom line.
Round-the-Clock Productivity-

With teams in different time zones, work can continue 24 hours a day. Developers hand off tasks between shifts, accelerating project timelines.

Access to Scarce Skills –

Certain tech skills are hard to find locally. Tapping into the global talent pool gives you access to niche areas of expertise. Offshore teams often have strong backgrounds in areas like software engineering, web development, and mobile app creation.

Scalability –

It's easy to scale offshore teams up or down as needed. You can start small, and then add additional developers to ramp up for new projects or product releases. When demand slows, scale back down without penalty.

Cultural Diversity –

Working with offshore developers introduces cultural diversity that provides valuable global perspectives. Different viewpoints and experiences lead to more innovative solutions.
Enhanced Flexibility and Instant Scalability
Offshore developers give you the flexibility to scale your team up or down as needed. If you have a sudden increase in workload or need to ramp up for a new project, you can easily add more developers to your team. Likewise, if work slows down, you can scale back without penalty. This flexibility allows you to align resources with business needs and optimize costs.
With an offshore model, you have access to a large talent pool, so you can find developers with the specific skills you require for any project. You're not limited to the talent available locally. This gives you the freedom to build a team with the optimal blend of technical and soft skills for your needs.
Conclusion
So there you have it, some of the major upsides of hiring offshore developers for your tech team. You'll get top talent for less, access specialised skills that are hard to find locally, and boost your productivity with extended work hours. While it can be an adjustment at first, many companies find that the rewards far outweigh the challenges. Give it a shot—you might just discover that going offshore helps your business reach new heights.
The world is more connected than ever, so why not leverage that to build the best team you can? Hiring offshore developers from companies like Soft Suave is a great way to build a skilled, knowledgeable team without the hassles of managing a local workforce. Offshore developers could be just the secret weapon your company needs to gain a competitive edge.
Are you looking for Offshore dedicated developers?
Our team of skilled remote developers can help you build high-quality software solutions that meet your business needs.