The evolution in the eCommerce industry is disrupting many other sectors related to it. A multi-vendor marketplace is a place where buyers and seller meet physically to exchange their goods in return for money. The growth in the eCommerce industry has made a drastic change by demolishing all the physical marketplaces and introducing online marketplaces. The online multi-vendor marketplace involves both marketplace application and website.
Multi-vendor Marketplace App?
An online multi-vendor marketplace is an application or a website that acts as a digital distribution platform and does not own any inventory but help in facilitating a transaction between a customer and some other people's inventory. They act as a bridge to connect the sellers and buyers at one place and to make the buying and selling process more comfortable. All these features come at an affordable cost for the sellers as they pay only a marginal amount considering the transactions that happen in the multi-vendor marketplace. The amount of convenience you provide your customers and the full range of products you serve will be the determining factors for winning your customers.
Most of the development companies like Soft Suave – Leading Multi-vendor App Development Company in India and the USA, have started developing multi-vendor marketplace apps that can be customizable according to the business needs at an affordable cost.
How Important is Multi-vendor Marketplace App to Your Business?
The extension to which the online multi-vendor marketplace has evolved makes it a must for the grocery businesses to get into the trend of using online multi-vendor marketplaces. Gone is the trend where a single business owner sets up an online multi-vendor marketplace for his products and attracts customers to buy only from his marketplace. The fast-growing trend is the online marketplace for groceries.
The person who has enough funds develops a highly responsive and interactive market application or website with the help of a trusted app development company like Soft Suave. They invite several business owners to collaborate with their marketplace app to display their products digitally so the customers can research and buy products. This gives the business owners a good profit margin and a vast reach. Business owners can also use these online multi-vendor marketplaces as a platform to build and strengthen their online presence so they can attract many customers in the future.
Features for Your Multi-vendor Marketplace App:
Before developing a multi-vendor marketplace application for your business, it is necessary to know the features that would make your application and your business a success. Allowing customization is the best idea to consider when developing a multi-vendor marketplace application.
1. Vendor Page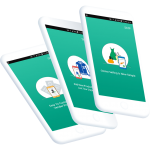 Vendor page is an essential page in an online multi-vendor marketplace. It has all the features that would help vendors manage the products that are digitally displayed. Giving away discounts and promo codes can also be done on this page. A highly intuitive dashboard should be added in this page to make the vendors understand of what is happening in their business at a single glance.
2. Buyer Page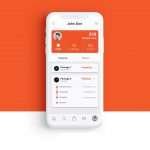 This page should be personalized according to the customer preference to improve user engagement and help customers track their purchases and activities. The page should be highly responsive to help buyers toggle between products and choose their priorities. The time you make your customers stay on this page directly affects the results of your grocery business.
3. Delivery Personnel Page
A marketplace app or website without a dedicated app or page for delivery personnel is a flop. Especially when an eCommerce industry is involved, it is must to have a delivery personnel page.This page should facilitate delivery personnel to align their delivery tasks and deliver without any delay and errors. Integration of real-time maps should be done to make the delivery process hassle-free for the personnel.
4. Payment Gateway
Integrating payment gateways will add more security and reliability for the customers. It makes the payment process convenient and adds an extra layer of protection to the transactions made by the customers. When integrating payment gateways, it is better to consider the platform that has international coverage so you won't miss out any customers from around the world.
5. Security
The customer considers security a top priority when they shop online using marketplace apps. Your marketplace website should have "SSL certificates" and "PCI compliance" that makes the customer data and payment information secure. This feature adds up as an advantageous feature that makes your multi-vendor marketplace app or website stand out of the crowd and attract more customers than your competitors.
6. Smart Notification
Notification is a form of reminder used to make the customers stay in touch with the brand. The multi-vendor marketplace app must-have features to personalize notifications according to the customers need by sending them a notification alert if a rare product appears in stock on the store or if any discount and promo codes are distributed on the app.
7. Reviews & Testimonials
Reviews and testimonials help customers to choose the best product. A dedicated page to share customer reviews and testimonials will act as a feedback collector for sellers and give voice to the customers. This feature will help the buyers and sellers understand the market situation and increase the trust between each other.
Conclusion
These all features are the must-have features if you are trying to develop a marketplace application. If you are looking to develop it under your budget, Soft Suave is the best app development company in India to proceed with your requirements.