There is a 95% chance that you will be reading this blog on your mobile phones. Mobile apps are the main reason why mobile phone usage is growing swiftly in the world.
According to Statista, mobile apps will generate around 189 billion dollars in the year 2020. Besides, one of the stats even shows that people in the USA are expected to download 31.5 billion mobile apps in 2022.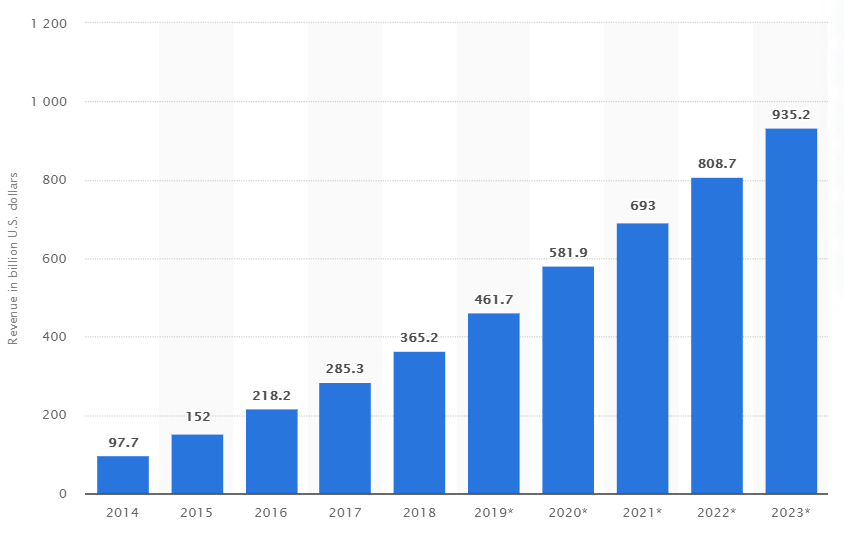 However, the success of your mobile app clearly depends on the mobile app development team. To build the perfect team, you have to hire the best mobile application developers in India.
Mobile app developers from India are the best and most economical choice if you have a mobile app project. The daily increase in mobile apps is expanding the scope of mobile app developers around the world.
Also, mobile app developers are the pillars that connect owners and customers with apps.
An Ultimate Guide to Hire Mobile App Developers: –
Hiring a mobile app is simple if you follow the below guide;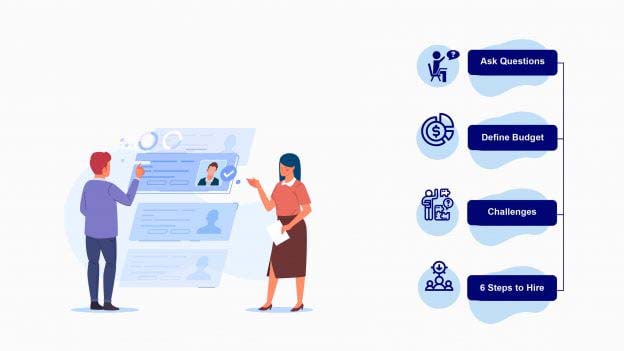 01. Analyze your needs
Before you start the hiring process make sure you do good research.
Start from asking the following questions;
what kind of app are you going to build?
Is it a free app or a paid app?
who is your target audience?
Will you offer any in-app purchases?
Will you monetize your app in the future?
If you find answers to all the above questions you can move to the next step.
02. Dedicated Developer Or Freelance Developer
This step will be easy if you complete step one rightly.
After analyzing your needs, it will be easier to choose between dedicated or freelance developers. As Freelance app developers work with many clients around the world the level of experience will be high.
You can choose a freelance mobile app developer if you want to work with a developer that has experience in a wide array of industries. But if you want to control your projects directly it is good to hire dedicated app developers.
03. Check Portfolio
Portfolios are the best way to choose developers when you have the best mobile app developers for hire. It allows you to look at the history of app development.
A good portfolio from a developer will showcase expertise, experience, knowledge, and skills. Besides, try to get your hands on any specific apps from your developer. You can download and check if they run smoothly.
You can also check for performance and find out if there are any bugs or crashes. If you feel positive about the portfolio you can move forward with that developer. Also, if you find a full-stack developer never let them go easily.
Because when you hire full-stack mobile app developers, you can save time and cost with a single developer. However, you must understand the pros and cons of hiring a full-stack developer and then start your hiring process.
04. Communication Skills
Communication is crucial in any business. Likewise, every developer you hire should be good at communication. The developer should be a good listener and smart to understand your needs and work accordingly.
Thus, the one-to-one interview is the best way for you to find developers that are good in communication.
05. Get Client Reference
Getting in touch with the previous client can help you learn more about your developer's history and character.
You should start with time management and dig deeper to find the quality of the project delivered. Also, find how easy it was to reach the developer. Finally, ask for a general review to understand the overall experience.
Following this will help you hire the best mobile app developers that fit well with your business needs.
Top 3 Challenges While Hiring Mobile App Developers: –
Although hiring a mobile app developer is simple, there are a few challenges to face during the process. They are as follows;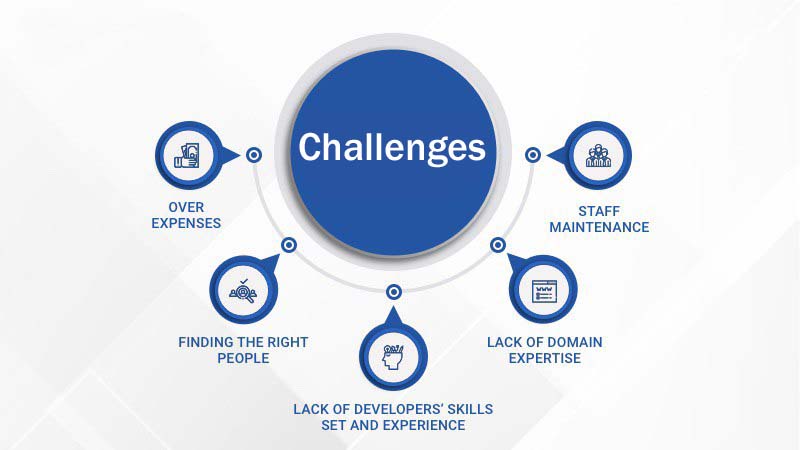 01. Budget
Budget is the most common factor that hinders many owners from hiring mobile app developers. The cost to hire a mobile app developer depends on you. If your app has a lot of innovative features you need an experienced developer.
Experienced mobile app developers are expensive. If your app has very few basic needs you can develop using a less experienced developer who will be affordable. However, you can decide on your budget first and then hire online mobile app developers.
02. In-House App Developers
When you hire in-house developers they are expensive. Because you hire them full-time for a service that is required for a short duration. You have to take care of hiring costs, to offer paid leaves, vacations, and much more amenities.
03. Outsourcing
Outsourcing is cost saving. But there are many challenges that follow the process. Starting from the communication gap to time zone difference there will be many challenges.
Companies like Soft Suave offer the best hiring models and help you make outsourcing a better idea to build your app.
Best Place To Hire Mobile App Developers: –
There are many places you can hire a mobile app developer for your project. Here are the three most common places you can leverage to hire mobile app developers.
App Development Company:
An app development company is the most reliable place to hire development. You can find many companies around the world. However, choosing companies like Soft Suave will help you hire mobile app developers in India with a good success rate.
You can also filter the companies based on expertise, experience, and portfolios. If you are looking out for a cost-effective option for your business, this place is for you. Soft Suave has been featured as the best mobile app development company by GoodFirms.
The experience and quality of developers are the two best factors you should consider while hiring from Soft Suave.
Final Thoughts:
Hiring an app developer needs patience, approach, and good research. It will cost your business a lot if you choose the wrong developer. Analyze your needs, set your budget, and choose the best app development company like Soft Suave to hire the right resource.
Now you have known the guide to hire your team of all-star mobile app developers, start with Soft Suave to hire expert mobile app developers from India.