Chatbots are small computer programs that are designed to interact with human beings via voice or text interface. Chatbots help automatically simulate interactions with business customers on the basis of a set of predefined triggers, events, or / and conditions.
Such interactions could be simple and straightforward, such as talking about weather, or complex, such as troubleshooting some problem with a technology service. Future business ecosystem is expected to be assisted by Artificial Intelligence and Machine Learning on a very large scale. Chatbot development proves to be one of the efficient ways to achieve business objectives.
Why Chatbot Apps are Considered the Future of Online Businesses?
Technology is being used extensively in several industries. Online businesses have started adopting 'Conversational Commerce' – the latest technology-driven process that connects businesses with buyers through exclusive messaging apps.
Chatbots help enterprises to communicate with their customers instantly and resolve issues on multiple platforms. Today, personal attention and regular support are the most vital factors to attract and retain customers. The ability to offer round-the-clock assistance is essential.
Artificial intelligence chatbots enable online businesses to gain insight into their customers' preferences while providing them an individualized, valuable shopping experience.
The Key Role Played by Chatbot Apps in Online Business
With dearth of resources and the pressing need for cutting costs, enterprises seek ways to augment productivity and sustain customers. Chatbots help achieve this. They offer an economical and effective way of enhancing branding with the least resources and efforts.
The ability to place chatbots in various channels such as Slack, SMS, Facebook messenger, or websites empowers entrepreneurs to reach a wider audience. Today, messaging apps have even surpassed social networks.
Unlike other types of apps that flood the cyberspace in the modern world and quickly disappear, messenger apps are seen to be rooted strongly. An increasing trend of messenger app usage is witnessed in the contemporary world.
Moreover, user taste and preference analyses have clearly indicated that messaging apps that host bots are instrumental in boosting sales. They help increasing market reach greatly.
How Does a Chatbot Work?
To be able to understand how chatbots function, enterprises must first understand the types of chatbots. This enables them to get the right chatbot app created and deployed for accomplishing their specific business needs.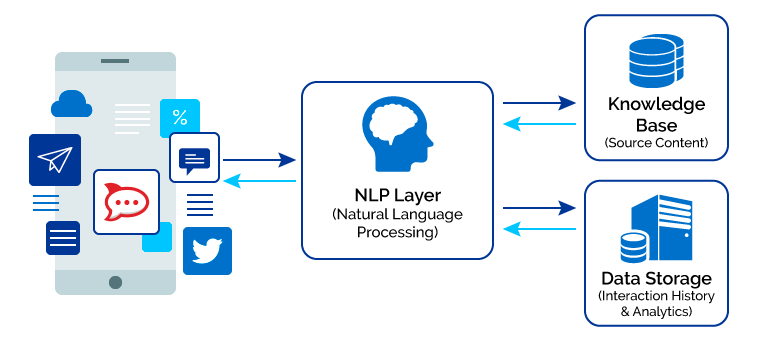 Out of the two major types, the first one works on a predefined set of rules for solving simple problems. The other one functions by making use of Machine Learning and helps resolve complex issues.
Rule-Based Chatbots
Functioning on the basis of a set of predefined rules, these are restrictive. They will only be able to respond to particular commands. They are not programmed to interpret user's language.
Also known as multiple choice bots or fixed bots, these are script-based, and are useful if users have simple queries with reference to limited information. Such bots are capable of answering only a narrow set of queries.
AI-Based Chatbots
Building a chatbot for handling a broad range of requests and conversations from the users involves enabling its functioning through machine learning. It makes use of AI. Unlike the rule-based bots that can only respond to specific commands, this type is capable of interpreting user's language and meeting their requirements.
AI Chatbots are capable of having intelligent and meaningful conversations with humans. They facilitate handling complex queries from users. They guide users through their specific needs.
How Do Chatbots Contribute to Modern Businesses?
A staggering 71% of users are found to be willing to avail customer service through messaging apps. Globally, users are willing to make a great amount of purchases through chatbots.
1. Chatbots help increase user engagement
Most of the modern businesses are having their websites. User expectation and business needs necessitate providing great user experience and round-the-clock service. Giving the customers the feeling of working with someone, bots help enterprises achieve better engagement with their customers.
2. Messaging apps offer great benefits
Messenger service major Facebook and others have introduced chatbot platforms for tapping into huge user base. These enable engaging with users without the need for human intervention.
3. Chatbots drive sales
Intelligent chatbots are capable of sending coupons or products to customers. They can be used for linking users to M-Commerce sites. This leads to increased sales.
4. Chatbots enable getting maximum returns with minimal cost
With platforms such as Facebook providing the essential infrastructure as well as APIs, creating chatbots has become economical. They also require minimal maintenance.
6 Reasons that necessitate modern businesses to adopt Chatbots
1. Automated support to customer queries
Customers in any business will have certain basic queries. Mostly such queries are of fixed nature, requiring the same specific answers every time. Chatbots help answer these queries and limit human intervention until absolutely required.
2. Chatbots help scaling up business operations
Unlike human agents, chatbots do not have any upper limit in handling conversations. Chatbot solutions enable business organizations to complement human resources, thus boosting business operations.
3. Business branding can be improved
Users demand for hassle-free solutions is increasing. At the same time, they are concerned about quickly getting what they specifically require. Chatbots involve minimum effort but offer the necessary information to customers regardless of time or day. This enables customers to have better experience, resulting in the business establishing its brand.
4. Chatbots facilitate better user interaction
Chatbots are efficient in keeping users engaged on specific platforms longer and gaining more opportunities. It is possible to advance the interaction according to the input from users.
5. Chatbot development is fast, it is easy-to-use
The development time required for building fully functional chatbots is less. This enables faster execution of business strategies. Furthermore, chatbot interfaces are simple and familiar to users.
6. Organizational efficiency can be enhanced
When chatbots are put in place, repetitive and routine tasks can be effectively handled without having to use many resources. Automation of certain basic and often-repeated processes helps increase the organization's efficiency.
Building a useful Chatbot
With several platforms available for launching, building chatbots which accommodate varied skill levels has become possible. Proper research, good UX design, testing, and deployment help create the most effective chatbot for any specific business purpose. The following points must be considered during chatbot development:
Chatbots must have personas
Waiting time must be used properly
A/B testing must be performed
Huge text must be avoided
Creating chatbots begins with picking the preferred software and planning the onboarding experience. This has to be followed by main menu creation and selection of the preferred keywords. Optimizing the sequence and setting default reply complete the process.
Benefits of Chatbots to Business
Business processes can be automated using chatbots
Chatbots help emphasize the brand and image of a business
It is easy to create chatbots
The chatbot technology is evolving – it has unlimited potential
Straightforward services offered by chatbots greatly satisfy customers
Key Takeaway
Chatbots offer reliable and efficient solutions for the increasing demand for information from users. Enterprises, amid the current competitive technology niche, find it convenient and useful to make use of chatbot development. This enables them to offer quality support to their customer base, while satiating their specific needs.