Use of mobile devices, especially smartphones, has been increasing drastically during the past decade. Mobility solutions are the key reasons that drive extensive and explosively growing mobile devices market. Making the life of modern global dwellers simple (regardless of urban or rural), business mobile apps play a tremendous role in reaching customers.
Global business organizations have realized the need for offering mobility solutions.  Mobile apps help them to achieve their business objectives while satiating the specific needs of their customers. Among the few mobile app development platforms available, according to huge customer base as well as convenience to users, Android app development stands apart.
This is one of the reasons why Android app development companies across the world are in demand for building business-centric mobile applications.  They enable enterprises to take their brands to the targeted audience.
Reasons for Global Businesses to Hire Android Development Companies
Android, the open-source mobile operating system, has a simplified yet effective mobile app development process. Enriched with a tremendous user base, it has captured a market share of over 70%.
Enterprises are motivated by the twin benefits of resolving customers' problems easily while increasing business values. No wonder they tend to go in for building custom Android app development solutions. Android development offers several potential benefits to businesses, regardless of their type and size.
The following are the significant ways in which Android application development improves business prospects and helps achieving profitability: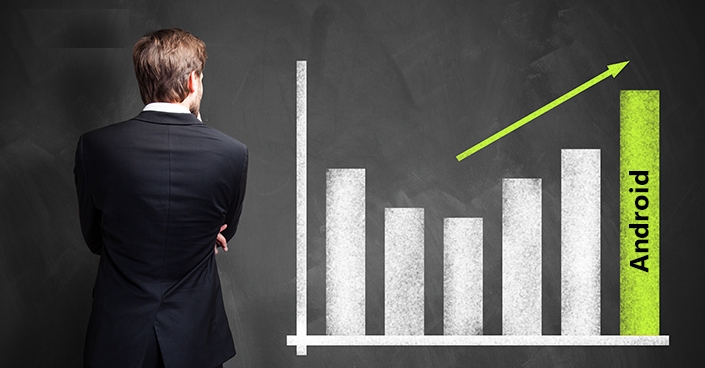 1. The Open Source Advantage
Android is an open-source app development platform that includes top-notch development features. It paves the way for developing the most cost-effective as well as scalable apps. Business organizations gain the opportunity to get their own attractive and high-performing apps. This massively followed technology framework offers developers across the world to interact with a huge Android community.
Android app developers are aware of all upcoming expansions and future improvements. It ensures faster development and better earning opportunities for Android developers, while bringing down the development cost considerably.
2. Customer Engagement can be Greatly Increased
Android platform enables businesses to engage with their potential and existing customers in various ways in real time. This impresses customers and leads to increased and repeated visits. With great user experience and convenience of use, enhanced engagement can be turned into business transactions, and subsequently, revenues.
3. Multiple Platform Compatibility is a Great Benefit
With Android development, there's no need for building apps for specific devices. A great advantage of Android business mobile app development is that you may build apps that run well on multiple devices powered by various operating systems such as Linux, Mac, and Windows.
With Android application development, enterprises can target multiple platforms. Java is used as the programming language, porting apps to multiple operating systems is made easy. It is a major factor that drives businesses to opt for Android.
4. Android Facilitates Faster Deployment of Apps
A rapid development cycle that lasts just hours is an exclusive advantage offered by Android development. Entrepreneurs who have great new ideas for applications are enabled to get a quicker go-to-market, thanks to this.
Reduction in time to market achieved by Android app development is one of the reasons that make it inevitable for modern businesses.
5. Maximum Customization is Possible
Development teams are offered maximum customization features that render custom app development simple and effective. Moreover, this platform enables apps to be integrated easily with data management functions and multimedia tools of the existing business processes. Accommodating the constantly changing business needs and reaching broader customer base is facilitated.
6. Android has a Broad User Base
With a major portion of the global mobile device users making use of Android devices, Android is clearly ahead of others in market share. Android has an overwhelming user base across the globe, making it the invariable choice for modern businesses.
Reaching the maximum number of mobile users is ensured by creating business mobile applications using Android development.
7. Quick and High ROI Under Low Investment is Possible
Achieving high ROI with low investment is another exclusive Android advantage. With Android's free software development kit, developers are enabled to create interactive apps. This helps minimize licensing and development costs considerably.
The ability to reach an increasingly more number of customers and achieving better business growth using Android apps make it a natural technology element in any contemporary business.
8. High Scalability and Versatility from Android
Android OS, after the entry of Android Studio, has become far more adaptable and flexible. Its ability to integrate smoothly with the entire Android environment that includes smartphones, wearables, tablets, and Android TV has made Android apps compatible to emergency technologies such as Virtual Reality, IoT, and Artificial Intelligence.
Android development teams are empowered to create dynamic mobile apps that cater to multiple needs when they have been installed on different devices. This is made possible by the versatility of the platform.
Why Android is the best Mobile Development Platform?
Almost any type of business in the modern world is relying on mobile application for managing its processes and customers' needs. According to studies, a whopping 80% of Smartphone users in the world prefer the Android operating system. Easy data sharing, availability of unlimited apps, and ease of use has ensured a niche for Android. It is one of the reasons why Android is touted to be the future of mobility solutions. The following factors drive Android ahead of others:
Access is Easy: With the huge popularity of Android platform, manufacturers across the globe make use of this OS for making their devices. In addition to this, myriad apps are available in Android's Play Store. This makes Android the first choice of businesses to create their apps so that they can be downloaded effortlessly within seconds.
Sales and Revenue Generation is Quick: The customer base of Android-based phones is very huge. When enterprises get their mobile apps created in Android and submit the same on Google Play Store, they are able to get access to unlimited number of users. This translates to increased revenues.
Competent Marketing Platform: Smartphone application development using Android facilitates creating and implementing specific business and marketing strategies. Real-time updates, special offers, and discounts can be offered to customers. This helps attracting more customers. Getting instant feedback and reviews from customers helps improving business processes.
Key Takeaway
Building a powerful Android app that attracts customers and fulfills their specific needs is the foundation for business success today. The success and sustenance of modern enterprises depends on their mobile applications. The qualities and capabilities of these apps in turn depend on the Android app development company that creates the app.