The jewelry industry is an ever-trending industry since its inception. It is one of the most ancient forms of personal expression and ornamentation.
Starting from a diamond neckpiece to a simple gold ring, Jewelry instantly lights up the occasion and boosts the confidence of the bearer.
The global jewelry market amounted to about 18 billion euros in 2020. The market revenue is attributed to China, followed by the USA, Japan, and India.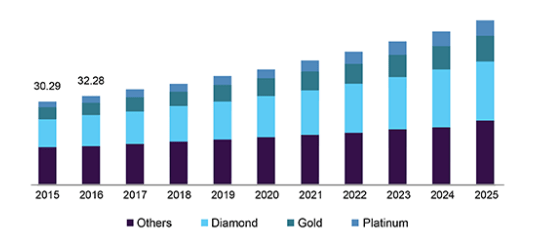 The forecasts show that the value of the jewelry market is expected to increase from about $230 billion in 2020 to about 292 billion dollars by 2025.
Online Jewelry Business in 2021:-
It is a lie if you say you don't like to shine bright like a diamond when you step outside. Everyone loves the bling jewelry gives.
Although stepping out has reduced drastically in 2021 due to the COVID-19 restrictions, the jewelry business hasn't slowed down.
Business owners have switched from retail outlets to online stores to continue hassle-free sales. Moreover, customers also prefer the change as it offers them more choice and flexibility.
The innovation in jewelry design, technology, rise in the internet, and mCommerce drives the jewelry business in 2021.
If you are a business owner it is wise to leverage all the opportunities and plan a growth strategy for your business accordingly.
Q. How to do Online Jewelry Business in 2021?
Starting an online fashion jewelry business is simple but there are a few steps to concentrate on and work on during the process. Below are a few steps to consider, if you want to start an online jewelry business in 2021.
Build eCommerce Platform:
Building an eCommerce platform is the best way to step to start with if you have plans to take your jewelry business online.
However, the first and foremost step has to be a custom jewelry marketplace website to showcase your products for customers to buy.
If you want to build a monopoly market you can build your own single-vendor platform and start selling directly. But if you have a limited budget, you can build a multi-vendor marketplace platform to sell Jewelry online and earn extra from the vendors.
Integrate Social Media:
Social media plays a crucial role in running a business successfully. According to backlinko, there are around 3.96 billion active social media users in the world.
Integrating social media into your jewelry business is assured to reap 10X benefits. The penetration of the internet worldwide is the most common reason for the drastic increase.
Starting an online Jewelry business means you need to hold a commendable position online. And, social media is the best possible way to achieve it shortly.
You can additionally increase the popularity and visibility of your jewelry store online.
Offer Quality Customer Support:
In 2021, you can succeed any online business if you offer quality customer support. Likewise in your online jewelry business, you ought to take care of your customers in the best possible manner.
Customers are king and if you take care of your customers, they will take care of your business. Below are a few ways through which you can take care of your customers and make them feel valued.
Avoid fake products at any cost.
Sell Jewelry at a fair price.
Reward loyalty with discounts and coupons.
Offer customization
Maintain transparency throughout the delivery process
Create the best return policy.
Finally, provide the best customer support to address queries.
Benefits of Starting a Jewelry Store Marketplace:-
Starting a multi-vendor Marketplace to sell Jewelry online has several benefits. A few are as follows;
No Inventory Maintenance:- You as the business owner are not responsible for inventory. Each vendor in your marketplace is accountable for inventory. Thus you can concentrate on running your business effectively rather than stress out in maintenance.
High Customer Engagement:- When your jewelry business is online in the form of a multi-vendor marketplace the chances of visibility and engagement are high.
Make Money Easily:- As an owner of a multi-vendor marketplace, you can generate huge revenue in no time.
Low Operation Cost:- Operation cost is less compared to retail outlets as you need not take care of designing products, and managing logistics & inventory.
Business Model for Multi-vendor Marketplace App for Jewelry Store:-
Every multi-vendor marketplace follows a different business model. Below is a business model that fits well for an online jewelry store.
Customer App:
The customers can shop their desired jewelry using the dedicated customer app. they can filter the products based on the prespecified terms and purchase accordingly.
This app allows customers to add reviews and experiences. Moreover, they can use custom coupons based on the products and brands.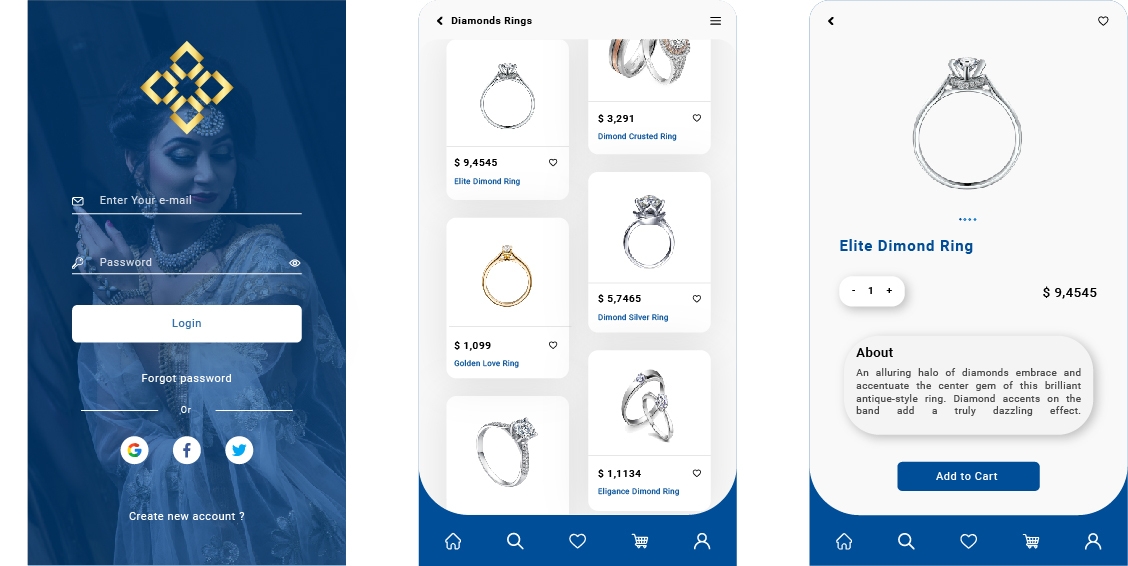 Push notifications will be enabled for customers to know about new arrivals and discounts. Thus it is up to customers to leverage the notifications and shop accordingly.
Admin Panel:
The admin panel has the overall control of your multi-vendor marketplace. As an owner, you can manage and access the seller's profile, products, and orders.
Moreover, the admin can manage all the inventory settings. The admin also has the power to approve and disapprove any transactions.
Depending on the availability of jewelry, the admin can enable and disable products. This allows customers to only choose products that are available in the inventory.
The admin can update/delete profiles of sellers or customers.
Vendor Panel:
The vendors can manage their profile, products, and inventory using the dedicated dashboard. They can also add new & existing products, multiple images for the jewelry products, and even change pricing according to the market.
The vendors will have overall control of their brand. And it is the responsibility of the vendors to build their brand through promotions and offers.
Top 5 Must-have Features in Multi-vendor Marketplace for Jewelry Store:-
There is a set of must-have features you have to integrate into your jewelry marketplace app. Below are the top 5 features;
Advanced Search:- The advanced search is assured to increase sales if rightly integrated.
Fully Secure Portal:- The platform will generate more revenue if the marketplace is safe to browse and the transactions are allowed on highly secure gateways.
Customer Engagement:- Engaging with customers through notifications, offers, and features is the best way to retain jewelry customers amidst huge competition.
Communications:- Unified communications help vendors, and customers stay updated via emails, SMS, and push notifications.
Multiple Payment Gateways:- Offering multiple options while payment will boost customers' trust. Also, it makes the payment process easier and more flexible.
Jewelry Certification:-
The most critical factor in an online jewelry business is certification. Trust is the core factor that bridges you and your customer. Thus it is essential to get certified for all the jewelry sold through your platform.
A certificate will provide a detailed description of the Carat, Colour, Clarity, and Cut of the jewelry. Also, this certificate is issued by internationally reputed and recognized gemological laboratories.
Final Thoughts:-
Custom jewelry marketplace platform is the trend in 2021. It is never too late to start your development right away. However, get in touch with the best eCommerce app development company like Soft Suave. Because Soft Suave offers creative and affordable solutions that match your business needs and attract customers.
To start with, get a free quote from Soft Suave. Then start your development with the best development team in India. Finally, deploy the best Jewelry marketplace app that trends in the market.