eCommerce plays a crucial part in our daily lives. It is reinventing how a business has to be done in the 20th century.
Before the eCommerce, brick-and-mortar is the most common and dominant form of commerce worldwide. Although brick-and-mortar stores exist in the market, they are quickly replaced by eCommerce stores.
Over the last few years, eCommerce has evolved largely. Starting from books, electronics to furniture and cars every product and service can be availed via eCommerce. The future of eCommerce is scary and exciting. With every single day passing, there is a lot of growth and challenges rising in the industry.
Although 2020 has been a rough year for many, the eCommerce market is turning bigger and better. Here are a few stats to keep you aware of the trend and growth.
Statista reports that in 2019, retail eCommerce sales around the world amounted to $3.53 trillion and is projected to grow to $6.54 trillion in 2022.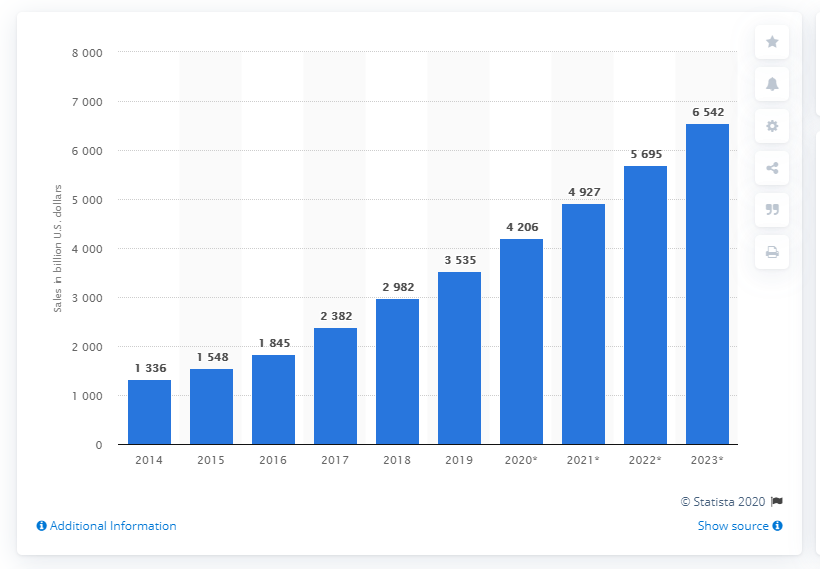 The list of factors that impact the exponential growth of eCommerce around the world are as follows;
Mobile devices
Customer experience
Low cost
Data-driven results
Here is a report from Shopifyplus that shows the largest eCommerce markets in the world.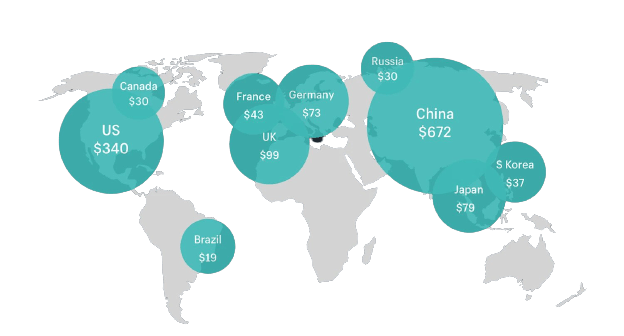 eCommerce is an ever-expanding market and the newest addition is Multi-vendor eCommerce Marketplace.
With the rise in competition, the multi-vendor marketplace is assured to succeed in the future.
What is Multi-vendor Marketplace Platform?
Multi-vendor Marketplace Platform is a commonplace that allows different vendors to sell their products to a curated customer base.
In other words, it is an eCommerce platform that empowers multiple vendors to sell products from one storefront.
This is the only marketplace that offers customers a huge catalog and vendors with a bigger customer base.
Moreover, the price difference between regular and multi-vendor eCommerce marketplace is that the prior does not have the technical capabilities to support multiple sellers but the latter does.
Thus, with the fast growth of eCommerce, every customer wants a multi-vendor platform like Amazon and eBay.
If you are an eCommerce owner that is confused, this blog will help you understand how to create a marketplace store at an affordable cost.
---
Also Read: How to build a multi-vendor marketplace: Startup Guide
---
Importance of Multi-vendor Marketplace in the eCommerce Industry:
You might be well aware that eCommerce is successful in western countries. Do you know the reason behind their success?
It is the presence of several multi-vendor platforms like Amazon, Etsy, AliExpress, and eBay. Nowadays nobody wants to search for websites and buy products from the eleventh website.
Every customer wants to make shopping quick and easy. Thus, they want a convenient platform that has all different brands and products in one place.
If you can offer a multi-vendor marketplace, you can be successful in the 20th century eCommerce industry.
A multi-vendor marketplace has the initial to generate a lot of revenue for business owners. But all they need to do is join the right platform or develop a marketplace store.
eCommerce is growing larger and multi-vendor is the right choice to leverage and grow along with the trend.
Why is Multi-vendor Marketplace Different From eCommerce?
Basically, a Multi-vendor marketplace is a part of eCommerce business models. Many people confuse it with eCommerce.
Whereas eCommerce is a large industry in which a multi-vendor marketplace acts as a place that supports multiple vendors to do business seamlessly.
Paul Graham from Y Combinator said
"You can't wait for customers to come to you. You have to figure out where they are, go there and drag them back to your store."
The multi-vendor platform just does the same. It attracts customers with varieties of products from different brands and persuades the customers to shop.
Top 4 Business Models of Multi-vendor Marketplace:
The beauty of a Multi-vendor marketplace is it accommodates various business models in eCommerce.
Moreover, this business model has not only been successful but has also proved to be one of the most efficient models in eCommerce sales history.
Also, the multi-vendor allows different third-party vendors to upload their product in one storefront and do business with ease and transparency.
The multi-vendor marketplace can be broadly classified by the type of products sold and the personnel involved. Here are the top 4 business models;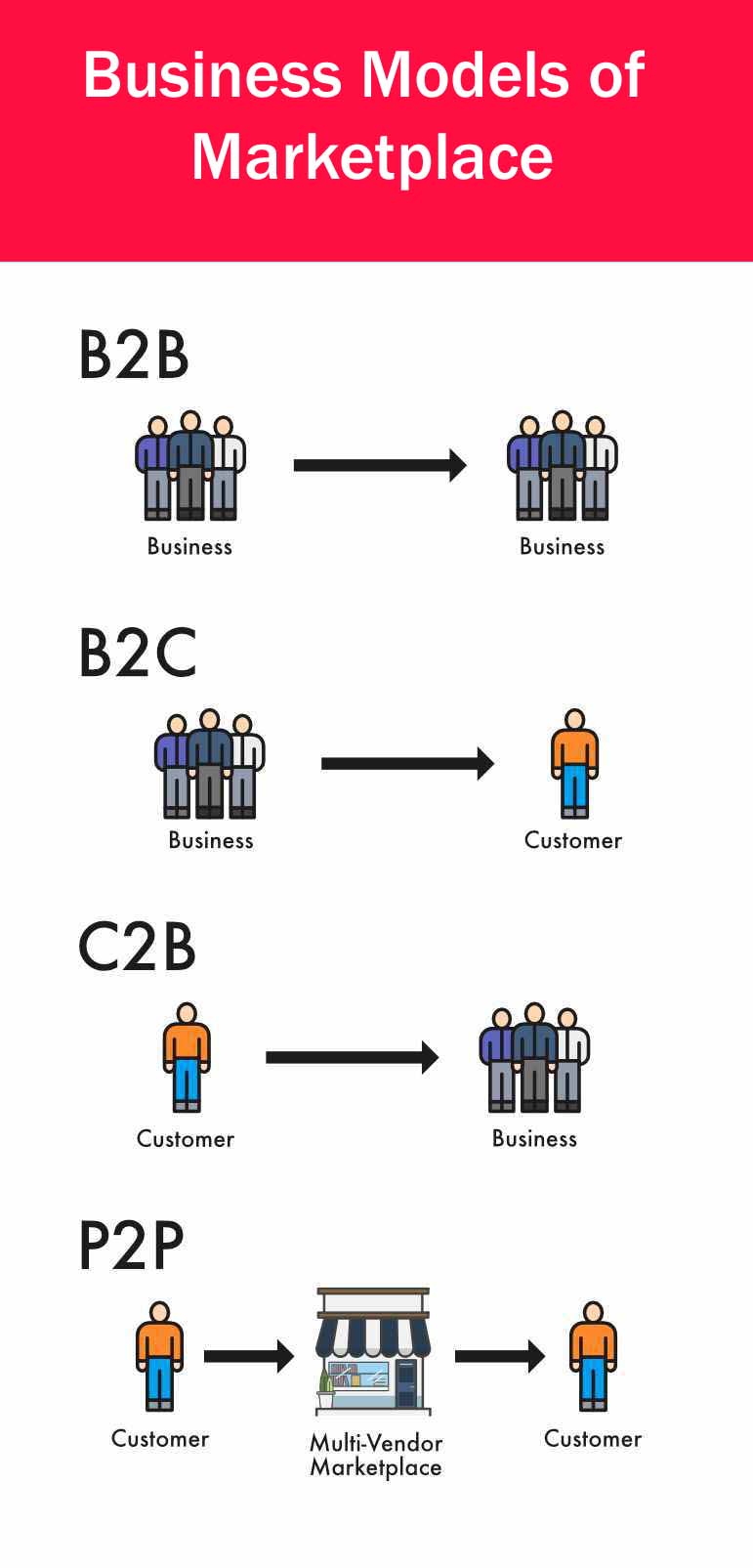 B2B – Transaction between businesses happen in this marketplace, where they sell products to other business.
B2C – In this business, to customers marketplace, the transaction happens between business and consumers.
C2B – The transaction happens between customers and business in this marketplace.
P2P – In this peer-to-peer marketplace customers sell products to other customers.
Top Benefits of Multi-vendor Marketplace:
A multi-vendor marketplace app will serve owners, vendors, and consumers in a few unique ways. Thus eCommerce is shifting gears due to the positive outcome in the multi-vendor marketplace.
Starting from business owners like you to the vendors, and consumers prefer online marketplace over regular online stores. Because it offers a wide range of benefits.
Here's a list for you to understand the benefits and power of a standard multi-vendor eCommerce marketplace.
To the Business Owner:
As a business owner, you can take a commission on the products sold by the vendors. This likely increases your profit margin.
As an owner, you can create chances for your vendors and customers to build a relationship outside of the business transactions.
Also, As you offer a white-label multi-vendor marketplace that runs round the clock, you offer a reduced time limitation and help vendors to sell more efficiently to customers.
To the Vendors:
Vendors that are start-ups and small businesses can join your marketplace and establish their presence in the eCommerce market.
Vendors can avoid marketing costs as the multi-vendor marketing platform acts as a sales channel that markets and sells the products of vendors.
Also, multi-vendor acts as a global online marketplace that enables vendors to sell their goods to overseas customers.
To the Consumers:
Consumers use a multi-vendor platform to shop products from a single website because they can see a variety of products from different brands in a single marketplace.
White label marketplace allows customers to compare products by staying on the same marketplace and shop quality products at a fair price.
Also, multi-vendor offers real-time updates on the availability of products. Thus it helps buyers to get the best deal at the right time.
Top 4 Reasons Why Retail Store and Shop Owners Favor Multi-vendor Marketplace Platforms:
Retail stores and shop owners know and understand the pros and cons of a multi-vendor marketplace and hence they favor this marketplace at the highest level.
Here is a list of the top five reasons why retail store owners prefer Multi-vendor Marketplace Platforms;
1. Budget-friendly Setup Costs:
Setting up a website to sell and investing in marketing the website means spending a lot of money and resources.
Moreover retails stores and owners that are start-ups will never be able to afford this cost as it is expensive to start within their business.
Thus they prefer a free multi-vendor marketplace to introduce their products and do sales according to their affordability.
2. Flexibility:
A multi-vendor marketplace helps retail owners to be flexible. It also allows them to manage product details, make updates, and fix the areas of delivery with a few clicks.
Also, the marketplace allows retail shop owners not to have any tech knowledge of eCommerce or multi-vendor.
Moreover, the owners can scale up their business at any time without paying any extra amount. This allows owners to be flexible in their business.
3. High-profit Income:
Retail stores that don't want to create a brand but want to leverage technological advantage will prefer multi-vendor marketplace platforms.
Moreover, several open-source marketplaces offer a free listing that allows store owners to grab all the profits without any commission.
4. High-traffic Platform:
The best multi-vendor marketplace platforms offer a large amount of traffic. Thus the store owners end up with more sales opportunities.
Looking at the better outcomes store owners avoid investing in the personalized online store that consumes a lot of money. Rather they setup up a store on well-established multi-vendor apps.
As a provider as your business grows you have to leverage features like AI and ML to compete with other existing platforms in the market.
Guide 101: – How to Build a Multi-vendor Marketplace:
Choosing a multi-vendor platform for your business is easy. However there a few things to consider before choosing a multi-vendor platform.
If you are a business owner that wants to start a multi-vendor marketplace, this guide will help you to build a multi-vendor platform efficiently.
Here is a list of steps that will guide you throughout the process.
Choose Your Business Model:
There are various business models in the multi-vendor marketplace that decide the success of your business. Thus it is important to choose the right model that fits your needs and budget.
As discussed earlier in this, the multi-vendor marketplace can be classified by the types of products sold. So choose from the list of B2B, B2C, C2B, and P2P models so you can plan your budget for the multi-vendor marketplace.
Choose Your Multi-vendor Marketplace Revenue Model:
There are quite a lot of revenue models you can apply using your multi-vendor marketplace app. However, here is the list of the three most common revenue models.
Commission
Subscription/membership
Advertising

* Commission:
The commission is the most common type of revenue model followed by marketplace owners as it offers an attractive proposition for buyers and sellers. Here, the marketplace charges a specific percentage of commission for each transaction that happens in the marketplace.
However, if this model is chosen as your revenue model, you should relax any other charges that apply to the buyers and sellers.
As this model is based on the sales it is upon you to generate more traffic so you can earn more out of every product sale. Again keep in mind – more sales, more profit.
* Subscription/membership:
Subscription is a fixed revenue model followed in a multi-vendor marketplace platform that allows owners to receive a fixed price on a monthly, quarterly, or yearly basis.
However subscription model is a feasible option only if your marketplace is popular and valuable enough for both customers and sellers to gain benefits.
There are two types of membership models as follows;
Customer membership – This is a membership for customers that allows them to subscribe to the marketplace to avail of benefits like free shipping and same-day delivery.
Seller membership – This is a type of membership that allows sellers/vendors to register to get into your marketplace.
* Advertising:
Advertising is a win-win revenue model for both marketplace owners and vendors. Besides listing, the product owners can advertise on the platform to grab more eyeballs.
However, this comes with a cost. The cost will depend upon the competition and the value of the marketplace. If your marketplace ranks higher and attracts you can earn a fortune using this revenue model as the competition will be higher.
Finalize the Core Features:
Your core benefits determine the success of your marketplace. Hence choose the best features that make your multi-vendor marketplace software meaningful.
Here is a list of core features;
Interactive UI/UX Design – An interactive UI/UX design will attract customers which directly will boost sales and reduce bounce rates.
Robust & Responsive Platform – A functional app that offers consistent performance is always a success factor for your marketplace.
Secure Platform – Customers and vendors in today's world expect a safe and secure app to shop. Thus it is upon you to build a platform that is safe for shopping.
Admin Panel – Admin panel offers overall control over the app/platform. This unified dashboard connects vendors, customers, and shoppers.
Vendor Panel – The vendors can manage their products using this panel. Besides product upload and inventory management, vendors can manage all the business activities using this panel.
Customer Website and App – Customers are the prime targets of the multi-vendor marketplace. Thus a responsive and attractive custom website and the app is the most essential feature that is inevitable
Delivery Personnel App – This panel/app allows delivery personnel to manage their orders and deliver them to customers efficiently.
Select Technology Stack:
When you are developing a multi-vendor marketplace for your business, choosing the right tech stack is crucial. Because the tech stack is the factor that determines the performance, response time, and stability of the platform. Moreover, these stacks act as the best marketplace website builder for your website.
The tech stack to build the best multi-vendor marketplace platform can be divided into two. They are as follows;
Front-end Tech Stack – HTTP and CSS allows a browser to display contents on the webpage. But JavaScript and ReactJS are the most common tech stacks that help customers to interact with your platform.
Back-end Tech Stack – This involves programming languages that help in building the logic of your marketplace. Ionic is the most commonly used back-end tech stack for multi-vendor marketplace platforms.
Select Development Company:
Selecting an eCommerce mobile app development company is the most crucial part where many marketplace owners fail. Choosing the right multi-vendor marketplace development company will directly yield success in the huge eCommerce market.
Before you choose a company check for their track record in multi-vendor marketplace development and their expertise in the industry. Companies like Soft Suave are industry-leaders in multi-vendor marketplace platform development. They house a huge talent pool that comprises of the best web and mobile app developers in India.
---
Also Read: Guide to building a successful grocery delivery app for your business.
---
Best Features to Integrate into Your Multi-vendor Marketplace:
The features in your Multi-vendor Marketplace determine the vendors, customers, and success of your business. Here is the list of must-have features in your multi-vendor marketplace platform. Besides they are divided into 4 panels.
Customer Mobile App & Website –
Customer mobile apps must offer features that provide seamless solutions to customers. It should be interactive and at the same time motivate customers to contribute to sales.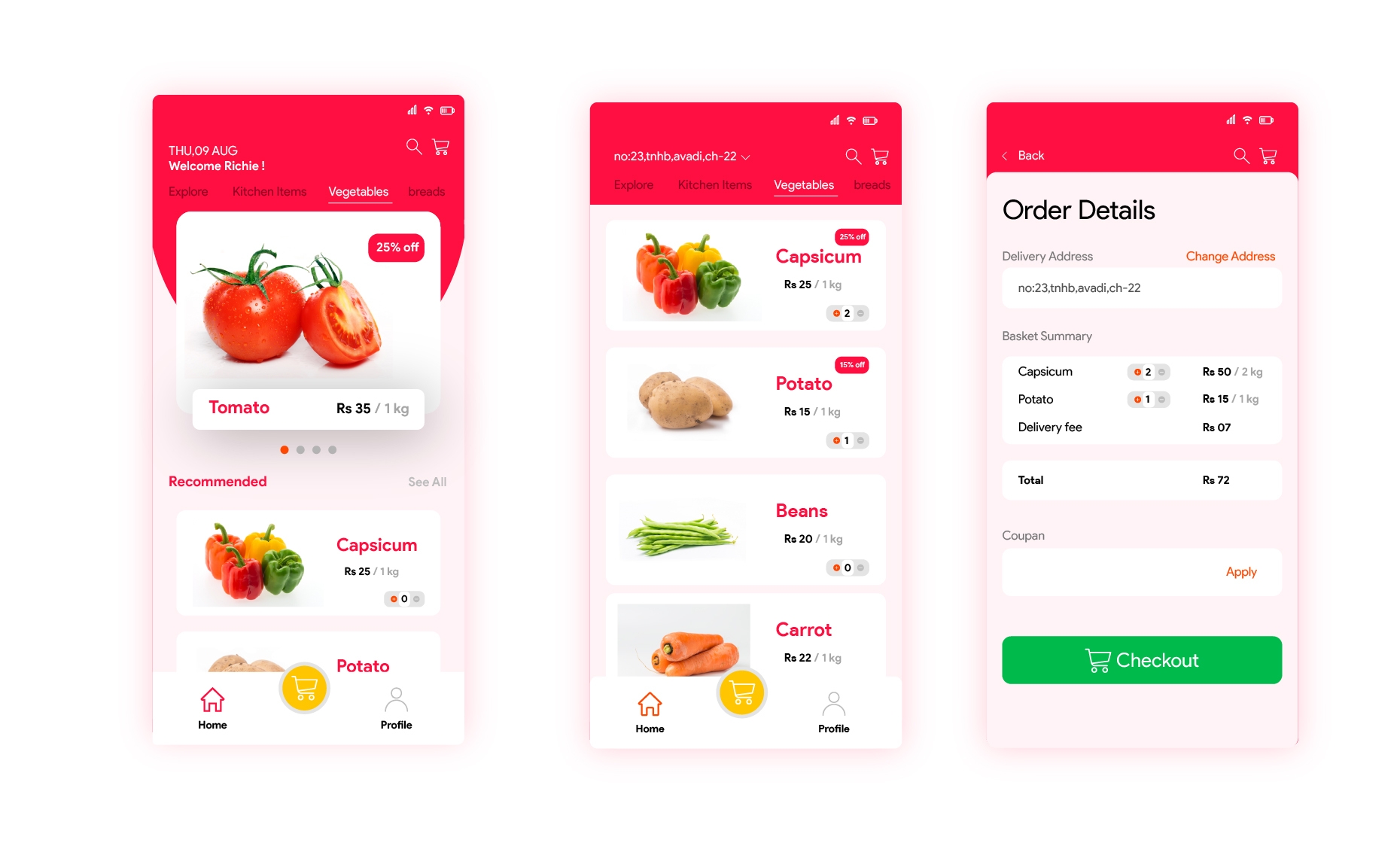 * Multiple payment options: – A payment gateway that supports numerous payment options like COD, eWallet, and Cards is a crucial feature.
* Cart customization: – This feature enables customers to edit their orders even after placing one.
* Interactive UI/UX design for easy shopping: – Offer interactive UI/UX design to improve customers' buying experience.
* Common Marketplace storefront: – This feature makes the shopping experience easier by listing all the products from different vendors on one common marketplace website.
* Product listing: – Product listing displays all things that can be purchased in a category-wise manner so it attracts customers' attention and helps them to choose easily.
* Coupon codes, and discounts: – Integrate gift coupons and discounts on the website to attract potential customers into buying.
* Single-page checkout: – Integrate single-page checkout that displays all elements including cart contents, billing and shipping address, shipping options, and payment information on one page.
* Unlimited wish list: – This feature will allow customers to add unlimited products to their wish list and buy them later.
* Custom filters: – Allow customers to add custom filters to find their desired product without refreshing the list.
* OTP Login: – OTP login will allow customers to use mobile numbers and log in using OTP to access their profile and shop on the website.
* Schedule & reschedule orders: – This feature facilitates customers to schedule and reschedule orders based on their requirements.
Admin Panel –
Every multi-vendor marketplace must have an Admin panel that has the overall control of the app. Thus when you integrate features make sure to connect all the features and direct all approvals to Admin.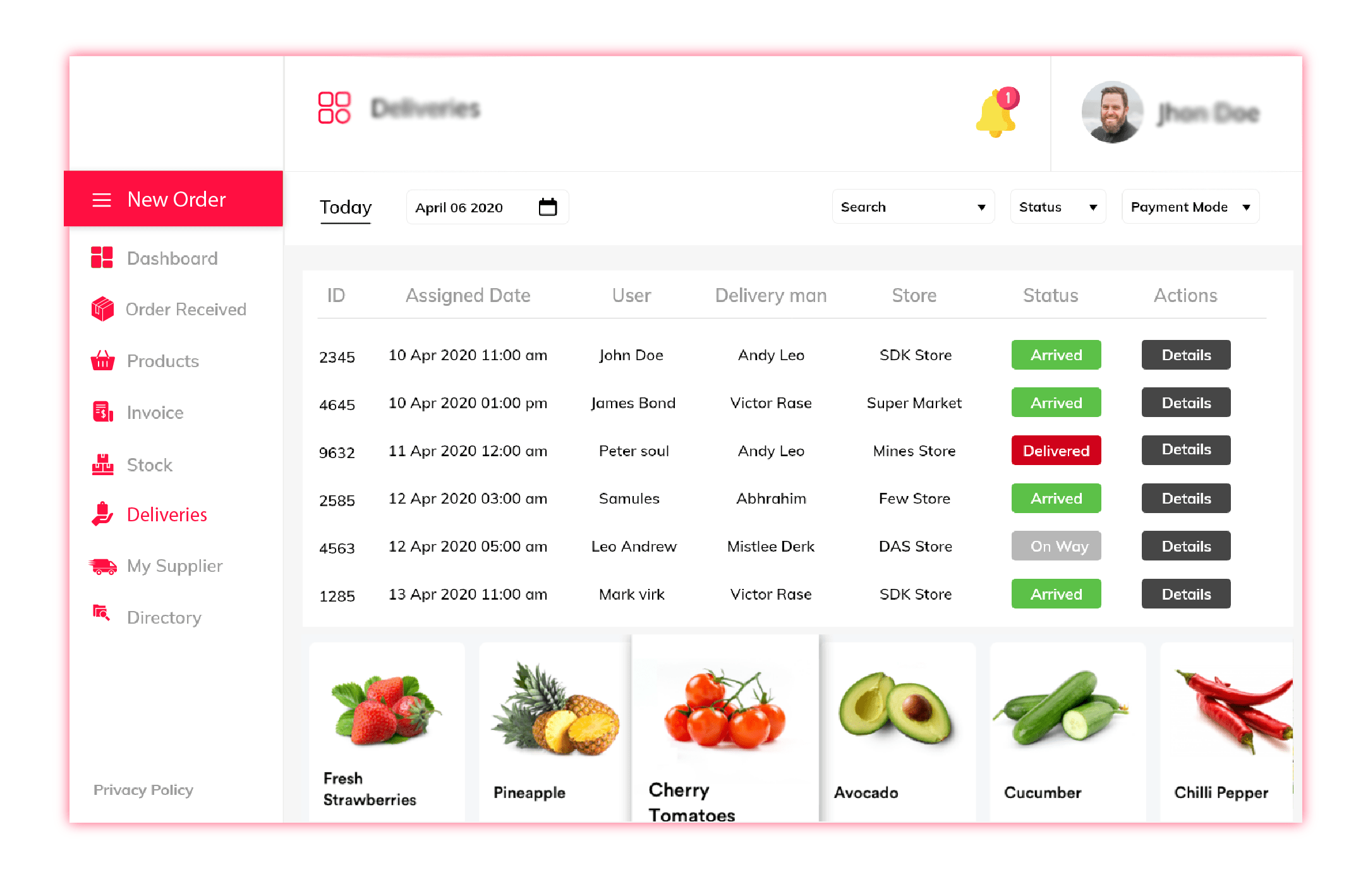 * Unified admin console: – Unified admin console integrates all the features into a single administrative console that helps admin to manage customers, vendors, and shoppers.
* Real-time inventory management: – This feature facilitates product mapping that allows stocks and inventory to be updated in real-time.
* Automated order assignment: – Automated order assignment feature enables automated order assignment to allow dedicated shoppers to pick products from the closest stores and achieve quick delivery.
* Vendor management: – You can allow admin to manage different vendors inside the marketplace using this feature.
* Commission management: – This feature facilitates the admin to process adaptive vendor payouts and commissions.
* Shopper and delivery management: – Also you can develop a scalable multi-vendor delivery platform that allows admin to control and dispatch drivers according to orders.
* Reports: – The admin can get reports that offer stock details, sales figures to commission rates.
* Promotional Ads & Banners: – You can use this feature to develop attractive promotional ads & banners to reach customers and help them buy more.
* SEO: – SEO is the essence of eCommerce. Thus you can allow admin to add Meta tags & descriptions, Alt tags, and titles to make the site SEO friendly.
Vendor Panel –
The vendor panel is the most crucial tool for vendors without which they cannot run their business efficiently. Moreover, this panel makes all the business-related processes easy and quick.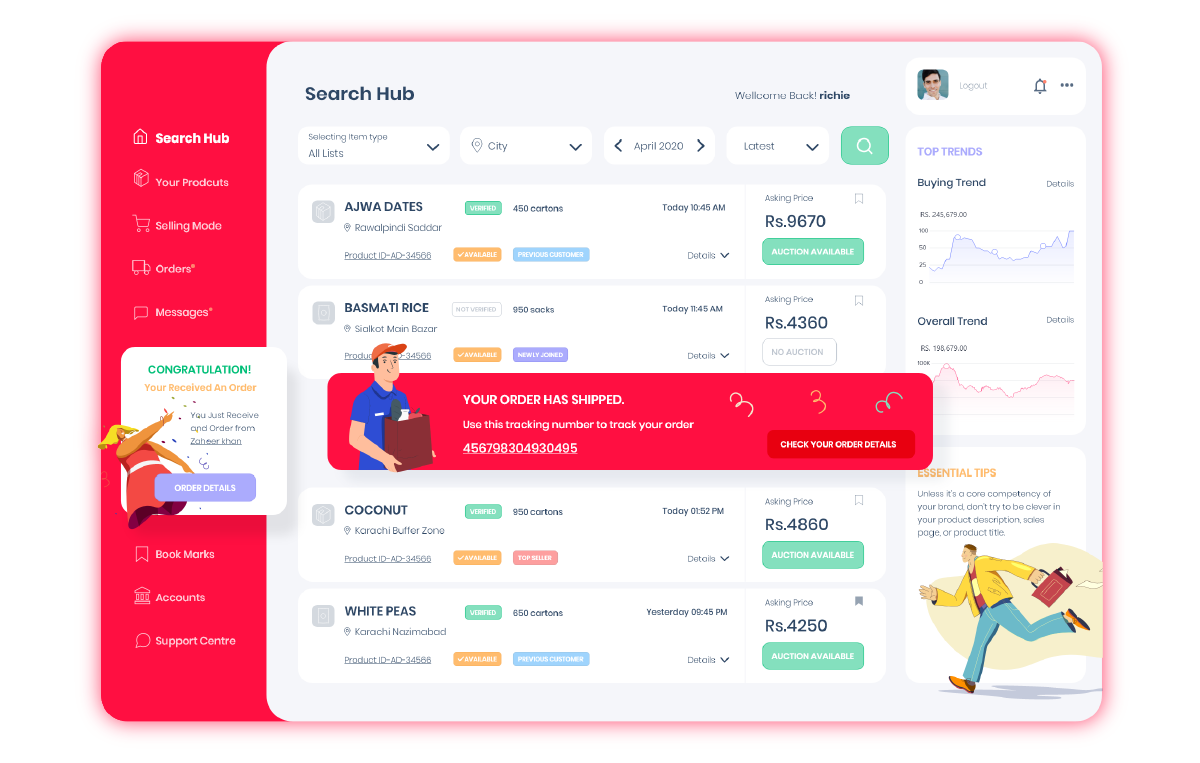 * Vendor dashboard: – Vendor dashboard helps vendors to manage their own listings, profile page info, logo, and images, shipping zones, methods, and rates, and get personalized reports.
* Product management: – This feature allows vendors to manage millions of product listings.
* Vendor product management: – This process allows vendors to upload new products, manage the existing products, and delete old products from the website listing directly.
Shopper App –
A shopper app makes the multi-vendor marketplace complete. It allows the customers, vendor, and admin to carry on their business in the marketplace without any hassles.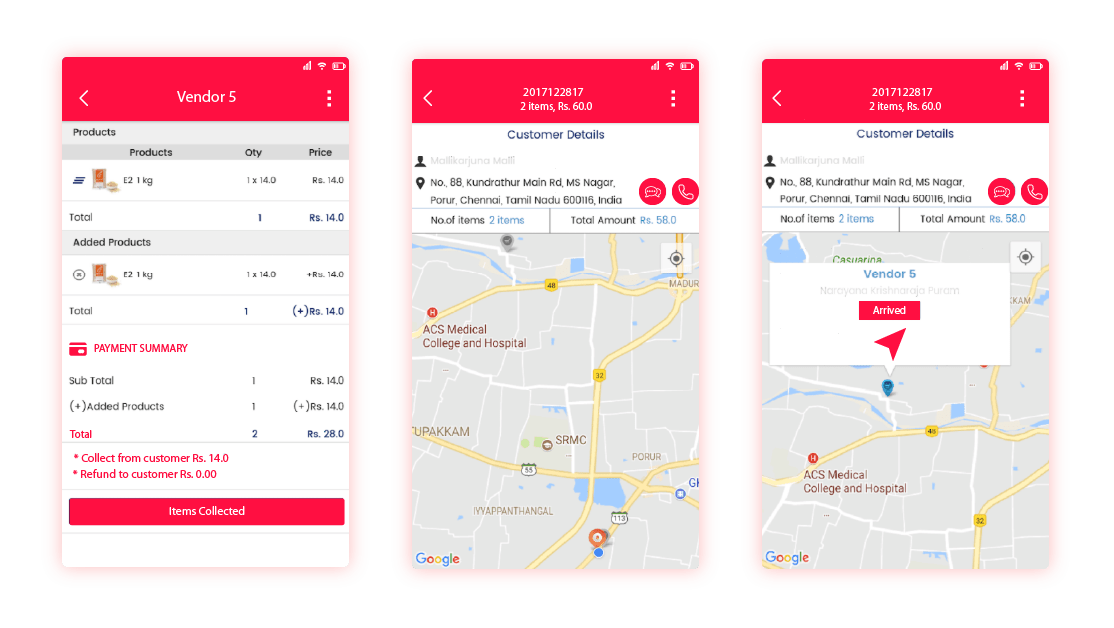 * Delivery mobile app: – The delivery mobile app makes the delivery process easier for the delivery personnel.
* Real-time Geo tracking: – These features enable geo-tracking to track delivery personnel and orders in real-time.
* Google Maps for navigation: – You can also integrate Google Maps for shoppers to leverage while delivering orders.
* Live chat & call: – This features facilitates shoppers/delivery personnel to communicate with customers for any clarifications and vice versa.
Thus if you are a business owner, all the above features must be integrated if you need to beat the competition and succeed in the market.
What is the Cost to Develop a Multi-vendor Marketplace:
You should by now know that the cost to build a multi-vendor marketplace depends on your requirement, tech stack, and app development company. Thus it is upon you to choose the features, and tech stack according to your business needs. Moreover, choose the development company according to your budget.
The cost to develop a multi-vendor marketplace app with companies in western countries is expensive. But if you choose the best app development company in India – Soft Suave, you will be also to complete your project with high-quality at a low cost.
Thus choose wise and budget-friendly options if you are looking to develop a multi-vendor marketplace now.
The Multi-vendor Marketplace is the Solution for Different Industries:-
The multi-vendor marketplace offers solutions to several industries. If you are a business owner you can leverage the opportunity and build a free multi-vendor marketplace for your business.
Grocery is one of the leading businesses in the eCommerce industry. You can upgrade your grocery business easily if you leverage the multi-vendor marketplace rightly.



Besides you can also use a multi-vendor marketplace app to develop a successful grocery delivery app quickly and efficiently.
How Can Soft Suave Help You?
Soft Suave is the leading mobile app development company in India that builds the best multi-vendor eCommerce marketplace software.
The development team is flexible and has great expertise in all the new-age technologies that help in multi-vendor marketplace development. Moreover, the team is comprised of top developers in India that have close to 7+ years of experience in web and mobile app development.
Thus if you are planning to develop a multi-vendor marketplace app, choosing Soft Suave is the right choice. Besides the quality, you can also complete your project at an affordable cost.
So take a free demo to test and start building your own multi-vendor marketplace app with Soft Suave.