COVID-19 has been ruthless to our world. Millions lost their lives, many lost their jobs, several businesses were closed and many were even downsized. However, one industry that kept the ball rolling is Information Technology.
Despite the lockdown and migrating from office to WFH (work from home) the certainty in hiring remote mobile app developers was unanticipated. Moreover, according to Deloitte, the outsourcing strategies are reshaping the industry and the amount of outsourcing has increased exponentially.
Usually, remote developers face devastating impacts during times of economic disruptions. However, this time it was the opposite as every business moved online. There was a sudden surge in the demand for developers and software programmers as every business from grocery to clothing worked remotely.
A few of the several businesses that succeeded during the COVID-19 pandemic are delivery, grocery, games and Apps, fitness & yoga, and telehealth.
Growth of Mobile Apps During COVID-19
Mobile has become a part of our lives. Since the pandemic moved all the businesses online, Mobile Apps are the tools to rely on. The number of Mobile Apps released during the COVID-19 rose significantly to combat the demand for goods and services.
According to Dot Com Infoway, 57% of all digital media usage comes from mobile apps. Also, it is reported that there was a 132% increase in the number of mobile apps installs during the last week of March.
According to Business of Apps, over three times more apps were downloaded through Google Play Store than through the iOS App Store – 28.7 billion to 9.1 billion as of Q2 2020.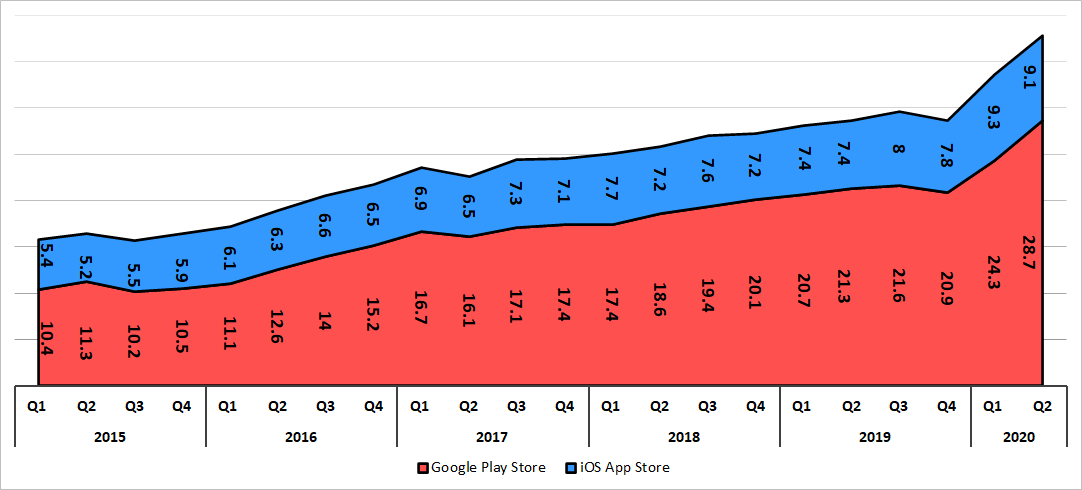 The growth of Mobile Apps is inevitable in 2021. However, it is up to you to find the right solution to build your Mobile Apps and hold your ground in the App market. Managing growth is one of the top reasons why you should hire mobile app developers for your business.
Impact of COVID-19 on App Development Industry
The App development industry is one of the few that survived the impact of COVID-19. Although the initial surge in the demand for app development services was high, developers balanced the situation seamlessly.
Furthermore, several companies even hired new employees to manage the surplus amount of projects. Amidst all these challenges App development industry was still rewarding. While several industries held back from recruiting, business owners from western countries started hiring dedicated mobile app developers to work on their projects.
Due to the higher volume of work, the app development industry followed a few digital transformations to avoid any communication gaps. Besides, the pandemic allowed start-up and SMB owners to introduce new strategies, technologies, and practices.
Although the future of app development is remote, business owners weren't ready to accept. However, after a few tests and errors, many owners are now adapting to the remote app development model.
7 Reasons to Hire Remote Mobile App Developers Post COVID-19
It was COVID-19 that proved remote hiring in app development is the future. Although the pandemic is about the end, remote hiring can work handy post COVID-19.



Check out 7 crucial reasons why hiring remote is the best strategy post COVID-19
1. Cost-Effectiveness
Hiring remote mobile app developers to reduce costs for employers and employees simultaneously. Employers can save up a lot on infrastructure, electricity, and maintenance costs. Whereas, employees can save the travel time, fuel cost and pubic transport cost.
Dedicated remote models offer you the choice to look for eligible programmers from rural places where the rates are low. This saves a lot of money for employers because the financial expectation and cost of living will be lower than the usual amount.
Investing lower costs on developers does not mean lower quality. India is a good example. When you hire best Mobile app developers in India you get skilled developers at an affordable cost.
2. Massive Talent Pool
The most crucial advantage of hiring remote mobile app developers is the access it gives you to a huge talent pool. When it comes to IT recruitment, the process is challenging and consumes a lot of time.
However, when you move to remote hiring services, you get to choose from a lot of developers with good skills and experience. As an employer, you can expand your search from the closest area to worldwide.
Additionally, you can choose remote developers with the right skill, talent, and knowledge exceeding your expectation.
3. Quick and Easy Recruitment Process
As an employer, you must be well aware of the time and effort it takes to hire a highly- skilled and qualified mobile app developer in 2021. Moreover, some recruitments take longer than usual which ends up generating high costs and frustration for the HR department.
However, when you opt to hire remote mobile app developers, the boundaries of your search will expand thereby makes the recruitment process easier and quicker. If you are looking to speed up the recruitment process, looking out for dedicated remote mobile app developers is the best choice.
4. Improved Productivity
It is proven that working from home improves productivity. There are higher chances that your company's productivity number might rise if you hire the perfect remote developer. Moreover, staying remote to work offers extra focus, reduces distractions, and allows the developers to put forward productive work.
Productivity is the crucial component that helps a business achieve successful apps in a short time thereby reducing the time-to-market.
5. Access to the Latest Tech and First-class Developers
Do you want access to the latest technologies, tools, and the best developers to handle them? If you decide to hire remote mobile app developers you will definitely have this opportunity.
For example, if you look out to outsource your IT needs and hire app developers from India, you have an opportunity to leverage their latest technology, tools, and perfect developers without the need for relocation.
This model not only saves cost but also gives you access to advanced tech and world-class developers.
6. Maintain Competitive Advantage
Hiring remote mobile app developers are assured to give you a competitive advantage in the market. With the amount of talent, skills, and remote resources you possess, successful mobile apps are just a few clicks away for your business.
When you employ remote employees, you offer flexibility that no other competitors can offer. Thus you can likely enjoy the competitive benefits from your developers in the form of Apps that trend in the market.
7. The Only Best Option for SMBs
Remote hiring is the best hiring model for SMBs. It is flexible, cost-effective and you get to employ experienced mobile app developers at an affordable cost. Moreover, these choices fit perfectly for budding entrepreneurs and start-up owners.

Wrapping Up
Now you have known the reasons you have to hire remote mobile app developers for your business post COVID-19. But, do you know from where can you hire dedicated developers matching your business needs and budget?
Contact Soft Suave to hire top mobile app developers from India. They have a software development team that has experience working in different industry verticals, technology, and tools. Their hiring models are also flexible to fit your budget and requirement.
You can avail of their 1-week free trial to tech the capability of developers and then onboard them seamlessly.
What are you waiting for? Start hiring remote developers and scape up your business worldwide.