Q. How many times have you thought to own an eCommerce ecosystem for your furniture store?
As an SMB and startup, owning a complete ecosystem is impossible. But you can build an eCommerce App if you own an eCommerce Mobile App for Furniture Store. In 2021, customer behavior is changing and technology is improving. Thus it is advisable to open an online store for your furniture business.
Buyers want to shop online and save their quality time from shopping from a single website. So, Multi-vendor Marketplace is the answer that allows your buyers to have options while shopping online.
According to Statista, revenue in the Furniture market is projected to reach US$1,371,982m in 2021. Moreover, the market is expected to grow annually by 4.2%.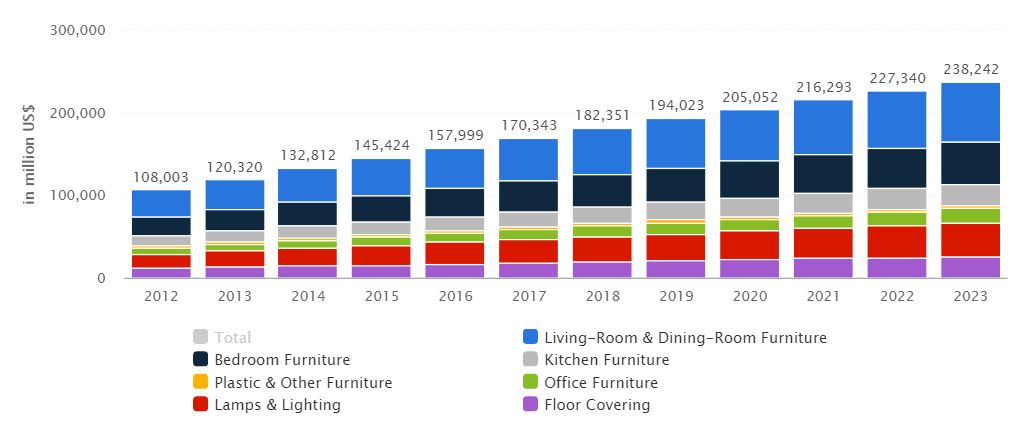 In global comparison, most revenue will be generated in the United States (US$247,836m in 2021) followed by India.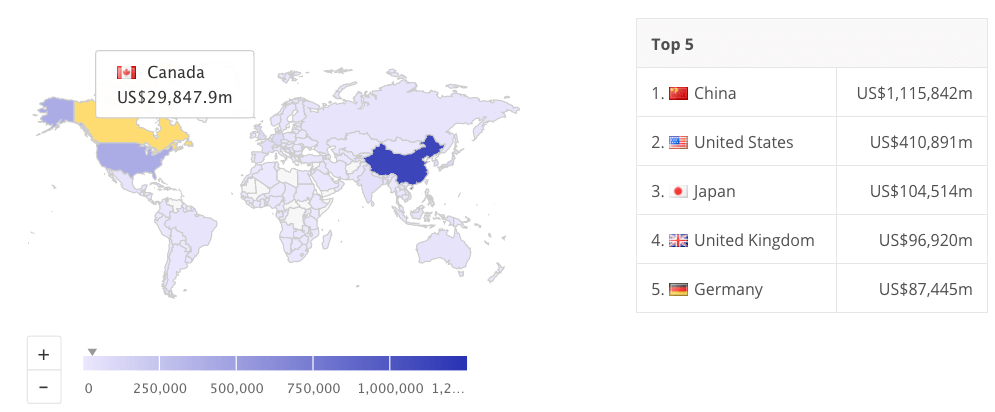 The present and future effects of COVID-19 on the furniture industry are inevitable. Thus you have to Develop a Furniture eCommerce App with multi-vendor and tweak your business towards growth.
Q. What is a Multi-vendor Marketplace App?
In contrast, it is a marketplace where customers can buy various products from multiple vendors. And, as a marketplace owner, it is your sole duty to store products, facilitate payments, and ship all products to the customers. A few examples of multi-vendor apps are Amazon and Alibaba.
Top 3 Reasons Why You Should Develop Mobile App for Your Furniture Store:-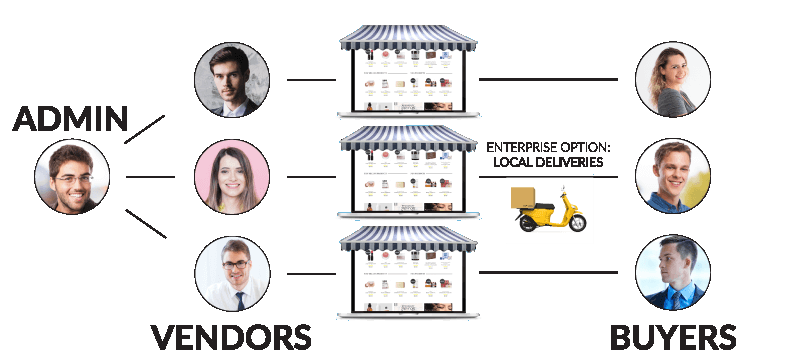 Large businesses are flourishing in the eCommerce market. In contrast, small businesses are thriving. Multi-vendor is the quick fix that can be applied by SMBs.
Here are the top three reasons why you should develop an eCommerce Mobile App for your furniture store.
Availability Of More Products:
A multi-vendor marketplace owner can add any number of vendors. Adding more sellers/vendors will directly increase the number of products on the platform.
Thus, you give options for your customers to choose the best furniture from the list of products from different vendors.
When you offer a diversified shopping platform, you attract more customers which increases your sales and revenue largely.
Reduced Operational Costs:
The operational costs of running an online store are very high and SMB owners do not appreciate the idea of going online.
But, a multi-vendor marketplace reduces the operational costs drastically. You will not start from scratch. Rather you develop a platform, fulfill the orders, and accept payments.
The operations work like support and maintenance will be taken care of by the respective vendors in the platform.
High Profits:
The solo marketplace does not give you high returns. But when you integrate many vendors you can achieve quick and easy profits.
Also as a multi-vendor marketplace owner, you can get additional revenue in the form of subscription and commission if you build the best Readymade Furniture Marketplace Platform.
However, there are also many pros and cons in the multi-vendor marketplace app that has to be taken seriously.
Step-by-step Guide to Develop eCommerce App for Furniture Store in 2021:-
Here is a simple step-by-step guide to making a furniture eCommerce app with a multi-vendor.
You can either follow these steps or use a ready-to-go furniture marketplace app and go online with your furniture business in minutes.
Choose a Business Model:
Choosing a business model is the best way to kick-start your multi-vendor marketplace platform. It allows you to concentrate on the business.
As you are taking your furniture store online there are only two business models that will fit well. They are Business to Business and Business to customers.
Choose A Revenue Model:
Revenue models decide the profit margin of your furniture business. Hence you have to be very careful while choosing the revenue model.
As you are the marketplace owner you have the ability to decide the models accordingly. However, here is a list of revenue models you can choose to integrate into your furniture eCommerce platform.
Subscription fee
Commission
Listing fee
Advertising
Select the Core Features:
There are a few must-have features that should be integrated into the app to make it attractive and user-friendly. Moreover, multi-vendor comprises a few panels that should be considered while developing a fully functional multi-vendor marketplace app for the Furniture store.
Here is the list of panels and their respective features.
Business Admin Panel:
Admin panel facilitates the admin/owner of the marketplace to control the overall platform in a single dashboard.
Monitor Performance: This feature allows admins/ marketplace owners to monitor a number of sales, orders, and revenue.
Unified Dashboard: This allows all the reports, listings, and data available for the admin to be displayed in an interactive dashboard.
Manage Vendors and Listings: This feature enables the admin to manage all the vendors and their respective furniture listings.
Customer Ordering App:
This is the web/mobile application that helps your customers to choose their products quickly and check out easily.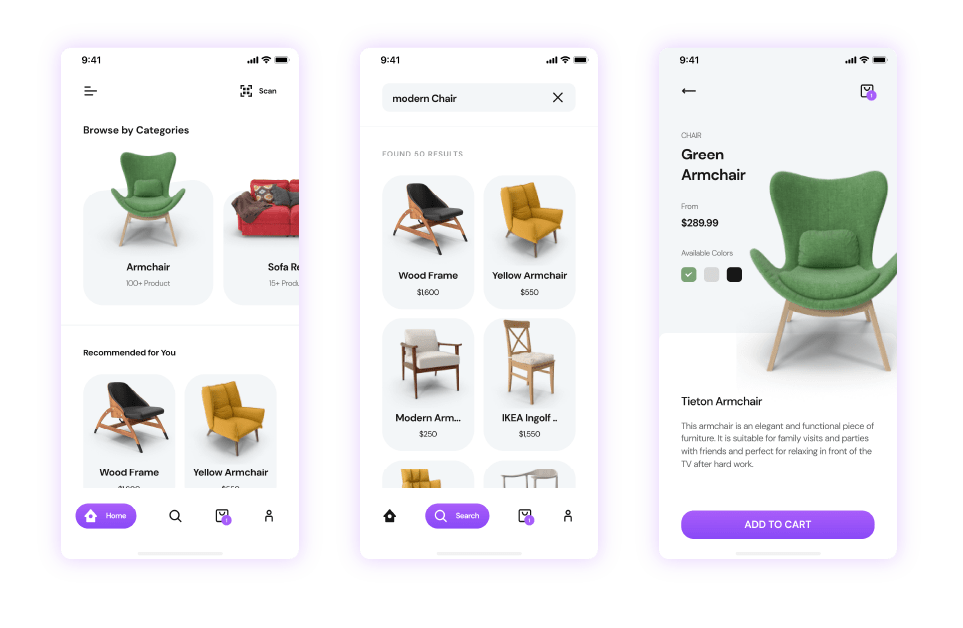 Easy Sign-up: Customers that want to buy your furniture need an easy sign-up to log in and buy your products.
Advanced Filters: This feature helps customers to filter the furniture based on their needs and affordability.
Payment gateways: Integrate the best payment gateway that allows customers to pay without any hassles.
In-app Support: Call and chat support to help customers while buying the furniture.
Ratings and reviews: This feature allows customers to leave reviews based on their experience so it will be helpful for the visitors in the future.
Vendor Panel:
All the products in the multi-vendor marketplace are managed by vendors using this panel. Starting from one-touch product listing to splitting commissions, everything happens in this place.
Product Listing: This critical feature helps vendors to list their products on the platform seamlessly.
Inventory management: This feature allows vendors to manage their inventory easily.
Accept payments: Vendors can easily receive payments directly and can also split commissions accordingly.
Select a Tech Stack:
Selecting the right tech stack is critical for developing a multi-vendor marketplace app for the Furniture store. It helps in response time, the platform's performance, and website stability. Thus make it a point to select the best front-end stack and a scalable back-end stack for your multi-vendor marketplace app.
Select a Reputed Multi-vendor Marketplace App Development Company:
This is the step where most business owners fail. Because they choose a company that offers unattainable promises at a cheap price. But, selecting a reputed Multi-vendor marketplace app development company needs a lot of research and patience.
Companies like Soft Suave are the best in India and offer realistic milestones for multi-vendor marketplace app development. They have a team of proficient developers that are experts in all new-age technologies.
If you are looking to build a multi-vendor marketplace app for furniture stores in the USA, Europe, Australia, UK, and Canada, Soft Suave is the best eCommerce app development company. Thus do your part of the research carefully and choose the right company that fits your business plans and budget.
Final Thoughts:-
Your Furniture business in 2021 will take a hit if you do not start selling your furniture online with the eCommerce marketplace.
Start your furniture multi-vendor marketplace platform and allow retailers to sell furniture on the web store and mobile app now!
Thus take a free demo from Soft Suave and start your mobile app for the Furniture store right away. When you work hand-in-hand with Soft Suave, you can go online with your Furniture business in minutes. We also assist you in creating high-quality eCommerce solutions at a competitive cost.