Developing involves a wide range of activities that solve different organisational problems in the medical sector and support patient-carer relationships. Healthcare Mobile app development is a challenging undertaking that requires extra attention to analysis, ideation, and solutions. The hospital's experience, clinical services, insurance claims, and electronic health records, for example.
You can provide accurate and quality clinical services by implementing healthcare software within your organisation. This will lead to Doctors can easily track and monitor patient health status, schedule appointments, access reports, manage staff, and so on. Doctors can chat with patients, share reports, and provide health advice. These are just some of the many benefits that healthcare app development can bring. Let's see what more this offers.
Definition for Healthcare Application Development
The development of healthcare apps is creating an app for mobile devices that helps users manage their medical conditions, fitness goals, hospital visits, or insurance claims. Among these are telemedicine, lab results reviews, prescription management, and appointment scheduling.
Need For Healthcare app development:-
Reduce unnecessary spending for hospitals and patients

Deliver timely care regardless of the location

Avoid medical mistakes

Healthy connection and communication between physicians and patients

Enrich customer loyalty and engagement

Enhance health data gathering

Feed timesaving features for the medical team
A glimpse of how helpful the Healthcare Mobile app is to the Medical World:
| | |
| --- | --- |
| Doctors | Patients |
| Patient tracking, appointment scheduling, and staff management can all be handled by a doctor's application. | Booking appointments, chatting with doctors, and getting recommendations are all made easier with digital health solutions for Patients. |
Now it's time for some Statistics! Let's have a look at the number of Healthcare apps built:
$13.7 billion was received worldwide in 2019 for the mHealth domain.

Apple's App Store has 45,478 healthcare apps.

Play Store has around 43,285 applications.

According to Accenture, approximately 75% of patients know the importance of health-based applications.

By 2026, the market for telemedicine applications will reach $17.14 billion.

Support For Doctors

Risk Drop

Cost and Time Saving

Remote Access

Emergency Help
Most Common Types of Healthcare Applications:
A mobile healthcare app has many features, such as GPS directions to the hospital, appointment reminders, and document sharing within an electronic library. When much software development companies went online, the creation of technologies also emerged in the medical sector.
The selection of software for healthcare facilities follows the same guidelines as for any other business, although there are some differences in the choices. The features of these apps are largely determined by the software solutions and their providers.
Consider the options listed below and select the smart features that are most appropriate for your company. Prior to getting excited about every healthcare app, you come across, consider your business needs.
Online Service-Based:-
1. Application for monitoring health:
Healthcare software implementation can range from diagnosing symptoms to giving medical treatment advice on health monitoring apps. By using this software, patients with chronic conditions (such as diabetes, cancer, and cardiovascular diseases) can manage their health and take necessary precautions.

2. Application for tracking medications:-
Medical app developers have recently become increasingly interested in medication tracking apps. These apps can help patients schedule and remind them to take their medicines, as well as find pharmacies near them and see what offers they're running. Because of that, medicine delivery apps also emerged to avoid travel risks.
3. Application for mental health:-
Businesses is benefiting from this type of app by helping users take care of their mental health. To help users cope with anxiety, depression, stress, sleeping disorders, and more, mental health software includes gamification elements, breathing exercises, and pre-recorded meditations.
4. Application for medical education:-
Build a medical education app for your users if you want an authentic, well-founded database with current medical information. Everyone interested in healthcare can benefit from these apps, whether they are regular users, doctors, or students.
5. Application for Healthy Lifestyle:- 
This type of software wraps many extra Healthcare application programs like fitness and wellness apps, therapy apps, meditation apps, brain exercise and training apps, etc. All these benefits can help you have a healthy lifestyle.
6. Application for Dieting:-
Dieting apps is a great example of custom Healthcare application development. We can follow healthy eating habits and establish a diet plan through various features like health and food-related information, meal planning, calorie calculator, reminders, and so on.
Features of Custom Healthcare Software Development:
1. Tracking Patient Health:- 
You should be able to monitor and track patients' critical signs such as heart rate, pulse, calorie intake, blood sugar, and blood pressure.
2. Sign-In and Registration:- 
There should be different ways for users to register or sign in to your app. Various methods can be used, such as phone numbers, email addresses, and social media handles.
3. Scheduling and Reminder:-
Besides booking appointments, patients and users can receive regular reminders regarding upcoming sessions, medicine intake, sleep, diet, and much more. Appointments can be scheduled and managed by medical professionals.
4. Doctor Information:-
A worthy healthcare app must allow its users to access diverse parameters of doctors and healthcare centers such as location, experience, availability, specialty, and more.
5. Patient Data:-
If you choose a custom healthcare app development company, ensure the developers deploy a patient database in your app. It should automatically store medical history, prescriptions, health reports, and other data that both assigned doctors and patients can access anytime.
6. Geolocation:-
Integrating map services like Google Maps with your app can provide rapid data and medical aid to patients. Patients can find nearby healthcare centers in case of an emergency.
7. Ratings and Reviews:-
Allow your healthcare app users to give feedback and reviews on their treatment experience. It helps other patients to see and decide if they should contact the medics or not. This facility also helps prove patient loyalty and credibility with your company.
8. Voice and Video Calls:-
Telehealth services play a significant role here. Without being physically present, these technologies allow patients to communicate with healthcare professionals in real-time.
9. Chat Support:-
Users should be able to leave a message or ask if physicians are not available for a moment. Doctors can also provide timely help through real-time chat and share important media files or documents.
10. Payment Gateway:-
You can incorporate your app with various digital payment solutions like net banking, UPI, debit/credit cards, PayPal, etc. Protected payment gateways are a vital part of healthcare application development that allows users to pay for treatment, insurance, and other bills conveniently.
Choosing The Right Healthcare Mobile App Development Company
Digital technology can be leveraged to enable effective healthcare oversight, authorizing institutions to use their resources sufficiently.
Healthcare application outcomes are designed to solve everyday problems that hospitals and healthcare experts face. Many medical communities, yet, have little background in working with Healthcare application solutions and often find them hard to steer.
For a mobile app development company like Soft Suave, we solve those and add additional features to use flexibly with no issues.
In the healthcare sector, app development companies focus on delivering practical solutions and delivering quality services to meet client needs. Following are some classes aided by their solutions.
Medical Laboratories

Hospitals and clinics

Infirmaries

Research Institutes

Health Testing Centers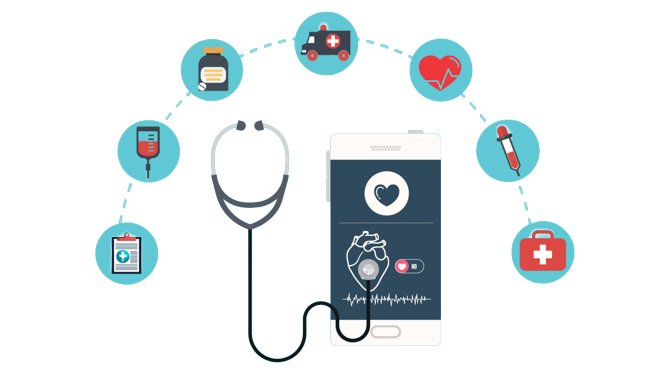 It's essential to deliberate a company before selecting one, whether the company is a supplier or a developer of healthcare applications. Make sure the Health care Mobile app development company 
Privacy Protection

App Safety and security

Keeps up with industry standards

The service should worth your time and cost

Remote culture adoption

Healthcare Industry expertise
Now, what kind of programming languages are best for Healthcare app development service? Here are some suggestions from our Industry experts.
Java

Python

Kotlin

Swift

Kotlin

Swift

Rust
These are primarily recommended, But Java and Python are heavily recommended because of their speed and adaptability. Python programming language is a fast-growing and versatile programming language that is widely used in healthcare to create machine learning algorithms for drug discovery, genomic studies, medical image diagnostics (e.g. the Pneumonia Diagnosis Tool developed by Elinext), and predictive analytics.
Java programming language is a robust, easy-to-use, secure, cross-platform, and robust programming language. With these capabilities, it is a good choice for healthcare apps, especially Electronic Health Records (EHRs)
Cost of Healthcare Application Development:
The Estimated cost for Mobile app development is fully based on the requirements, technology, App development team, service package you choose, and many other factors. Here are the Main technical Factors that determine the cost of Healthcare app development.
Technology Stack

Device capability

App Features and Functionalities

App security and testing

Size and Type of the application

Storage and Maintenance support

Hosting service and App Platform

Operating system
Soft Suave's Healthcare Application development examples:
Soft Suave developed various healthcare applications with different requirements and features. Here are some examples for you.
1. Online Consultation Platform For Virujh:-
Virujh is an online consultation App that certifies doctors and healthcare experts to offer high-quality virtual care. This online consultation app lets doctors, and patients schedule and accept appointments, helps better online consultations and offers downloadable e-Prescription. The negative outcome of COVID-19 imposed small and medium healthcare providers to work behind closed doors. Virujh online consultation app emerged as a winner to help doctors offer virtual consultation from anywhere, anytime.
2. Customised Healthcare Platform:-
The client is a Danish company dedicated to bringing long-lasting and effective changes in the healthcare industry by developing a healthcare platform based on their years of experience in telemedicine projects. Their goal was to create a customised healthcare platform that is smarter to cooperate across municipalities, health professionals, and with clients.
3. Patient-care Communication Platform:-
Our client is a fast-growing privately held company established by a group of extensively experienced doctors in hospitalise medicine and managed care services, Their core vision is to develop ways that would simplify the whole patient care platform and transition process. They are a proactive team striving for optimal patient engagement with a significant reduction of key managed care metrics and cost.
Need more Healthcare app development case studies?
Read More
Looking for trustworthy resources?
Hire android app developers from Soft Suave
Why Choose Soft Suave for Healthcare App Development Services?
You might wonder why should you choose Soft Suave out of other Healthcare app development companies. What we offer is killer app market results especially in the Healthcare sector as we developed a variety of Healthcare applications for both web and mobile applications. The above case studies are a few examples of our expertise. We also offer 30 minutes of free consultation Let's see how our application development differs from others.
5 Characteristics of Soft Suave's Market winning Mobile Apps
Great UI and UX features with Advanced Industry standards.

Speed Loading and High Performance.

24/7 helpful Customer Support.

Fast Adaption to Users' Needs.

Compatible with a Mobile App Platform.
We strongly believe that it's not only the developer's job to make an application successful, it also has many other external features like market goals, reaching an audience with helpful solutions, and user-friendliness
Final Thoughts
I hope you get enough resources for the Healthcare app development. If you want to know more about this or want to create a healthcare app, then connect with Soft Suave to get started with this extremely helpful app service